BISSELL Pet Foundation's Fall National "Empty the Shelters" Event Aims to Save Lives Amidst Overcrowding Crisis in U.S. Animal Shelters
More than 345 shelters in 42 states will reduce adoption fees to $50 or less from Oct. 1 – 15
BISSELL Pet Foundation's Fall National Empty the Shelters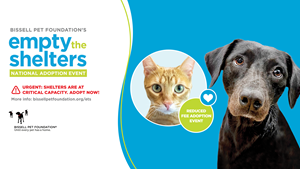 Dog adopted during BISSELL Pet Foundation's Empty the Shelters reduced-fee adoption event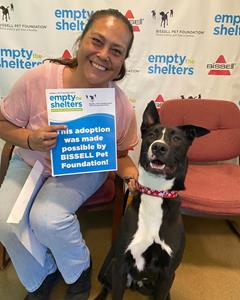 Grand Rapids, MI, Sept. 20, 2023 (GLOBE NEWSWIRE) — Animal shelters nationwide are experiencing an overcrowding crisis due to increased intakes and slowed adoptions. Lives are on the line as post-pandemic euthanasia rates spike due to the lack of space. To take as many pets from shelter kennels to the couches of loving homes, BISSELL Pet Foundation, a national animal welfare organization dedicated to ending pet homelessness, is hosting its Fall National "Empty the Shelters" reduced-fee adoption event from October 1 – 15.
According to the Shelter Animals Count database, nationwide animal intakes at public and private shelters are expected to reach a three-year high by the end of 2023. BISSELL Pet Foundation is sponsoring reduced adoption fees for cats and dogs at more than 345 participating organizations in 42 states to raise awareness for deserving shelter pets and encourage adoption. Adopters can bring home a fully vaccinated, microchipped, spayed, or neutered pet ready to be loved for $50 or less.
 
"Our nation's animal shelters are facing an overcrowding crisis unlike anything we have experienced in more than a decade. The devastating increase in owner surrenders and stray intakes has left tens of thousands of socialized, house-trained, and leash-trained pets desperate to find a home," said Cathy Bissell, Founder of BISSELL Pet Foundation. "Our Fall National 'Empty the Shelters' will support the adoption of thousands of pets across the country, helping shelters in this critical time. Opening your home to a shelter pet saves a life and creates space to give another pet a chance."
BISSELL Pet Foundation's "Empty the Shelters" event is the largest funded adoption event in the country. With a goal of encouraging more families to choose adoption, this lifesaving effort has helped more than 190,000 pets find loving homes since 2016. As BISSELL Pet Foundation's largest program, 687 animal welfare organizations in 49 states and Canada have participated throughout the years. During BISSELL Pet Foundation's "Empty the Shelters" quarterly national events, an average of 1,225 shelter pets are adopted daily. 
BISSELL Pet Foundation and participating organizations urge families to research the pet they are interested in adopting as well as adoption requirements. To find a participating organization near you or donate to support Empty the Shelters, visit www.bissellpetfoundation.org/empty-the-shelters. 
###
About BISSELL Pet Foundation:
BISSELL Pet Foundation is a charitable 501©(3) nonprofit organization with a mission to help reduce the number of animals in shelters through pet adoption, spay/neuter programs, microchipping, and crisis and disaster response. Founded in 2011 by Cathy Bissell, BPF is an extension of her long-standing love for animals and commitment to their welfare. BPF has since partnered with more than 6,000 shelters and rescues across the U.S. and Canada to help pets find loving homes. The foundation is supported by generous donors and BISSELL Inc. where every purchase saves pets. To learn more or make a lifesaving donation, visit www.bissellpetfoundation.org.
Attachments
CONTACT: Brittany Schlacter BISSELL Pet Foundation 616.600.9470 [email protected] 

Disclaimer: The above press release comes to you under an arrangement with GlobeNewswire. AfternoonHeadlines.com takes no editorial responsibility for the same.