Bio Decontamination Market revenue to reach USD 315 Million by 2035, says Research Nester
Major bio decontamination market players include Ecolab Inc., STERIS PLC, TOMI Environmental Solutions Inc., Howorth Air Technology Ltd., Wenzhou Weike Biological Laboratory Equipment Co. Ltd., JCE Biotechnology, Zhejiang Tailin Bioengineering Co., Ltd., ClorDiSys Solutions Inc., Amira S.r.l., and Noxilizer Inc.,
New York, Sept. 11, 2023 (GLOBE NEWSWIRE) — The global bio decontamination market size is expected to expand at ~6% CAGR from 2023 to 2035. The market is anticipated to garner a revenue of USD 315 million by the end of 2035, up from a revenue of ~USD 140 million in the year 2022.The growth of the bio decontamination market can be attributed to the increasing number of surgical procedures performed globally as a result of increased availability of advanced medical technology, improved safety standards, and increased access to healthcare in developing countries. It was estimated that at least 1.12 million C-section surgeries were performed in the EU-27 alone in 2020, according to Eurostat statistics, while about 4.3 million cataract surgeries were conducted in the region that same year. An estimated 3,00,800 heart bypass operations are carried out every year. A total of 2,00,100 surgical procedures are performed in the United States each year, while 45,000 are performed in India.
Request Free Sample Copy of this Report @ https://www.researchnester.com/sample-request-3893
As the number of surgeries and medical procedures increases, there is a greater risk of contamination and cross-contamination of medical instruments and surfaces. Bio decontamination is the process of destroying or removing pollutants and contaminants in order to create a safe and sterile environment for surgical procedures. Moreover, the increasing demand for bio decontamination services in the healthcare and pharmaceutical industries, as well as the growing focus on the development of new and more efficient decontamination products and technologies, are anticipated to further drive market growth over the forecast period.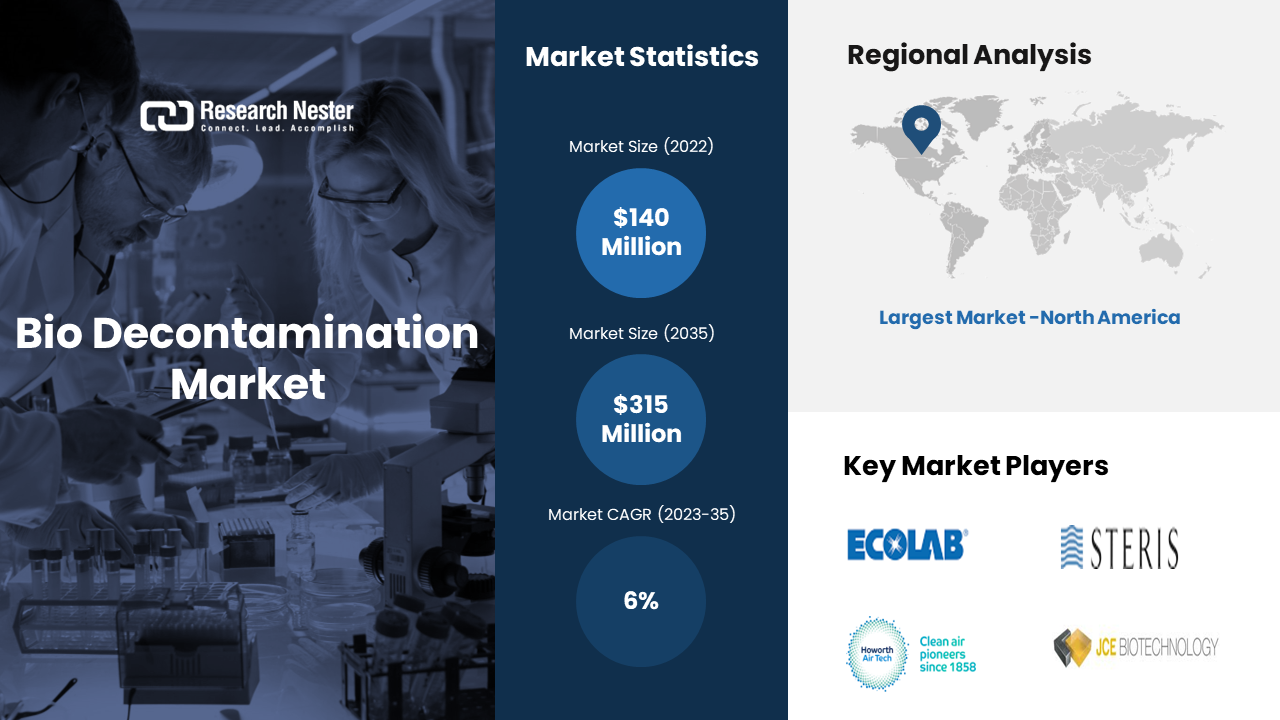 Bio Decontamination Market: Key Takeaways
Market in North America to grow at a highest rate
Among all the segments, medical devices to generate the highest growth rate
Market in Asia Pacific to propel highest growth
Rise in the Incidence of Hospital-Acquired Infections (HAIs) in Hospitals to Boost Market Growth
HAIs are caused by bacteria, fungi, or viruses that are present on surfaces, medical equipment, and in the hospital's environment. This increases the risk of patients getting exposed to these microorganisms and developing an infection. The bio decontamination market is driven by the need for hospitals to take steps to reduce the risk of HAIs by using products and techniques to kill the microorganisms. According to the Centers for Disease Control and Prevention, nearly 1.7 million hospitalized patients each year acquire HCAIs while being treated for other medical issues, and 98,000 of these patients die. Also, the number of hospital-acquired infections (HAI) caused by multidrug-resistant organisms (MDRO) is estimated at 35,000 in Germany each year, and about 1500 people die from such infections. A new report on healthcare-associated infections was published in January 2020, estimating that there are 220,000 hospital-acquired infections in Canada each year. Bio decontamination is the process of using chemical agents to kill or neutralize hazardous microorganisms, such as bacteria and fungi. It is especially useful in treating HAIs, as it helps to reduce the risk of cross-contamination between patients and healthcare workers, and eliminates the need for prolonged use of antibiotics. Moreover, numerous factors, such as the increased use of antibiotics and the presence of more immunocompromised patients in hospitals, along with poor hygiene practices, a lack of adequate cleaning and disinfection, and a lack of access to proper handwashing facilities, are also contributing to the rise in HAIs. Additionally, certain treatments and procedures, such as mechanical ventilatory support or indwelling devices, increase the risk of HAIs as they provide an easy entry point for bacteria and other microorganisms.
Bio Decontamination Market: Regional Overview
The market is segmented into five major regions including North America, Europe, Asia Pacific, Latin America, and the Middle East and Africa region. 
Rapid Advancements and R&D activities in Pharmaceutical Sector to Boost Market Growth in the North American Region
The bio decontamination market in the North America region is estimated to garner the largest revenue by the end of 2035, backed by rising investments in the field of biotechnology, which have enabled the development of advanced bio decontamination technologies in the region along with the presence of a large number of pharmaceutical companies in the United States such as Johnson & Johnson, Eli Lilly and Co., Pfizer Inc., and Merck & Co. Inc. Also, in terms of pharmaceutical production and manufacturing, the US accounts for almost half (47%) of global production and 23% of the industry. The pharmaceutical industry spent USD 83 billion on research and development in 2019, according to the Congressional Budget Office. The increasing demand for more efficient and effective research and manufacturing processes is expected to drive the need for advanced facilities with modern machines and instruments, as well as a properly decontaminated environment. This is expected to create an opportunity for bio decontamination solutions to play an important role in the regional bio decontamination market growth. Furthermore, the rising prevalence of antimicrobial resistance has increased the need for bio decontamination, as it helps minimize the risk of contamination and the spread of resistant organisms. It utilizes a combination of physical, chemical, and biological means to reduce the number of pathogens and other microorganisms on surfaces or in the air. The CDC estimates that more than 2.8 million antimicrobial-resistant infections occur in the U.S. every year, resulting in more than 35,000 deaths.
Make an Inquiry Before Buying this Report @ https://www.researchnester.com/inquiries-before-buying-3893
Huge Base of Geriatric Population to Drive Market Growth in the Asia Pacific Region
The bio decontamination market in the Asia Pacific region is estimated to garner highest CAGR by the end of 2035 owing to the huge base of geriatric population. In October 2021, WHO reported that the elderly population had a high risk of contracting infectious diseases owing to frequent hospital visits and poor immunity. The Chinese population is one of the fastest-aging in the world. In China, people over 60 are expected to make up 28% of the population by 2040. The number of older Indians (60 and over) is forecast to rise from 139 million in 2021 to 195 million in 2031, an increase of 40% in a decade. Older adults are more prone to having weakened immune systems owing to age-related changes such as the production of fewer antibodies and a decrease in T-cell activity. This makes them particularly vulnerable to HAIs, and therefore, the demand for bio decontamination solutions in the region is expected to increase in the coming years. Moreover, infections of SARS-Cov-2 acquired in hospitals in China represent a serious public health problem, which causes patients to avoid seeking hospital treatment for fear of becoming infected. In February 2020, the study found that 12.3% of hospitalized patients who had been admitted initially for other health issues in China had suspected hospital-associated transmission. As a result of the increasing number of cases of infectious diseases, healthcare facilities are looking for ways to minimize the spread of germs and bacteria. Bio decontamination is an effective way to ensure that the environment is free of pathogens and is therefore becoming more popular in the Asia-Pacific region.
Bio Decontamination, Segmentation by Product
Equipment
Service
Consumables
The equipment segment in bio decontamination market is anticipated to hold the largest revenue by the end of 2035, backed by the growing demand for advanced automated decontamination technologies for various applications such as healthcare, food, and pharmaceuticals. For instance, the 35% hydrogen peroxide vapor bio decontamination automated technology offered by Bioquell is ideal for cleanroom equipment, isolators, BSCs, rooms, pass-throughs, emergency response, and scheduled maintenance. Automated bio decontamination technologies are more efficient, cost-effective, and accurate than manual methods. They also reduce the risk of human error, which makes them preferable for many industries. Furthermore, the increasing investments in research and development of bio-decontamination solutions are expected to lead to the development of more advanced and efficient equipment, which in turn is expected to drive the growth of this segment. Additionally, the use of portable equipment and smaller equipment footprints can help to reduce the costs associated with hospital operations. All of these factors contribute to an increase in revenue for the equipment segment.
Bio Decontamination, Segmentation by End User
Biotech
Medical Devices
Pharma
Life Sciences
Hospital
The medical devices segment in bio decontamination market is anticipated to hold the largest revenue by the end of 2035, backed by the rise in the number of patients with chronic diseases and the growing demand for minimally invasive surgical procedures. According to the Centers for Disease Control and Prevention, 51.8% of US adults had at least one chronic condition in 2018, and 27.2% had multiple chronic conditions. Additionally, the increasing demand for home healthcare solutions as well as the development of innovative medical devices and the increasing use of medical devices, such as syringes, catheters, and other medical instruments that are prone to microbial contamination, are expected to drive the growth of this segment. As a result, the need for decontamination and sterilization of these devices has grown significantly. Additionally, the growing number of hospitals and other healthcare facilities across the world has resulted in a greater demand for bio decontamination services, owing to the increased need to maintain sanitary conditions and prevent the spread of infections. Moreover, the advancement of medical technology has enabled surgeons to perform more complex procedures with greater accuracy and precision. In turn, this has increased the number of surgeries that require the use of medical devices, such as implants and prosthetics. Over 300 million major surgeries are performed each year worldwide; around 40 to 60 million in the United States and 30 million in Europe.
Request for Customization of this Report @ https://www.researchnester.com/customized-reports-3893
Bio Decontamination, Segmentation by Agent
Chlorine
Hydrogen Peroxide
Nitrogen
Peracetic Acid
Few of the well-known industry leaders in the bio decontamination market that are profiled by Research Nester are Ecolab Inc., STERIS PLC, TOMI Environmental Solutions Inc., Howorth Air Technology Ltd., Wenzhou Weike Biological Laboratory Equipment Co. Ltd., JCE Biotechnology, Zhejiang Tailin Bioengineering Co., Ltd., ClorDiSys Solutions Inc., Amira S.r.l., Noxilizer Inc., and other key market players.
Recent Development in the Bio Decontamination Market
Steris and Chargepoint have partnered to provide integrated sterile transfer solutions, utilizing Steris' Biodecontamination Systems and Chargepoint's AseptiSafe Bio Transfer Valve.
The Tampa Convention Center in Florida featured the Ecolab Inc. solution, Bioquell, which offers end-to-end bio decontamination systems.
About Research Nester
Research Nester is a one-stop service provider with a client base in more than 50 countries, leading in strategic market research and consulting with an unbiased and unparalleled approach towards helping global industrial players, conglomerates and executives for their future investment while avoiding forthcoming uncertainties. With an out-of-the-box mindset to produce statistical and analytical market research reports, we provide strategic consulting so that our clients can make wise business decisions with clarity while strategizing and planning for their forthcoming needs and succeed in achieving their future endeavors. We believe every business can expand to its new horizon, provided a right guidance at a right time is available through strategic minds.
CONTACT: AJ Daniel Corporate Sales, USA Research Nester Email: [email protected] USA Phone: +1 646 586 9123 Europe Phone: +44 203 608 5919

Disclaimer: The above press release comes to you under an arrangement with GlobeNewswire. AfternoonHeadlines.com takes no editorial responsibility for the same.