Big Screen Entertainment Group Seizing the Moment for Independent Studios
Big Screen Entertainment Group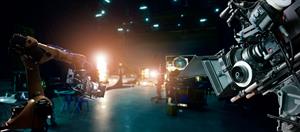 LOS ANGELES, Aug. 03, 2023 (GLOBE NEWSWIRE) — As much of strike-hit Hollywood grinds to standstill, trailblazing and talent friendly Big Screen Entertainment Group (OTC:BSEG) is among the independent studios looking to an exciting future.
While supporting the striking actors and writers, the Los Angeles based company has stockpiled a slate of captivating content created and ready to be filmed by its experienced in-house team and backed by its ambitious new film fund.
Free from the shadow of major studios and streaming giants that are currently in a labor dispute with the guilds, independents like Big Screen can proudly offer lucrative opportunities and compelling incentives for talent – and as eligible recipients of SAG-AFTRA/WGA waivers, have a green light to film their exciting projects.
Stressing her company's dedication to fostering a positive and inclusive environment and support for the guild members, Kimberley Kates, CEO of Big Screen Entertainment Group, said: "We prioritize the well-being of our artists and crew, and our growth is anchored in collaboration, innovation, and creativity."
Seizing the moment like never before, BSEG stands primed for massive expansion, embracing the potential of untapped creativity and unbridled talent of labor across the industry while utilizing its own tech division. The company sees its talent plus tech approach as a seamless integration of its creative team with cutting-edge AI technology.
With this marriage of innovation and artistry while cherishing the significance of every individual's contribution, BSEG is poised to redefine the future of entertainment.
About Big Screen Entertainment Group:
Big Screen (OTC:BSEG) is a cutting-edge development, production and distribution company based in Los Angeles, dedicated to bringing captivating stories to life on the big and small screens.
Forward-Looking Statement: A number of statements contained in the press release are forward-looking statements that are made pursuant to the safe harbor provisions of the Private Securities Litigation Act of 1995. These forward-looking statements involve a number of risks and uncertainties, including timely development, and market acceptance of products and technologies, competitive market conditions, successful integration of acquisitions and the ability to secure additional sources of financing. When used in this press release, words such as "could," "plan," "estimate," "expect," "intend," "may," "potential," "should," and similar expressions are forward-looking statements.
Contact: Sandro Monetti
[email protected]
323.654.3400
A photo accompanying this announcement is available at https://www.globenewswire.com/NewsRoom/AttachmentNg/51f91483-cc23-4658-8df6-cfb756b38c1e

Disclaimer: The above press release comes to you under an arrangement with GlobeNewswire. AfternoonHeadlines.com takes no editorial responsibility for the same.