Bear Blend announces its commitment to biodynamic farming and presents its selection of premier certified organic, nicotine, and additive-free smokable herbs and ceremonial blends.
Bear Blend – Top Selling Blends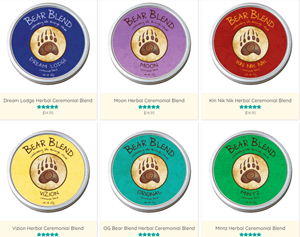 Los Angeles, CA, Sept. 28, 2023 (GLOBE NEWSWIRE) — Bear Blend is collaborating with a select group of biodynamic farmers, certified organic with Oregon Tilth Certified Organic. OTCO is an organization that has been working to make food and agriculture biologically sound and socially equitable for the past 40 years. 
Biodynamic farming dates back to the late 19th century, and after some 100 years, it is becoming the "next level organic standard."
These collaborations improve the sustainability and quality of farming, and Bear Blend's proprietary practices and extensive experience processing herbs for the ideal texture and natural bouquet complete the cycle with the best smokable herbs available.
Bear Blend's Smokable Herbs are a curated selection of the most popular and beneficial herbs for rituals and ceremonies. Chief among these is mugwort, the "Dream Herb". Although it will not get you high, you will likely recall your dreams after smoking this ancient herb.
Mugwort is a staple in Chinese, Japanese, and Korean traditional medicine and has a mild sedative effect. It is a common ingredient in sleep pillows for those reasons.
Customers of Bear Blend can choose from 11 smokable herbs like Lobelia, lavender, and marshmallow. Each offering comes in a colorful, robust tin to preserve freshness and keep your selections safe.
Other herbal collections by Bear Blend:
Contact Information:
Bear Blend LLC
4901 Morena Blvd
Suite 1104
San Diego, CA 92117
(619) 819-5144
Website:
Attachment
CONTACT: Anthony Bear Bear Blend (619) 819-5144 [email protected] 

Disclaimer: The above press release comes to you under an arrangement with GlobeNewswire. AfternoonHeadlines.com takes no editorial responsibility for the same.