Barricade Building Products Unveils ThermoPro: A Breakthrough in Exterior Wall Solutions
Barricade Building Products

Barricade ThermoPro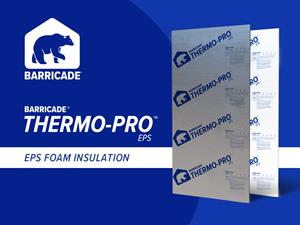 Richmond, VA, Oct. 24, 2023 (GLOBE NEWSWIRE) — Barricade Building Products, a leading name in innovative construction solutions, is excited to unveil its latest offering, the ThermoPro Rigid Insulation System, now available in two variations: the metallic reflective facer and the poly facer with a clear facer on the back. 
The ThermoPro Rigid Insulation System represents a advancement in insulation technology, designed to provide exceptional thermal performance without the need for transitioning to 2×6 studs, thus enabling builders to meet the new 2021 IECC code requirements seamlessly. 
With the metallic reflective facer, the ThermoPro Rigid Insulation System actively addresses moisture management concerns while ensuring optimal energy efficiency. Similarly, the poly facer with a clear back facilitates a balanced approach, offering durability and enhanced structural support, along with an increased focus on environmental sustainability. 
"Our goal at Barricade Building Products has always been to provide our customers with top-of-the-line solutions that combine innovation and practicality," said Darcy Overby, Director of National Sales at Barricade Building Products. "The launch of the ThermoPro Rigid Insulation System in multiple facer options signifies our commitment to meeting the evolving needs of the construction industry and enabling builders to achieve superior performance while staying compliant with the latest code requirements." 
The ThermoPro Rigid Insulation System reinforces Barricade Building Products' dedication to delivering products that meet and exceed industry standards, empowering builders to create sustainable and energy-efficient structures. 
For more information on ThermoPro and how it can revolutionize your construction projects, please contact your sales rep in your area, or visit barricadebp.com. 
About Barricade Building Products  
Barricade Building Products is a leading manufacturer of construction materials, committed to delivering innovative solutions for the building industry. With a focus on quality, performance, and sustainability, Barricade Building Products continues to revolutionize. 
Attachments
CONTACT: Darcy Overby Barricade Building Products 8048769170 [email protected] 

Disclaimer: The above press release comes to you under an arrangement with GlobeNewswire. AfternoonHeadlines.com takes no editorial responsibility for the same.