Bare Die SiC from ROHM Chosen by Apex Microtechnology for Newest Line of Power Modules
ROHM's SiC MOSFETs and SiC SBD in a new line of power modules from Apex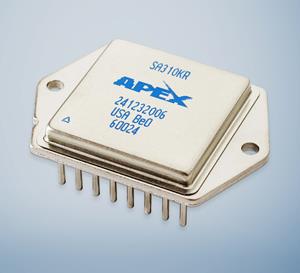 Santa Clara, CA and Kyoto, Japan, March 20, 2023 (GLOBE NEWSWIRE) — ROHM Semiconductor today announced that precision power analog company Apex Microtechnology is adopting ROHM's silicon carbide (SiC) MOSFETs and SiC Schottky Barrier Diode (SBD) for a new line of power modules. This product family currently includes the three-phase SA310 module, ideal for driving high-voltage BLDC (brushless DC) motors, as well as two half-bridge devices, SA110 and SA111, ideal for a wide range of high-voltage applications.
ROHM's 1200V S4101 SiC MOSFETs and 650V S6203 SiC SBD are supplied in bare die form, enabling Apex to save space and increase the performance and reliability of its modules. In addition to the SiC devices, Apex's new line of power modules use ROHM's tightly-matched BM60212FV-C gate drivers in bare die format, contributing to high-efficiency operation of high-voltage motors and power supplies.
By using these parts in bare die form, Apex has been able to increase the levels of integration offered by these power modules. According to a study commissioned by the company, such modules are usually 67% smaller than discrete solutions developed by customers. Apex is often able to include not only MOSFETs, gate drivers and SBDs, but also bootstrap supply and bypass capacitors with compact surface mount form factors.
Greg Brennan, President, Apex Microtechnology
"Apex Microtechnology's portfolio of high power, high precision analog and mix-signal solutions are used in some of the world's most demanding applications. Our devices power systems ranging from medical equipment in a surgical suite, to flight instrumentation, to satellites in orbit. With this in mind, Apex designs its products to meet or exceed the most stringent standards throughout the industry, and as such we seek to partner with suppliers sharing our high standards of quality and care. In this respect, ROHM has shined as a supplier of SiC components for Apex. Not only has the service and support we have received from ROHM been excellent, but they have been able to stably supply us throughout the semiconductor shortages, allowing us to continue production and on-time deliveries to our customers. As Apex continues to develop innovative analog and mix-signal solutions in order to solve the industry's complex challenges, we look forward to additional collaboration with ROHM."
Jay Barrus, President, ROHM Semiconductor U.S.A.,LLC
"We are excited to help Apex Microtechnology, a part of Electronics Technologies Group of HEICO Corporation. They design precision power analog monolithic, hybrid and open frame components for a wide range of industrial, test, measurement and other applications. ROHM is the leading company in SiC power semiconductors and have achieved a significant technological lead in this field, along with the provision of power solutions combined with gate driver ICs. Together with Apex Microtechnology, we want to further improve the efficiency of high-power applications by fully exploiting the potential of ROHM's strengths in power and analog technologies."
About Apex Microtechnology
Apex Microtechnology, a subsidiary of HEICO Corporation, is based in Tucson, Arizona. Apex designs and manufactures precision power analog monolithic, hybrid and open frame components for a wide range of industrial, test and measurement, medical, aerospace and military applications. Apex Microtechnology is a recognized leader for consistently developing products that lead the industry in terms of performance, quality, and reliability. Please visit Apex Microtechnology's website for more information: https://www.apexanalog.com/
About ROHM Semiconductor
ROHM, a leading semiconductor and electronic component manufacturer, was established in 1958. From the automotive and industrial equipment markets to the consumer and communication sectors, ROHM supplies ICs, discretes, and electronic components featuring superior quality and reliability through a global sales and development network. Our strengths in the analog and power markets allow us to propose optimized solutions for entire systems that combine peripheral components (i.e., transistors, diodes, resistors) with the latest SiC power devices as well as drive ICs that maximize their performance. Please visit ROHM's website for more information: https://www.rohm.com
 Supporting Information
An overview of SiC power devices that includes SiC MOSFETs, SiC SBDs, and SiC power modules (together with various support content that provide an introduction and enable quick evaluation of fourth generation SiC MOSFETs) can be found on ROHM's dedicated SiC webpage: https://www.rohm.com/products/sic-power-devices
 Supporting content includes: 
Introductory, product videos
Application notes (product overview and evaluation information, traction inverters, onboard chargers, SMPS)
Design models (SPICE, PLECS, 3D CAD data of packages, footprints, etc.)
Simulation circuits of key applications (ROHM Solution Simulator)
Evaluation board information
Attachment
ROHM's SiC MOSFETs and SiC SBD in a new line of power modules from Apex
CONTACT: Travis Moench ROHM Semiconductor 858.625.3600 [email protected] Heather Savage BWW Communications 720.295.0260 [email protected] 

Disclaimer: The above press release comes to you under an arrangement with GlobeNewswire. AfternoonHeadlines.com takes no editorial responsibility for the same.