Automotive Ethernet Market revenue to exceed USD 17.51 Billion by 2033, says Research Nester
Leading automotive ethernet market players include Microchip Technology, Inc., Broadcom Limited, Vector Informatik GmbH, RUETZ SYSTEM SOLUTIONS GMBH, DASAN Network Solutions, Bosch Rexroth, B&R Automation, TSN Systems GmbH, TE Connectivity, Marvell, Toshiba, and Texas Instruments Incorporated.
New York, Oct. 10, 2023 (GLOBE NEWSWIRE) — The global automotive ethernet market size is predicted to expand at ~21.3% CAGR between 2023 and 2033. The market is projected to garner a revenue of USD 17.51 billion by the end of 2033, up from a revenue of ~USD 2.11 billion in the year 2022.The rise of connected cars has revolutionized the automotive industry, with vehicles increasingly equipped with advanced technology that enables them to communicate with other devices and networks. In 2022 the sales of connected cars worldwide experienced a 13% year[R1]  on year growth.
Request Free Sample Copy of this Report @ https://www.researchnester.com/sample-request-5110
Moreover, the proportion of cars, within the total car sales surpassed 52%. This trend is driving the growth of Automotive Ethernet as a reliable and efficient means of communication within the vehicle. One of the key benefits of connected cars is their ability to provide real-time data on driving conditions, traffic patterns, and weather forecasts. This information can be used to improve safety and efficiency on the roads, as well as enhance the overall driving experience. With the help of Automotive Ethernet, this data can be transmitted quickly and accurately, allowing for faster decision-making and response times.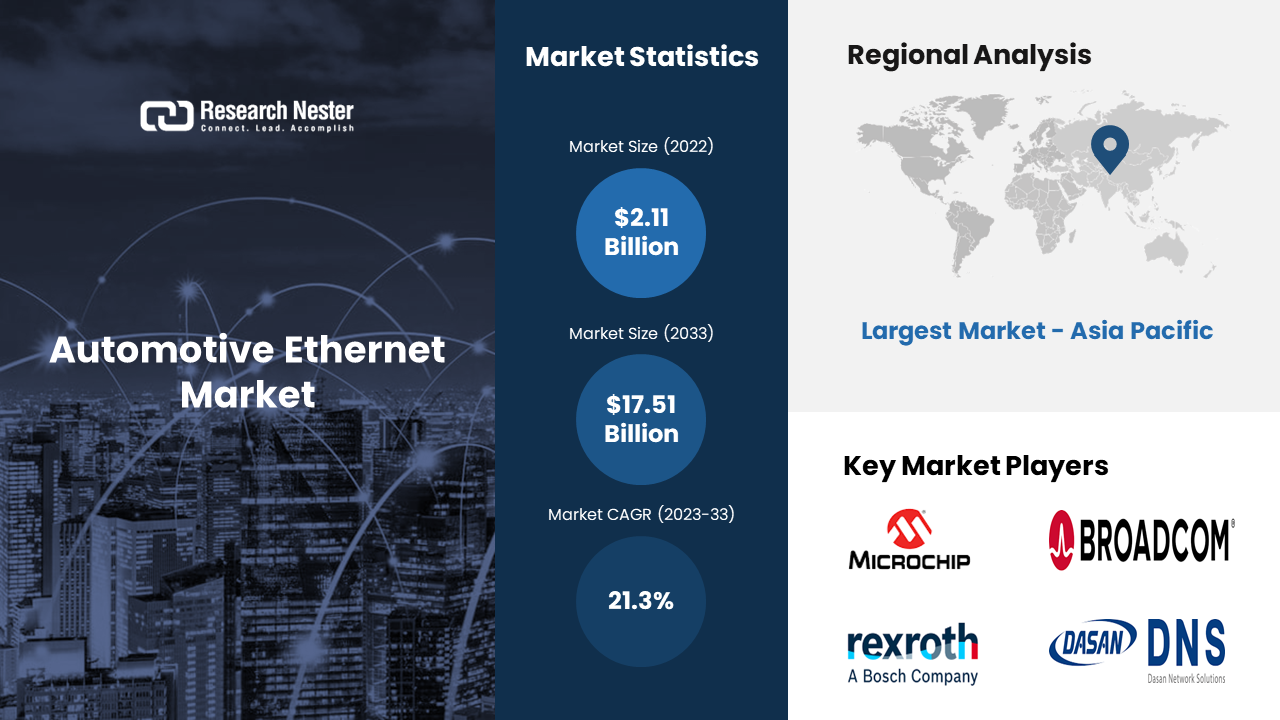 Higher Bandwidth and Faster Data Transfer Rates to Boost Market Growth
Automotive Ethernet is a high-speed communication network that provides faster data transfer rates of up to 10[R2]  Gbps, which is significantly higher than traditional automotive networks. This increased bandwidth allows for real-time transmission of large amounts of data, such as high-definition video feeds from cameras around the vehicle, without any lag or delay. One of the key advantages of Automotive Ethernet is its ability to support multiple applications simultaneously, without compromising on speed or quality. For example, it can handle both infotainment and advanced driver assistance systems (ADAS) data in parallel, ensuring that critical safety information is delivered to the driver without any delays. This makes Automotive Ethernet an ideal solution for modern connected cars, where multiple devices need to communicate with each other in real-time.
Automotive Ethernet Market: Regional Overview
The market is segmented into five major regions including North America, Europe, Asia Pacific, Latin America, and the Middle East and Africa region. 
Expansion Of The Vehicle Production to Drive the Growth in the Asia Pacific Region
The automotive ethernet market in Asia Pacific region is estimated to garner the largest revenue by the end of 2035. This growth is being driven primarily by the rising demand for advanced automotive technologies, such as connected cars, autonomous driving, and electric vehicles, that require the deployment of automotive ethernet networks. Additionally, the expansion of the vehicle production in countries such as China, Japan, South Korea, and India is also driving the demand for automotive ethernet networks. In December 2022 the production of motor vehicles in China reached a total of 27,020[R3] ,615 units while Indias motor vehicle production, for the period amounted to 5,456,857 units. With the increase in the number of vehicles being produced in these countries, there is an increased demand for automotive ethernet networks. Ethernet networks are needed to connect the various components of the vehicles, such as the engine and transmission, to ensure that all systems are working optimally.
Make an Inquiry Before Buying this Report @ https://www.researchnester.com/inquiries-before-buying-5110
Increasing Demand for Advanced Driver Assistance Systems (ADAS) to Drive the Growth in the North America Region
The North America automotive ethernet market is estimated to garner the largest revenue by 2035. The increasing demand for Advanced Driver Assistance Systems (ADAS) is one of the key drivers behind the market growth in the region. 94% of newly manufactured vehicles in the United States are equipped with at least one Advanced Driver Assistance System (ADAS). Additionally automakers that account for 98[R4] % of the U.S. New car market have made a commitment, to implementing Automated Emergency Braking (AEB) as the primary standard ADAS feature on all light duty vehicles by September 1st, 2022. ADAS features such as lane departure warning, adaptive cruise control, and automatic emergency braking require high-speed data transfer between various sensors and electronic control units (ECUs). Automotive Ethernet provides the necessary bandwidth and data transfer rates to support these advanced features.
Automotive Ethernet Segmentation by Automotive Ethernet Type
One Pair Ethernet
Energy-Efficient Ethernet
Power Over Ethernet
Gigabit Ethernet
The One Pair Ethernet segment in automotive ethernet market is anticipated to hold the largest revenue by the end of 2035. Single Pair Ethernet is a cost-effective and efficient way to transmit data between devices in the automotive market. It is also more reliable and easier to install than other types of Ethernet, making it attractive to manufacturers. Furthermore, it provides increased bandwidth and low latency, making it well-suited for applications that require fast and reliable data transmission. Single Pair Ethernet utilizes a pair of wires to transfer data at speeds of 1 Gbps[R5]  for distances up to 40 meters or at 10 Mbps for distances up, to 1000 meters.
Automotive Ethernet Segmentation by Vehicle Type
Passenger Car
Light Commercial Vehicle
Heavy Commercial Vehicle
The Passenger Car segment in automotive ethernet market is anticipated to hold the largest revenue by the end of 2035. This is largely due to the fact that passenger vehicles are more likely to have more complex electrical systems, which require a higher number of ethernet ports. Additionally, the growing demand for electric vehicles is also expected to drive the segment as electric vehicles require faster networking capabilities. In 2021[R6] , 56.4 million passenger cars were purchased worldwide representing, about 68.4% of the total global car sales. Furthermore, the increasing demand for infotainment systems and safety features in passenger cars is also expected to drive the market.
Request for Customization of this Report @ https://www.researchnester.com/customized-reports-5110
A few of the well-known industry leaders in automotive ethernet market that are profiled by Research Nester are Microchip Technology, Inc., Broadcom Limited, Vector Informatik GmbH, RUETZ SYSTEM SOLUTIONS GMBH, DASAN Network Solutions, Bosch Rexroth, B&R Automation, TSN Systems GmbH, TE Connectivity, Marvell, Toshiba, Texas Instruments Incorporated., and other key market players.
Recent Development in the Automotive Ethernet Market
Broadcom recently unveiled the BCM8958X, a cutting edge automotive ethernet switch device designed to meet the increasing demands of in vehicle networking applications. This innovation aims to expedite the adoption of software defined vehicles (SDV) solidifying Broadcoms position as a leader in providing Ethernet solutions for next generation automotive architectures.
Microchip Technology Inc. has introduced the LAN9360, a remarkable single chip ethernet controller equipped with embedded protocols. Notably it serves as the industrys hardware based audio endpoint solution for Audio Video Bridging (AVB). Leveraging ethernet AVB technology this groundbreaking solution facilitates connectivity between various components within automobiles such, as infotainment systems, smart headrests, radio tuners, amplifiers, speakers and microphones.
About Research Nester
Research Nester is a one-stop service provider with a client base in more than 50 countries, leading in strategic market research and consulting with an unbiased and unparalleled approach towards helping global industrial players, conglomerates and executives for their future investment while avoiding forthcoming uncertainties. With an out-of-the-box mindset to produce statistical and analytical market research reports, we provide strategic consulting so that our clients can make wise business decisions with clarity while strategizing and planning for their forthcoming needs and succeed in achieving their future endeavors. We believe every business can expand to its new horizon, provided a right guidance at a right time is available through strategic minds.
CONTACT: AJ Daniel Corporate Sales, USA Research Nester Email: [email protected] USA Phone: +1 646 586 9123 Europe Phone: +44 203 608 5919

Disclaimer: The above press release comes to you under an arrangement with GlobeNewswire. AfternoonHeadlines.com takes no editorial responsibility for the same.