ATAX Tax Service Celebrates Diana Luna as 100th Franchisee
Diana Luna, ATAX Tax Service 100th Franchisee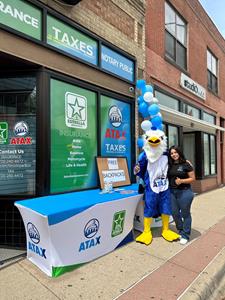 Denver, CO, Oct. 13, 2023 (GLOBE NEWSWIRE) —
ATAX Tax Service proudly announces Diana Luna as its 100th franchisee, a remarkable achievement in the company's journey and a testament to Luna's unwavering resilience and dedication.Born and raised in Denver, Colorado, Diana Luna's story embodies the spirit of the American Dream. As a first-generation American of Hispanic descent, Diana's journey was met with numerous challenges. Her parents, immigrants with no high school education, faced immense hardships. After her father's deportation, her mother single-handedly raised six children. Diana, being the second oldest, faced her own set of challenges, becoming a mother at the tender age of 16. But with the unwavering support of her family, especially her mother and now-husband, she rose above adversities. 
At 18, Diana embarked on her professional journey with Farmers Insurance and promptly secured her insurance license. A passion for accounting, kindled during a high school class, led her to pursue a bachelor's degree in the field. "I fell in love with the idea of a career in accounting, because you can really help people," Diana said. Today, not only is she an ATAX franchisee, but she's also spearheaded the launch of an Estrella Insurance Franchise.2023 was a phenomenal year for Diana. Not only did she join the ATAX family and rank as the #3 highest producing new office, but she also became a Certified Acceptance Agent with the IRS. Her role allows her to empower others, especially those without a social security number, by teaching them how to kick-start their businesses, obtain an EIN, and ultimately, find a path towards legal employment and citizenship.
Her journey in the financial sector began with an internship under the guidance of Enrique Medina, an accomplished Area Representative, franchisee with ATAX Tax Service, and an Estrella Insurance franchisee. Witnessing Enrique's transition from a local tax office to an ATAX franchise, Diana was inspired to follow in his footsteps. Recognizing her potential, Enrique said, "Her drive and motivation is outstanding. Her love of her family and her roots have made her a superstar. "Diana Luna's story is not just about her achievements; it's about the strength of character, perseverance, and the belief that with the right guidance, training, and support, one can truly achieve greatness. As she often reiterates to her daughters, " As women we can do anything. "ATAX Tax Service is one of the leading tax preparation and business services franchises in the U.S., with a strong commitment to providing personalized financial solutions for individuals and businesses alike. Specializing in a comprehensive suite of services, including tax preparation, bookkeeping, payroll, and incorporation services, ATAX is dedicated to meeting the unique needs of its diverse clientele. Guided by core values of professionalism, integrity, and community engagement, ATAX is not just about numbers – it's about empowering individuals, entrepreneurs, and communities to achieve financial success and economic growth.For more information, visit www.atax.com.
Attachment
CONTACT: Martha O'Gorman ATAX Tax Service 757-572-1091 [email protected] 

Disclaimer: The above press release comes to you under an arrangement with GlobeNewswire. AfternoonHeadlines.com takes no editorial responsibility for the same.