Associa H.R.W. Management Sponsors National Night Out Event
Associa H.R.W. Management Sponsors National Night Out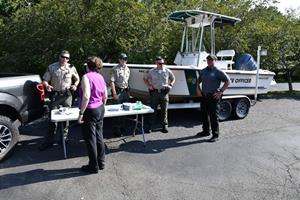 RALEIGH, N.C., Oct. 18, 2023 (GLOBE NEWSWIRE) — Associa H.R.W. Management (HRW), a leading provider of community management services throughout the greater Raleigh, Fayetteville, East Coast areas of North Carolina, recently partnered with the Fearrington Village Homeowners Association to host a community-wide safety event in conjunction with the 2023 National Night Out (NNO). The branch and association board members organized the event to promote neighborhood solidarity, resident safety, and police-community partnerships. More than 400 residents and neighbors attended the event, which featured free food, games for all ages, a wine toss for the adults and a classic car show. Members of the Chatham County Sheriff's Office, North Chatham Fire Department and North Carolina Wildlife Resources Commission provided safety tips and answered questions.
As the community management industry's sole national sponsor of NNO, Associa works closely with its respective community partners through Associa Supports Kids (ASK), a community outreach program, to educate parents and children on the importance of neighborhood safety. Tens of thousands of ASK giveaway items are provided annually to NNO event attendees who attend both Associa-managed and non-Associa managed community safety events.
NNO traditionally takes place on the first Tuesday in August throughout all 50 U.S. states, territories, and on military bases worldwide. Texas and other selected regions celebrate the first Tuesday in October for heat-related reasons. Associa sponsored a total of 104 events in August and looks forward to working with many more communities on Tuesday, October 3, as part of Texas' NNO. The goal of all the programs is to promote neighborhood camaraderie and inclusiveness and to help make communities safer, more caring places to live.
About Associa
With more than 275 branch offices across North America, Associa is building the future of community for more than 6.5 million residents worldwide. Our 14,000+ team members lead the industry with unrivaled education, expertise, and trailblazing innovation. For more than 44 years, Associa has brought positive impact and meaningful value to communities. To learn more, visit www.associaonline.com.
Stay Connected
Like us on Facebook: https://www.facebook.com/associa
Subscribe to the Blog: https://hub.associaonline.com/
Follow us on Twitter: https://twitter.com/associa
Join us on LinkedIn: http://www.linkedin.com/company/associa
Attachment
CONTACT: Tom Womack Associa 214.272.4107 [email protected] 

Disclaimer: The above press release comes to you under an arrangement with GlobeNewswire. AfternoonHeadlines.com takes no editorial responsibility for the same.