Army Veteran Honored for Service to Country With the Gift of a Mortgage-Free Home
A Hero's Welcome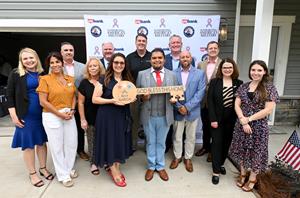 There's No Place Like Home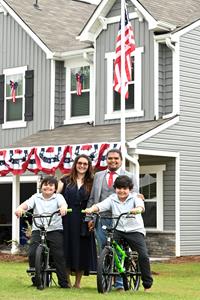 Monroe, N.C., Aug. 30, 2023 (GLOBE NEWSWIRE) — Freedom Alliance, U.S. Bank and True Homes partnered Tuesday to honor one of our nation's military heroes with the gift of a mortgage-free home.
U.S. Army Private Second Class Roy Garcia and his family were presented with the keys during a ceremony attended by local dignitaries and members of the community outside of the newly built Monroe home.
"Roy Garcia served and sacrificed our country," said Freedom Alliance President Tom Kilgannon. "He enlisted, deployed to the Kunar Province of Afghanistan, and was regularly engaged with the enemy. Today, he carries the unmistakable wounds of war, and we are honored, through this valued partnership, to give Roy and his family a place of security and comfort they can now call their home."
The life-changing gift is made possible by a donation by U.S. Bank through its Housing Opportunities after Military Engagement (H.O.M.E.) program, in conjunction with Freedom Alliance's Heroes to Homeowners program. Since 2013, U.S. Bank has donated 22 homes valued at $4.8 million to deserving military families in thriving communities across the country.
In October 2008, Roy enlisted in the Army as an infantryman. He completed basic training at Fort Benning, Georgia (recently renamed Fort Moore) and was assigned to 3rd Platoon, D Company, 1/327th Infantry Brigade of the 101st Airborne Division at Fort Campbell.
In 2010, Roy and his unit deployed to the Kunar Province which, at the time, was among the most dangerous locations in Afghanistan. Here, Roy and his unit participated in Operation Bulldog Bite, a joint operation with Army Rangers and Afghan troops against the Taliban. The fighting was immediate and intense. Roy's team was hit with gun fire, mortar rounds, and rocket-propelled grenades (RPGs). Soon after the battle began, Roy's unit lost their medic and within 24 hours their numbers were reduced from 22 platoon members to nine due to injuries requiring medical evacuation.
During his deployment in Afghanistan, Roy also helped build a school for Afghan children, provided security for election day voting, and established relations with village elders. Upon his return, he met Allison, and they married in 2012.
"U.S. Bank is honored to partner with Freedom Alliance and True Homes to provide this mortgage-free home to U.S. Army veteran Roy Garcia and his family," said Len McMorrow, Senior Vice President, Consumer and Business Banking Default Operations at U.S. Bank. "We cannot thank our veterans enough for their service and sacrifice and the gift of this home is a small way we can give back to our communities. This home will provide Roy and his family with stability and a place to put down roots for years to come."
The new home was constructed by Carolina's largest homebuilder, True Homes, which is consistently recognized as being one of the Best Places to Work in Charlotte.
"We are so honored to partner with U.S. Bank and Freedom Alliance for this very special project," said True Foundation Program Director, Chelsea Mershon. "As a company, we are committed to having a positive impact on the communities in which we build homes. With the help of our local partners, Beds for Kids and Ashley Furniture, as well as our associates, we were able to amplify our impact and provide a fully furnished brand new home to a very deserving family. We wish the Garcia family many years of happiness in their new home."
U.S. Bank, Freedom Alliance and True Homes are committed to honoring service members for their dedication and personal sacrifice. In addition to partnering with military service organizations such as Freedom Alliance and Operation Homefront, U.S. Bank supports veterans and military family members through Proud to Serve, an employee-led business resource group. Through Proud to Serve, each new veteran is personally welcomed by leaders who are also veterans. Employees are also encouraged to use internal social networking forums to connect, network, and share stories. The bank employs more than 2,000 veterans, including National Guard and Reserve members.
###
About Freedom Alliance: Freedom Alliance is a charitable organization providing help and support to wounded troops and military families. Freedom Alliance has awarded more than $23 million in college scholarships to children of heroes killed or disabled in military service and spent millions more helping injured veterans and their families with outdoor therapy trips, Heroes Retreats, care packages, mortgage-free homes, all-terrain chairs and more. Learn about Freedom Alliance at FreedomAlliance.org or facebook.com/FreedomAlliance.
Attachments
A Hero's Welcome
There's No Place Like Home
CONTACT: Julie Capobianco Vistra Communications 813.369.5187 [email protected] 

Disclaimer: The above press release comes to you under an arrangement with GlobeNewswire. AfternoonHeadlines.com takes no editorial responsibility for the same.