Arbor Metals to Assess Strategic Claims Adjacent to Its Jarnet Lithium Project in Quebec, Canada
Map of Arbor Metal Corp.'s Jarnet Lithium Claims
VANCOUVER, British Columbia, July 28, 2023 (GLOBE NEWSWIRE) — Arbor Metals Corp. ("Arbor" or the "Company") (TSXV: ABR, FWB: 432) is pleased to announce that the Company has entered into an agreement to grant its technical team access to the data room of a strategically located set of mineral claims adjacent to the Jarnet Lithium Project in the James Bay region of Quebec, Canada. The Company believes that these mineral claims have the potential to augment the scope of the Jarnet Lithium Project significantly, and the technical team is enthusiastic about conducting a comprehensive analysis of all the past exploration information in the data room.
Mark Ferguson, CEO of Arbor, expressed excitement about this new development, stating, "We are thrilled to gain access to the data room, as it allows our technical team to conduct an in-depth examination of all the past exploration data. We believe that this strategic set of claims has the potential to further strengthen our Jarnet project. If our understanding of the claims is confirmed by our analysis, it could enhance Arbor's position in the lithium market and reinforce our position in the rapidly advancing Canadian EV Industry."
The agreement will enable Arbor's technical team to explore the historical data, geological reports, and exploration results related to the strategic claims. They will evaluate the benefits and possibilities of integrating this proximate project with the Jarnet Lithium Project. Arbor remains committed to driving the exploration and development of the Jarnet project, aiming to capitalize on the increasing global demand for lithium.
Once the technical team completes its thorough data analysis, Arbor will update its shareholders and stakeholders regarding the findings and potential implications for the Jarnet Lithium Project. The Company remains dedicated to transparency and looks forward to sharing the results of this strategic assessment with the investment community.
Arbor is dedicated to responsible resource development and is well-positioned to play a crucial role in supplying the necessary lithium to support the electrification of transportation and the transition to a sustainable future. The Company's focus on sustainable growth, innovation, and strategic partnerships will continue to drive its efforts in meeting the increasing demand for lithium in Canada's EV industry.
Dr. Peter Born, P.Geo., is the designated qualified person as defined by National Instrument 43-101 and is responsible for and has approved the technical information in this release.
About Arbor Metals Corp.
Arbor Metals Corp. is a mining exploration company focused on developing high-value, geographically significant mineral projects worldwide. Arbor is paving the way for advanced mineral exploration as it oversees world-class mining projects. The Company is confident that combining quality projects with proven strategies and a dedicated team will yield exceptional outcomes.
The Jarnet lithium project, located in the James Bay region of Quebec, comprises 47 map-designated claims, covering an area of approximately 3,759 hectares. The Jarnet project is contiguous to the Corvette-FCI property, where diamond drilling has confirmed significant lithium mineralization representing one of the highest-profile lithium exploration projects in the sector.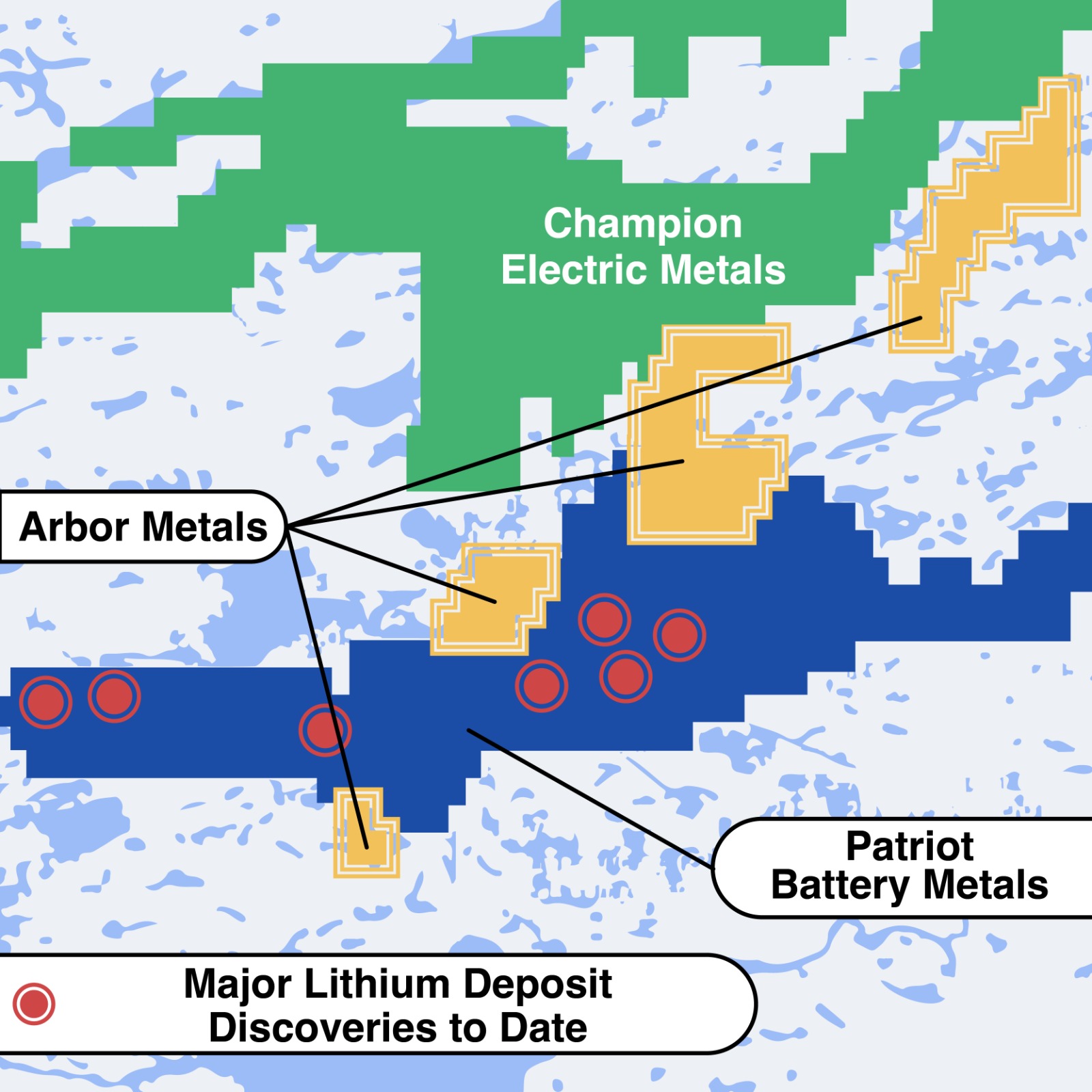 For further information, contact Mark Ferguson, Chief Executive Officer, at [email protected], or 403.852.4869, or visit the Company's website at www.arbormetalscorp.com.
On behalf of the Board,
Arbor Metals Corp.
Mark Ferguson, Chief Executive Officer
Neither the TSX Venture Exchange nor its Regulation Services Provider (as that term is defined in policies of the TSX Venture Exchange) accepts responsibility for the adequacy or accuracy of this release.
This news release may contain certain "Forward-Looking Statements" within the meaning of the United States Private Securities Litigation Reform Act of 1995 and applicable Canadian securities laws. When or if used in this news release, the words "anticipate", "believe", "estimate", "expect", "target, "plan", "forecast", "may", "schedule" and similar words or expressions identify forward-looking statements or information. These forward-looking statements or information may relate to the development of the Jarnet Lithium Project, and the assessment of data from adjacent claims, and other factors or information. Such statements represent the Company's current views with respect to future events and are necessarily based upon a number of assumptions and estimates that, while considered reasonable by the Company, are inherently subject to significant business, economic, competitive, political and social risks, contingencies and uncertainties. Many factors, both known and unknown, could cause results, performance, or achievements to be materially different from the results, performance or achievements that are or may be expressed or implied by such forward-looking statements. The Company does not intend, and does not assume any obligation, to update these forward-looking statements or information to reflect changes in assumptions or changes in circumstances or any other events affecting such statements and information other than as required by applicable laws, rules and regulations.
CONTACT:
MRKT360 INC
https://mrkt360.com
Alex Zertuche
[email protected]
For E.S.T Office Hours, Call 1 416-477-0587
A photo accompanying this announcement is available at https://www.globenewswire.com/NewsRoom/AttachmentNg/1ac9c34f-6084-4782-a8ec-1c2f30b35a1a

Disclaimer: The above press release comes to you under an arrangement with GlobeNewswire. AfternoonHeadlines.com takes no editorial responsibility for the same.