ARA to Demo Innovative Simulation and Training Capabilities at Upcoming I/ITSEC
2023 I/ITSEC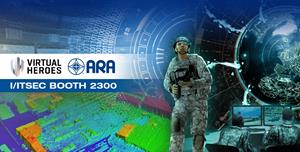 Orlando, Nov. 09, 2023 (GLOBE NEWSWIRE) — Applied Research Associates, Inc. (ARA) will highlight its innovative solutions in synthetic environments, realistic physiology, and virtual reality at the Interservice/Industry Training, Simulation and Education Conference (I/ITSEC) November 27 to 29 in Orlando, Fla.
Visit ARA at I/ITSEC Booth 2300, where they will demo their virtual reality capabilities, specifically their Chem / Bio Training and Assessment in Simulated Conditions (CB-TASC) and Virtual Reality Tactical Assault Kit (VR-TAK) projects. CB-TASC is an Unreal-Engine-based virtual reality environment that realistically reflects the physics associated with the release of chemical/biological agents. The software provides crucial training for Warfighters operating in contaminated environments. CB-TASC is a plugin to VR-TAK, which is part of the Tactical Assault Kit (TAK) ecosystem. TAK is the open-standards software platform currently used by 250,000 military and civilians across the world to communicate and share environment information in real time. VR-TAK is TAK's virtual-reality implementation, ingesting real-world geo-registered terrain data to provide interactive 3D environments for improved mission planning and rehearsal and better situational awareness.
ARA will also demo its open-source physiology engine capability, the Virtual Testbed. ARA is developing the Virtual Testbed to support the DARPA Triage Challenge, which focuses on the viability of using unmanned air and ground vehicles to perform initial triage for a mass casualty incident. The Virtual Testbed provides a wider range of capability to simulate injuries compared with a physical testbed. The Virtual Testbed uses a combination of the BioGears Human Physiology Engine and the Unreal Engine to generate simulated causalities that exhibit realistic physiology such as pulse, heart rate, and respiration rate that is detectable by non-contact sensors hosted on the unmanned vehicles. ARA will present this human-physiology capability at I/ITSEC's Innovation Showcase (held in booth 2588) with a session entitled, "Blending Unreal Engine MetaHuman with BioGears Human Physiology."
Finally, ARA is proudly sponsoring the Serious Games Showcase and Challenge, an I/ITSEC event that celebrates the use of game technology as a delivery medium for instructional material. The challenge welcomes industry, government, and student developers of serious games that target general audience or government specific learning needs. ARA has a long history of serious games development via its Virtual Heroes division. Virtual Heroes and ARA are an Unreal Engine Authorized Services Partner.
ARA uses engineering excellence to serve the Warfighter by applying in-depth and diversified research, engineering, and technical support services to solve complex problems. ARA and Virtual Heroes specialize in:
Digital twins
Synthetic environments
Virtual reality
High-fidelity training
Open-source physiology engine
AI/ML
Photogrammetry
Unreal Engine development
For more information visit www.virtualheroes.com.
I/ITSEC is the largest modeling, simulation, and training event in the world. The event consists of peer-reviewed paper presentations, tutorials, special events, professional workshops, a commercial exhibit hall, a serious games competition, and STEM events for teachers and secondary students.
I/ITSEC is organized and sponsored by the National Training & Simulation Association (NTSA), which promotes international and interdisciplinary cooperation within the fields of modeling and simulation (M&S), training, education, analysis, and related disciplines at this annual meeting.
ABOUT ARA
Applied Research Associates, Inc. (ARA) was founded in 1979, in Albuquerque, New Mexico, to offer science and engineering research to solve problems of national importance. ARA delivers leading-edge products and innovative solutions for national defense, energy, homeland security, aerospace, healthcare, transportation, and manufacturing. With over 2,000 employee-owners at locations in the U.S. and Canada, ARA offers a broad range of technical expertise in defense technologies, civil engineering, computer software and simulation, systems analysis, biomedical engineering, environmental technologies, and blast testing and measurement.
Attachment
CONTACT: Jeff Lyons, Director, Virtual Heroes Applied Research Associates, Inc. [email protected] 

Disclaimer: The above press release comes to you under an arrangement with GlobeNewswire. AfternoonHeadlines.com takes no editorial responsibility for the same.