Application Security Market revenue to reach USD 31 Billion by 2035, says Research Nester
Major application security market players include IBM Corporation, Capgemini, Services SaS, Whitehat Security, and Synopsys, Inc.
New York, Sept. 04, 2023 (GLOBE NEWSWIRE) — The global application security market size is predicted to grow at a CAGR of over ~17% from 2023 to 2035. The market is projected to garner a revenue of USD 31 billion by the end of 2035, up from a revenue of ~USD 8 billion in the year 2022.The major factor set to influence the growth of the market is the growing adoption of cloud. In 2022, about 60% of organizations all around the world were using one or two clouds in their organization. However, application security is very crucial for the cloud. Since cloud environments offer shared resources, it is particularly important to make sure that users can only access the information in their cloud-based applications that they are authorized to view.
Request Free Sample Copy of this Report @ https://www.researchnester.com/sample-request-5099
Additionally, since sensitive data is sent from the user to the application across the internet and back again, cloud-based applications are also more prone to security breaches. A public cloud security incident was experienced by about 26% of firms in the past year, an increase of approximately 9% from the year before, and about 79% of businesses had at least one cloud security event in that time frame across the globe according to a survey.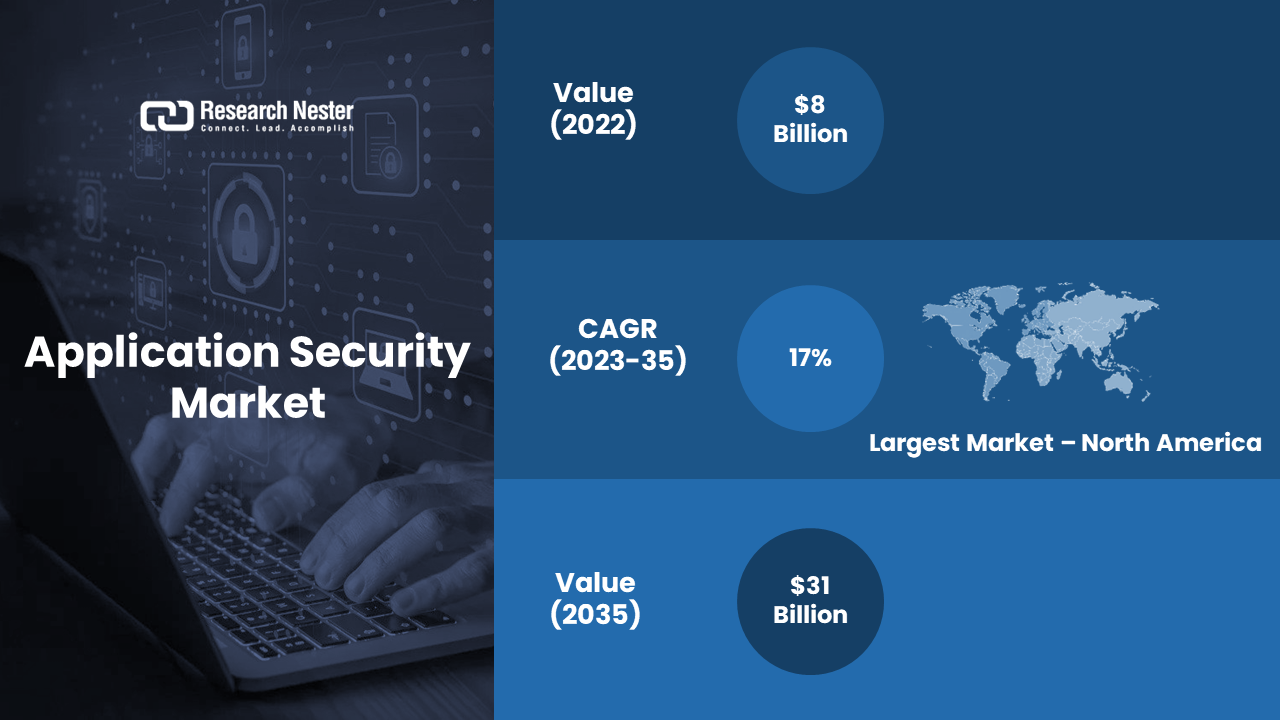 Application Security Market: Key Takeaways
Market in North America to propel highest growth
The SAST segment to garner the highest growth
Market in Europe to grow at the highest rate
Increasing Demand for Online Shopping across the Globe to Boost Market Growth
Globally, there are about 3 billion digital buyers. This means approximately 30% of the population all around the world do online shopping. Further, online retail also includes various features and options to remain in the competition. However, along with advanced feathers comes the threat of cyber risk. Typically, fraudsters accomplish this by breaking into e-commerce websites and collecting login or credit card information from users. They may employ it to either pose as customers and make fraudulent purchases or to sell information about consumers to other criminals online. Hence, the need for application security is growing with the rise in number of online shoppers. The risk of cyber security rises with the growing trend of mergers and acquisitions of the company. Since integration and data exchange may expose assets to risks to their confidentiality, integrity, and availability (CIA), mergers and acquisitions constitute a considerable risk to organizations. Therefore, organizations should consider application security before merging or acquiring an organization.
Application Security Market: Regional Overview
The market is segmented into five major regions including North America, Europe, Asia Pacific, Latin America, and the Middle East and Africa region.
Regulatory Compliance Mandates to Drive Market Growth in the North America Region
The application security market in the North America region is estimated to garner the largest revenue by the end of 2035. The regional growth can majorly be attributed to the rising digital transformation along with the growing prevalence of financially motivated attacks. Additionally, it was frequently noticed that hackers were utilizing stolen credentials to access the company's web-based email along with additional web applications in North America. The usage of hacked credentials has risen in lockstep with the rise in business adoption of cloud-based technologies.
Software and services for application security are essential in this region. Therefore, this factor is set to influence the growth of the market in this region. Stricter data protection regulations, such as the General Data Protection Regulation (GDPR) and the California Consumer Privacy Act (CCPA), have compelled businesses to fortify their application security to ensure compliance. The Ponemon Institute's "2020 Cost of Compliance Study" revealed that non-compliance costs are nearly 2.71 times the cost of maintaining or meeting compliance requirements.
Make an Inquiry Before Buying this Report @
https://www.researchnester.com/inquiries-before-buying-5099
Growing Surge in Cyber Threats to Propel the Growth in the Europe Region
The European application security market is estimated to garner the highest CAGR by the end of 2035. The escalation in cyberattacks targeting European businesses has underscored the necessity for robust application security solutions. According to the European Union Agency for Cybersecurity (ENISA), cyberattacks increased by 300% in 2020. This surge in threat activity has spotlighted the urgency for heightened application security measures. The enforcement of the General Data Protection Regulation (GDPR) has placed data privacy at the forefront of business priorities in Europe. This regulatory landscape necessitates comprehensive application security strategies to protect sensitive data and ensure compliance. The ongoing digital transformation across European industries has led to an influx of applications and software, widening the attack surface for potential threats.
Application Security, Segmentation by Type of Security Testing
Amongst these segments, the SAST segment in application security market is anticipated to hold the largest share over the forecast period. This growth could be owing to the rising advantages of SAST. Since most SAST tools are automated, they can quickly and effectively investigate the whole source. This enables an in-depth study of the code and decreases the possibility of overlooking a vulnerability. Additionally, SAST can assist in lowering remediation costs by finding and repairing vulnerabilities early in the development phase.
Request for Customization of this Report @ https://www.researchnester.com/customized-reports-5099
Application Security, Segmentation by End User Vertical
Healthcare
BFSI
Education
Retail
Government
Amongst these segments, the BFSI segment is anticipated to hold a significant share over the forecast period. The BFSI sector remains a prime target for cyberattacks due to the immense value of financial data and transactions it handles. A report states that the financial services sector experiences 300 times more cyberattacks than any other industry. This alarming statistic highlights the pressing need for robust application security measures. As the BFSI sector undergoes digital transformation, a plethora of applications are developed to streamline operations and enhance customer experiences. This expanding technology landscape underscores the imperative to secure these applications against evolving cyber threats.
The shift towards digital banking has been accelerated by consumer preferences and the COVID-19 pandemic. This shift demands heightened security measures to safeguard sensitive financial data accessed through digital channels.
Application Security, Segmentation by Organization Size
A few of the well-known industry leaders in the application security market that are profiled by Research Nester are IBM Corporation, Capgemini, Services SaS, Whitehat Security, Synopsys, Inc., and other key market players.
Recent Development in the Market
Oracle Corporation released Oracle Database 23c Beta, the most recent iteration of the top convergent database in the world, which supports all data types, workloads, and development methodologies. Oracle Database 23c, often known as "App Simple," is aimed at streamlining application development.
To address the rising shadow data issue, IBM Corporation has announced the acquisition of Polar Security, an inventor in technology that aids in the discovery, ongoing monitoring, and security of cloud and software-as-a-service (SaaS) application data.
About Research Nester
Research Nester is a one-stop service provider with a client base in more than 50 countries, leading in strategic market research and consulting with an unbiased and unparalleled approach towards helping global industrial players, conglomerates, and executives for their future investments while avoiding forthcoming uncertainties. With an out-of-the-box mindset to produce statistical and analytical market research reports, we provide strategic consulting so that our clients can make wise business decisions with clarity while strategizing and planning for their forthcoming needs and succeed in achieving their future endeavors. We believe every business can expand to its new horizon, provided the right guidance at the right time is available through strategic minds.
CONTACT: AJ Daniel Corporate Sales, USA Research Nester Email: [email protected] USA Phone: +1 646 586 9123 Europe Phone: +44 203 608 5919

Disclaimer: The above press release comes to you under an arrangement with GlobeNewswire. AfternoonHeadlines.com takes no editorial responsibility for the same.