ANTIGUA AND BARBUDA MOTHER-DAUGHTER DUO MAKE HISTORIC VOYAGE ABOARD VIRGIN GALACTIC 02 SPACECRAFT
Photo courtesy: Antigua and Barbuda Tourism Authority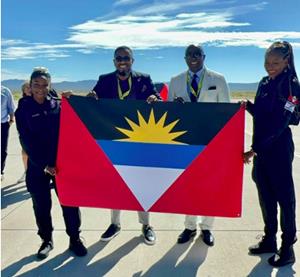 Spaceport America, Truth or Consequences, New Mexico, Aug. 11, 2023 (GLOBE NEWSWIRE) — In an awe-inspiring display of human achievement, Keisha Schahaff and her daughter Anastatia Mayers of Antigua and Barbuda have etched their names in the celestial chronicles as they became the Caribbean's pioneers in space exploration. Their extraordinary journey commenced on August 10, 2023, as the Virgin Galactic 02 Spacecraft roared to life at the Spaceport America in Truth or Consequences, New Mexico.
The anticipation was palpable, and the world held its collective breath as Keisha, Ana, and their fellow crewmate, former 1972 Olympian Jon Goodwin, embarked on a voyage that symbolized the epitome of courage, determination, and the relentless pursuit of the stars. The launch not only marked several historic milestones in the realm of space travel but also stood as a testament to the indomitable spirit of the human race, and Virgin Galactic's mission of broadening access to space.
At eighteen years of age, Ana is the youngest person (by two weeks) ever to go to space.  Keisha and Ana are also the first mother and daughter and the first people from the Caribbean to make the journey into the cosmos, and only the 6th and 7th Black women to travel to space.
The entire nation of Antigua and Barbuda united in a jubilant display of national pride, a resounding chorus of celebration echoing from the sun-soaked beaches to the heart of every village and town. The Virgin Galactic Global Livestream of the spaceflight was broadcast on massive screens at a public Watch Party in Antigua, with images of the local Antigua festivities in turn beamed out to the global audience. Astronaut Christopher Huie provided live commentary and also interviewed Antigua's Prime Minister on what this unique occasion meant to the twin island nation. The resonance of this monumental feat reverberated globally, serving as a beacon of inspiration and a source of unity that transcended borders.
In tandem with the launch festivities, a separate yet poignant event unfolded in Antigua and Barbuda as Sir Richard Branson, the visionary architect of Virgin Galactic, was honored by the Prime Minister with an exquisite wood carving of a sailboat—a token of gratitude that encapsulates the nation's deep-seated maritime heritage. In reciprocation, Sir Richard Branson presented the Prime Minister with a meticulously crafted, to-scale replica of the Virgin Galactic 02 Spacecraft, a symbol of the shared journey towards limitless horizons.
Prime Minister, the Rt. Hon. Gaston Browne remarked, "Today, as we commemorate Keisha and Ana's extraordinary odyssey, we are reminded that our roots in Antigua and Barbuda run as deep as the endless expanse of space. Their achievement embodies the essence of our nation—unyielding determination, boundless aspiration, and a commitment to forging new frontiers."
The Minister of Tourism of Antigua and Barbuda, the Hon. Charles "Max" Fernandez, also shared in the excitement, stating, "Keisha and Ana's historic journey beckons the world to experience the wonders of Antigua and Barbuda, where boundless horizons meet pristine landscapes. Their voyage embodies the spirit of adventure that defines our nation."
As for Keisha, upon her safe return to Earth, she had this to say, "…that was the most amazing thing I've ever done, and…Antigua went to space! A childhood dream has come true. I've been to space and back with my daughter…everyone delivered exactly what they said it would be, and if anyone was wondering — Earth is round."
In an era distinguished by the relentless pursuit of progress, Keisha and Ana have etched their legacy among the stars. Their voyage radiates as a testament to the fortitude of the human spirit, igniting hope and inspiring generations to explore uncharted territories.
View the spaceflight on: www.virgingalactic.com
###
ABOUT ANTIGUA AND BARBUDA 
Antigua (pronounced An-tee'ga) and Barbuda (Bar-byew'da) is located in the heart of the Caribbean Sea. The twin-island paradise offers visitors two uniquely distinct experiences, ideal temperatures year-round, a rich history, vibrant culture, exhilarating excursions, award-winning resorts, mouth-watering cuisine and 365 stunning pink and white-sand beaches – one for every day of the year. The largest of the English-speaking Leeward Islands, Antigua comprises 108-square miles with rich history and spectacular topography that provides a variety of popular sightseeing opportunities. Nelson's Dockyard, the only remaining example of a Georgian fort a listed UNESCO World Heritage site, is perhaps the most renowned landmark. Antigua's tourism events calendar includes the Antigua and Barbuda Wellness Month, Run in Paradise, prestigious Antigua Sailing Week, Antigua Classic Yacht Regatta, and the annual Antigua Carnival; known as the Caribbean's Greatest Summer Festival. Barbuda, Antigua's smaller sister island, is the ultimate celebrity hideaway. The island lies 27 miles north-east of Antigua and is just a 15-minute plane ride away. Barbuda is known for its untouched 11-mile stretch of pink sand beach and as the home of the largest Frigate Bird Sanctuary in the Western Hemisphere. Find information on Antigua & Barbuda at: www.visitantiguabarbuda.com or follow us on Twitter: http://twitter.com/antiguabarbuda   Facebook: www.facebook.com/antiguabarbuda; Instagram: www.instagram.com/AntiguaandBarbuda 
FOR ANTIGUA AND BARBUDA MEDIA ENQUIRIES, PLEASE CONTACT:
Maria Blackman
Marketing Communications Manager
Antigua and Barbuda Tourism Authority 
T: 1 (268) 562 7600/464-7601
Nana Delatour 
Account Executive
Portfolio Marketing Group 
 Antigua and Barbuda Images: aandbtourism.fotoseeker.com   
Attachment
Photo courtesy: Antigua and Barbuda Tourism Authority
CONTACT: Nana Delatour Antigua and Barbuda Tourism Authority [email protected] 

Disclaimer: The above press release comes to you under an arrangement with GlobeNewswire. AfternoonHeadlines.com takes no editorial responsibility for the same.