Animal Vaccines Market to Reach USD 29.0 Bn in 2032, Driven by Pet Adoption Trend and Focus on Controlling Animal Disease Outbreaks
Marketresearch.biz reports that the Animal Vaccines Market is thriving due to increasing animal populations and heightened health awareness. Industry leaders innovate to offer effective vaccines, meeting diverse demands and driving growth.
New York, Sept. 25, 2023 (GLOBE NEWSWIRE) — Global animal vaccines market size to reach USD 29.0 Bn in 2032 from USD 12.4 Bn in 2022 and register a CAGR of 9.1% during the forecast period (2023-2032)
Animal vaccine administration or veterinary vaccination entails the process of administering a dosage of appropriate serum to stimulate an inoculated animal's immune system, prompting the production of antibodies against specific pathogens and immunizing domestic animals and pets, livestock, and wild animals against specific diseases and viruses, among others.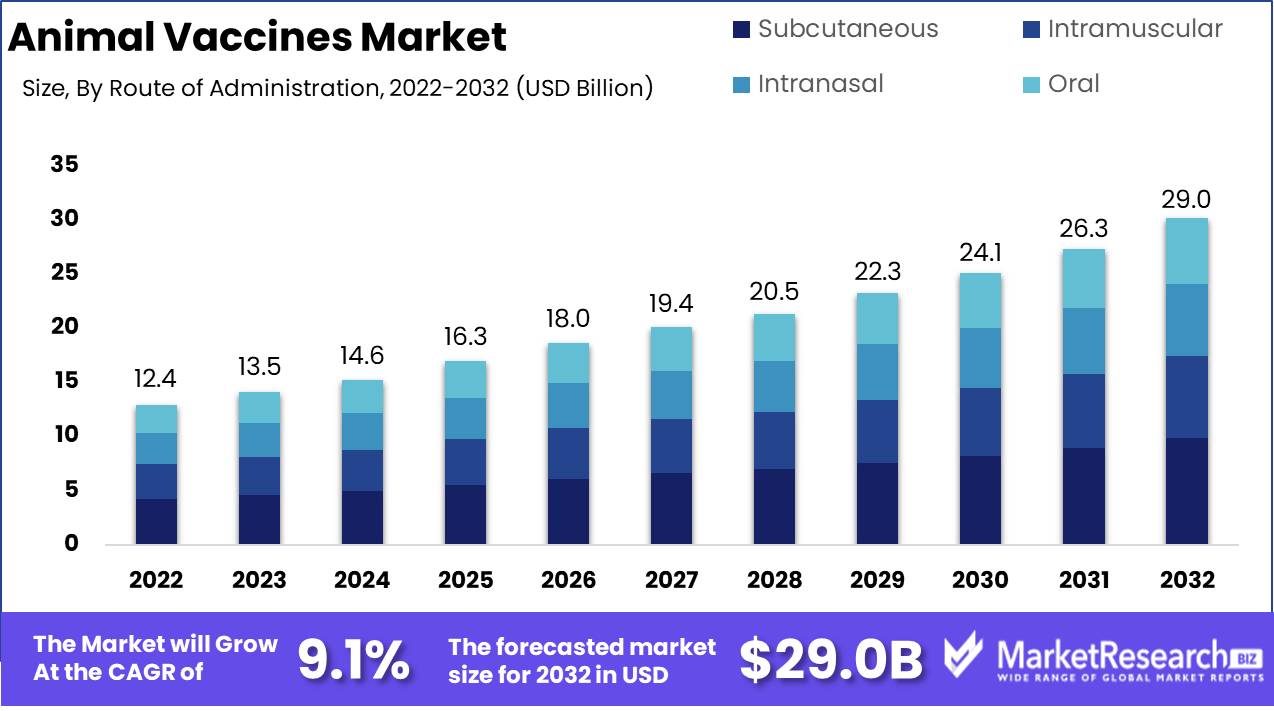 Besides animal vaccines serving a vital function in safeguarding the health and well-being of animals, they also serve to protect human populations against potential zoonotic disease outbreaks. Apart from companion animals and pets which serve another purpose, livestock animals are a source of meat, protein, food, milk, and commercial products such as wool and leather, and also serve other purposes.
There are numerous animal diseases for which vaccines are available in the market. Some of the common animal diseases in livestock are Foot-and-Mouth Disease (FMD), Bovine Viral Diarrhea (BVD), rinderpest, brucellosis, bluetongue disease, Newcastle Disease, avian influenza (Bird Flu), swine fever, Gumboro Disease (an infectious bursal disease in poultry), mycoplasma infections.
Common diseases in companion animals include canine distemper, canine parvovirus, canine adenovirus (infectious canine hepatitis), rabies, feline panleukopenia (feline distemper), Feline Leukemia Virus (FeLV), canine kennel cough, equine influenza, Equine Herpesvirus (EHV), leptospirosis, feline calicivirus and rhinotracheitis.
The benefits of animal vaccines are multifaceted, ranging from the prevention of diseases that can devastate livestock populations, to reduced economic losses in farming, safeguarding ecosystems, and aiding in the conservation of endangered species and the spread of disease among wild animals.
To learn more about profitable market segments, Request an Animal Vaccine Market sample report at: https://marketresearch.biz/report/veterinary-animal-vaccines-market/request-sample/
Key Takeaways
In 2022, North America accounted for a substantially large market share of 26.2% in the global animal vaccine market.
Asia-Pacific animal vaccine market is expected to register the fastest revenue growth rate of 8.1% over the forecast period.
Among the product segments, the attenuated live vaccines segment accounted for a 29.4% revenue share in 2022 and is expected to maintain its dominance over other product segments during the forecast period.
In 2022, the subcutaneous segment accounted for a dominant revenue share of over 45%, and the trend is expected to maintain momentum over the forecast period.
The veterinary hospital pharmacies segment accounted for a significantly larger revenue share of over 40% in 2022.
Driving Factors
Advancements in Vaccine Development, Novel Adjuvants, and Delivery Methods
The global animal vaccine market registers a steady revenue growth rate year over year. Some major factors driving revenue growth of the market include the increasing need for disease prevention, expanding livestock populations, and a growing pet ownership culture worldwide. Consumption trends reflect a preference for safer and more efficient vaccination methods, resulting in a shift towards advanced, genetically engineered vaccines.
Advancements in vaccine development, including novel adjuvants and delivery methods, are supporting the adoption of newer vaccines and this is driving market growth. Initiatives aimed at preventing zoonotic disease outbreaks and ensuring food safety also support the demand for vaccines.
Rising Pet Ownership & Emerging Zoonotic Diseases Driving Innovation in Vaccines
Other key factors driving revenue growth of the global animal vaccines market include rising pet ownership worldwide, and this trend translates into a larger market for companion animal vaccines. Pet owners increasingly prioritize preventive healthcare for their pets, leading to higher vaccination rates and revenues from the companion animal segment. Emerging zoonotic diseases and rising awareness regarding such diseases and transmission between animals and humans have prompted governments and operators in the livestock sector to invest in animal vaccines for disease prevention. This focus on preventing disease outbreaks is expected to continue to support revenue growth of the market.
In addition, ongoing advancements in vaccine technology, such as the development of more effective and convenient delivery methods, are improving the efficacy and appeal of vaccines. This coupled with government initiatives around the world to implement vaccination programs to control and eradicate animal diseases is expected to contribute positively to market revenue growth.
To see how our analysis can inform your plans, Inquire about a brochure on our report at: https://marketresearch.biz/report/veterinary-animal-vaccines-market/#inquiry
Restraining Factors
Regulatory Hurdles, Inadequate Infrastructure and Storage Facilities, and Reluctance to Vaccinate Pets and livestock are Some Primary Market Growth Restraints
Stringent regulatory requirements and approval processes for animal vaccines can be time-consuming and cost-intensive. These barriers can deter smaller companies from entering the market or delay product launches, thereby restraining potential revenue growth. Also, vaccine storage and handling challenges are crucial to safety, effectiveness, and subsequent outcomes. Inadequate infrastructure and training in some regions can lead to vaccine wastage and reduced sales, particularly in areas with limited resources. In addition, resistance or hesitancy among livestock owners or pet owners to vaccinate their animals due to concerns about vaccine safety or efficacy can dampen revenues. This factor can also lead to lower vaccination rates and reduced demand for vaccines.
Growth Opportunities
Product Diversification and Focus on Premium and Specialized Vaccines Can Create New Revenue Streams in the Market
Opportunities in the market can be leveraged through the deployment of various strategies following a keen observation of the various trends and preferences in the market. Companies can leverage opportunities by diversifying their product offerings to include vaccines targeting a broader range of animal species. This includes both companion animals and livestock, thereby enabling companies to cater to a larger potential base. Investing in Research and Development (R&D) of innovative vaccine technologies, such as DNA vaccines or vectored vaccines, can lead to a competitive advantage. These advancements can enhance vaccine efficacy and safety, and drive revenues. Also, companies can explore untapped markets in regions with growing livestock industries and increasing pet ownership, such as Asia and Africa. Establishing a presence in these markets can open up new revenue streams.
In addition, companies can capitalize on the demand for premium and specialized vaccines, offering opportunities for higher-margin products as pet owners increasingly prioritize the health of their animals. Offering a range of animal health services such as diagnostic tests, disease monitoring, and consultancy can create additional revenue streams, beyond just leveraging revenue from vaccines. These services complement vaccine sales and provide ongoing support to customers in managing animal health.
Furthermore, companies can leverage excess production capacity by offering contract manufacturing services to other vaccine manufacturers, thereby creating a consistent revenue stream while optimizing resources. Also, developing vaccines with reduced environmental impact can appeal to consumers and environmentally conscious industries, providing a unique selling point and potential for premium pricing.
Make strategic business moves with our sample report, uncovering vital market data Click Here To Download/Request a Sample
Report Scope
| | |
| --- | --- |
| Report Attribute | Details |
| Market Value (2022) | US$ 12.4 Bn |
| Market Size (2032) | US$ 29.0 Bn |
| CAGR (from 2023 to 2032) | 9.1% |
| North America Revenue Share | 26.2% |
| Historic Period | 2016 to 2022 |
| Base Year | 2022 |
| Forecast Year | 2023 to 2032 |
Regional Analysis
North America Continues to Maintain Dominant Position In Terms of Revenue Share, and APAC Registering Fastest Growth Rate
North America currently accounts for a substantially large market share in the global market. This is attributed to well-established animal healthcare industry, including extensive livestock farming and pet ownership, high adoption of companion animals, substantial demand for and consumption of meat and milk and associated products, continuous technological advancements with high focus on precision medicine and personalized vaccines, and increasing pet humanization trends and the need for disease control in livestock in countries in the region. Initiatives promoting animal welfare and biosecurity are also a key factor further expected to support revenue growth of the North American animal vaccine market.
Europe is another key region in the global animal vaccine market and accounts for a significantly larger market share. Commitment to reducing antibiotic use in livestock is a key factor driving steady demand for vaccines. Also, growing interest in sustainable and eco-friendly vaccines aligns with market trends, and technological advancements in vaccine production and distribution is expected to continue to support revenue growth of the market in the region.
Asia-Pacific is a rapidly growing animal vaccine market and registered the fastest revenue growth rate in 2022. The rapid growth is driven by rising demand for animal-based protein, particularly in countries such as China and India, and the need to ensure healthy and disease-free livestock sources. Increasing pet ownership and awareness of disease prevention among farmers are factors contributing significantly to the demand for vaccines. Advances in vaccine technology, such as cold chain management and novel adjuvants, are key trends observed in the market. Government initiatives to improve livestock productivity and food safety further support market growth.
The Latin America animal vaccine market is characterized by a growing livestock sector and a surge in pet ownership. Factors such as increasing disposable income, investments in local vaccine manufacturing facilities, and initiatives to combat diseases like foot-and-mouth disease are supporting revenue growth potential.
Optimize your operations with MarketResearch.Biz – Take the next step – order your report at: https://marketresearch.biz/purchase-report/?report_id=39590
Segment Analysis
Major Segments Registering Robust Revenue Growth
The attenuated vaccines segment accounted for the majority of revenue share among the product segments in 2022. Live vaccines utilize a debilitated (or attenuated) version of the microorganism responsible for a particular ailment. These vaccines closely mimic the natural infection they guard against, thereby eliciting a robust and enduring immune reaction.
Among the animal type segments in 2022, the livestock segment accounted for the majority of revenue share. This is due to a substantially high demand for food products such as dairy, meat, and animal-derived protein, among others, and a high focus on animal health and disease management in a number of developed economies worldwide.
In 2022, the subcutaneous segment accounted for a dominant revenue share among the route of administration segments in the global animal vaccine market. The most preferred methods of vaccine administration are Intramuscular (IM) and subcutaneous (SC) and these ensure an animal has received the appropriate vaccine dose. The method also ensures minimal pain and discomfort to animals.
Among the distribution channel segments, the veterinary hospital pharmacies segment accounted for a significantly larger revenue share than other segments in this category in 2022. This channel is most widely preferred for animal care and treatment, as well as for vaccinations owing to more cost-effective options and pricing that are offered at clinics and privately run facilities. In addition, the convenience this distribution channel offers in terms of providing access to the appropriate vaccine for pet owners and follow-ups with veterinarians for confirmation and further services and treatment at a single location drives preference for purchasing, and this is a key factor driving revenue growth of this segment.
Segments Covered in the Report
By Product
Attenuated Live Vaccines
Inactivated Vaccines
Subunit Vaccines
Toxoid Vaccines
Conjugate Vaccines
Recombinant Vaccines
DNA Vaccines
By Animal Type
Companion Animals
Livestock Animals

Aquatic
Bovine
Porcine
Ovine/Caprine
Poultry
Equine
By Disease
Anaplasmosis
Canine Parvovirus
Foot & Mouth Disease
New Castle Disease
Distemper Disease
Influenza
Porcine Reproductive & Respiratory Syndrome (PRRS)
Others
By Route of Administration
Subcutaneous
Intramuscular
Intranasal
Oral
By Distribution Channel
Veterinary Clinics
Veterinary Hospital Pharmacies
Veterinary Research Institutes
Retail Pharmacies
By Geography
North America
Europe
Asia-Pacific
Latin America
Middle East & Africa
Uncover valuable statistics and future projections by accessing a sample report for historical and forecast market data spanning 2016 to 2032 at https://marketresearch.biz/report/veterinary-animal-vaccines-market/request-sample/
Competitive Landscape Analysis
The global animal vaccine market landscape is highly competitive with a number of leading players and vendors leveraging opportunities to expand revenue share. Companies such as Zoetis Inc., Merck & Co., Inc., Elanco Animal Health, and Boehringer Ingelheim Animal Health dominate the market currently, and major strategies being employed include R&D to introduce innovative vaccines, product portfolio expansion to cover a wide range of animal species, and strategic collaborations, acquisitions, and partnerships to enhance market presence and expand global reach.
Some companies have been exploring product launches in the realm of digital health, offering technologies that enhance vaccine delivery and monitoring, such as intelligent vaccine tracking devices or telemedicine platforms for veterinarians. Moreover, companies prioritize quality assurance and regulatory compliance to ensure the safety and efficacy of their vaccines in order to maintain a competitive edge in the animal vaccine market.
Key Market Players
Bayer AG
Sanofi
Pfizer Inc.
GSK plc
Merck & Co., Inc.
Ceva
Cargill, Incorporated
Boehringer Ingelheim International GmbH.
Takeda Pharmaceutical Company Limited
Zoetis
Dechra Pharmaceuticals PLC
Hester Biosciences Limited.
Elanco
Phibro Animal Health Corporation
Indovax
Recent Developments
Government Grants & R&D and Preparation For Potential Disease Outbreaks are Key Ongoing Initiatives
New product development and research in animal vaccines have been pivotal for improving animal health and preventing diseases. Companies are increasingly investing in areas such as precision vaccines, sustainable formulations, and digital solutions to enhance efficacy, reduce environmental impact, and streamline vaccine administration. These strategic focus areas are driving innovation in the global animal vaccine market. Also, governments are encouraging and funding ongoing R&D on prevailing viruses and flu such as the avian flu since the 2009 outbreak, supporting breakthroughs and innovation in the field, and initiating vaccination drives and initiatives. In addition, regulatory authorities are amending animal drug regulations, approving the launch of new vaccines for various bird and animal diseases, and supporting new initiatives, and this is also with regard to research as newer viruses are discovered and reported.
According to information published by the Food and Drug Administration (FDA) on 16 July 2023, the FDA is amending the animal drug regulations to reflect approval actions for NADAs, ANADAs, and cNADAs during April, May, and June 2023. In addition, FDA is informing the public of the availability, where applicable, of documentation of environmental review required under the National Environmental Policy Act (NEPA) and, for actions requiring review of safety or effectiveness data, summaries of the basis of approval (FOI Summaries) under the Freedom of Information Act (FOIA). Also, the FDA is amending the animal drug regulations to reflect the approval of supplemental applications and to improve their accuracy and readability.
On 26 May 2023, France confirmed its intention to launch a bird flu vaccination program later in the year. The Minister of Agriculture and Food Sovereignty has called for all avenues to be explored to improve the fight against HPAI, foremost among which is vaccination. Temporary authorization for use has recently been submitted for vaccines for poultry being assessed by the French Agency for Veterinary Medicinal Products (ANMV) and the European Medicines Agency (EMA). It was reported on 6 April 2023, that France launched a tender for 80 million doses of bird flu vaccines. Currently, only one chicken vaccine (Gallus species) has marketing authorization in France (2006).
On 4 October 2022, The U.S. government granted a multi-year contract to California-based Vir Bio, with the potential for up to USD 1 billion. This contract aims to support the development of a comprehensive range of innovative solutions, including vaccines to combat infectious diseases such as influenza. On September 15, 2009, the FDA approved four influenza vaccine manufacturers to utilize the influenza A (H1N1) 2009 monovalent influenza vaccine in preventing bird flu outbreaks associated with the 2009 pandemic influenza A (H1N1) virus.
Browse More Related Reports
Veterinary Medicine Market size is expected to be worth around USD 78.9 Bn by 2032 from USD 40.4 Bn in 2022, growing at a CAGR of 7.1% during the forecast period from 2023 to 2032.
Veterinary Vaccine Market size is expected to be worth around USD 15.6 Bn by 2032 from USD 9.5 Bn in 2022, growing at a CAGR of 5.2% during the forecast period from 2023 to 2032.
Food Preservatives Market size is expected to be worth around USD 3.6 Bn by 2032 from USD 2.6 Bn in 2022, growing at a CAGR of 3.3% during the forecast period from 2023 to 2032.
Vaccine Adjuvants Market size is expected to be worth around USD 2.4 Bn by 2032 from USD 0.9 Bn in 2022, growing at a CAGR of 10.6% during the forecast period from 2023 to 2032.
Refrigerated Warehousing Market size is expected to be worth around USD 64.08 Bn by 2032 from USD 30.34 Bn in 2022, growing at a CAGR of 8.1% during the forecast period from 2023 to 2032.
About Us:
MarketResearch.Biz (Powered by Prudour Pvt Ltd) specializes in in-depth market research and analysis and has been proving its mettle as a consulting and customized market research company, apart from being a much sought-after syndicated market research report-providing firm. MarketResearch.Biz provides customization to suit any specific or unique requirement and tailor-made reports as per request. We go beyond boundaries to take analytics, analysis, study, and outlook to newer heights and broader horizons.
Follow Us on LinkedIn: https://www.linkedin.com/company/marketresearch-biz/
Follow Us on Facebook: https://www.facebook.com/marketresearch.biz
Follow Us on Twitter: https://twitter.com/PrudourResearch
CONTACT: Global Business Development Team – MarketResearch.biz MarketResearch.biz (Powered By Prudour Pvt. Ltd.) Email: [email protected] Address: 420 Lexington Avenue, Suite 300, New York City, NY 10170, United States Tel: +1 347 796 4335 Website: https://marketresearch.biz/

Disclaimer: The above press release comes to you under an arrangement with GlobeNewswire. AfternoonHeadlines.com takes no editorial responsibility for the same.