AmeriCorps Presents the President's Volunteer Service Award to Arkansas Residents
National Service agency recognizes volunteers who dedicate hundreds of hours to service
PVSA awardees with AmeriCorps State and National Director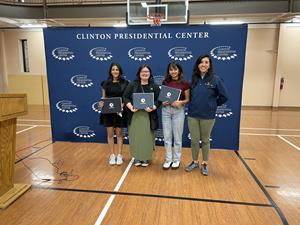 Washington, DC, Nov. 03, 2023 (GLOBE NEWSWIRE) — On Friday, Oct. 27, AmeriCorps presented Presidential Volunteer Service Award to Shannie Jackson, Anya Choudhary and Tarini Eswaran in Little Rock, Ark. AmeriCorps leaders were in Little Rock, Ark., to celebrate AmeriCorps 30th anniversary and honor community members for their exceptional service. 
Led by AmeriCorps and managed in partnership with Points of Light, the President's Volunteer Service Award allows organizations to recognize their most exceptional volunteers based on service of more than 12 months or a lifetime. The President's Volunteer Service Award program began in 2003 and honors individuals whose service positively impacts communities in every corner of the nation and inspires others to act.  Award tiers include bronze (100-174 hours), silver (175–249 hours), gold (250+ hours) and lifetime achievement awards (4,000+ hours).  
"The President's Volunteer Service Award honors America's proud tradition of volunteer service, recognizing the essential value that volunteers bring to our communities," said Sonali Nijhawan, Director, AmeriCorps State and National. "I'm thrilled to present these awards to Shannie, Anya and Tarini for their exceptional service and am grateful for their continued commitment to promoting active citizenship." 
The recipients include:
Shannie Jackson, gold awardee, has devoted 500 hours to serving her community. Over the past two years, Jackson has dedicated her time and skills to the Arkansas Period Poverty Project and has since transitioned into leading this project. Shannie has been open about her struggles with period poverty and learning about her menstrual health. At Arkansas Period Poverty Project, Jackson has supported collecting, packing and donating thousands of menstrual products for schools, churches and other organizations. Along with providing her community with these products, Jackson helps raise awareness and educate people on menstrual health.  
Anya Choudhary, bronze awardee, has devoted 100 hours of service toward her community. Choudhary is a senior at Pulaski Academy who has dedicated her service to uplifting women and menstruators in her community. As the communications manager of the Arkansas Period Poverty Project, she organizes educational initiatives, interviews, petitions and design posts for their Instagram. Choudhary's service has been pivotal in advocating for women's and menstruators' health.
Tarini Eswaran, bronze awardee, has devoted 100 hours of service to her community and currently serves as the service outreach coordinator for the Arkansas Period Poverty Project and has hosted many donation drives with the organization. 
More than 2,500 AmeriCorps members and AmeriCorps Seniors volunteers serve at more than 300 locations in Arkansas. Last year, the state received more than $9.4 million in AmeriCorps funding, matched with nearly $1.9 million in local support. 
###
AmeriCorps, the federal agency for national service and volunteerism, provides opportunities for Americans to serve their country domestically, address the nation's most pressing challenges, improve lives and communities and strengthen civic engagement. Each year, the agency places more than 200,000 AmeriCorps members and AmeriCorps Seniors volunteers in intensive service roles; and empowers millions more to serve as long-term, short-term or one-time volunteers. Learn more at AmeriCorps.gov.
AmeriCorps offers opportunities for individuals of all backgrounds to be a part of the national service community, grow personally and professionally and receive benefits for their service. Learn how to get involved at AmeriCorps.gov/serve.
Attachment
CONTACT: National Service Press Office AmeriCorps (202) 766-2848 [email protected] 

Disclaimer: The above press release comes to you under an arrangement with GlobeNewswire. AfternoonHeadlines.com takes no editorial responsibility for the same.