AMERICA'S VETDOGS PARTNERS WITH HOUSTON TEXANS AND KROGER TO RAISE SECOND FUTURE SERVICE DOG
Trained Puppy Will Be Placed With A Veteran Or First Responder With Disabilities
Texans Pup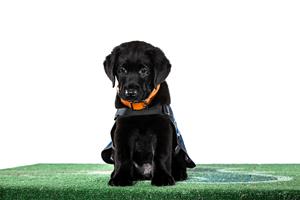 Texans Pup in front of NRG Stadium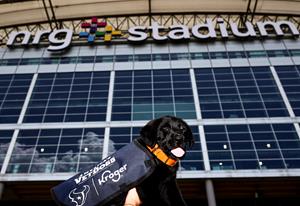 Smithtown, New York, Aug. 02, 2023 (GLOBE NEWSWIRE) — Today, America's VetDogs, a national nonprofit that trains and places service dogs with veterans and first responders with disabilities, in partnership with the Houston Texans and Kroger, announced a collaboration to name and train their second future service dog. This remarkable initiative aims to provide a disabled veteran or first responder with disabilities with a highly trained and devoted service dog.
 The Texans' newest addition is a 9-week-old male, black Golden/Labrador Retriever mix, who will undergo comprehensive training and socialization while he is with the team. Over the next 16 to 18 months, the puppy will train alongside Texans staff, players and fans, as well as participate in community events, meet and greets, and select home games. This unique opportunity will allow the puppy to become acclimated to various environments and socialize with diverse individuals. Fans will be able to follow @TexansPup on Instagram to stay up-to-date on his training and scheduled local appearances.
 Texans fans will have the exciting opportunity to participate in naming the new puppy. Starting today through Aug. 4 at 5 p.m., fans can vote on their favorite name to be entered for a chance to win a Texans Pup prize pack, courtesy of the Texans and Kroger. More details on the naming contest can be found at www.HoustonTexans.com/TexansPup.  
"America's VetDogs is truly privileged to have such great partners in the Houston Texans and Kroger," President & CEO of America's VetDogs John Miller said. "Their unwavering dedication to supporting our nation's veterans and first responders is remarkable. We are confident that the new team pup will quickly capture the hearts of the Texans' community, and we are thrilled to be a part of this journey."
 "Partnering with Kroger and America's VetDogs on this endeavor for the second time is an incredible honor for us," Houston Texans President Greg Grissom said. "Our shared commitment to supporting our veterans and first responders makes this special collaboration a natural fit. We're thrilled to welcome another pup to our Texans family and are excited to have our fans help us name him as we continue to incorporate their feedback in all that we do. We can't wait to see the positive impact our future service dog will make on the life of an American hero."
 "As America's grocer, we are privileged to be part of this meaningful partnership with the Houston Texans and VetDogs," President of Kroger Houston Laura Gump said. "We recognize the sacrifices made by our veterans and are proud to support them. Through the companionship and assistance that the Texans' future service dog will provide, we hope to make a lasting impact on the life of a deserving individual."
After the early training period in Houston, the puppy will return to the America's VetDogs campus in Smithtown, NY to begin formal service dog training. Once fully trained, the Golden/Labrador Retriever mix will be carefully matched, at no cost, with a veteran or first responder with disabilities. America's VetDogs is renowned for providing service dogs to veterans and first responders, offering enhanced mobility and renewed independence to those in need.
 America's VetDogs, the Houston Texans, and Kroger and are thrilled to embark on this incredible journey together to make a positive impact on the life of a deserving individual. By providing a highly trained service dog, they aim to promote independence, companionship, and improved quality of life for veterans and first responders with disabilities.
 For more information, visit www.HoustonTexans.com/TexansPup.
 For more on America's VetDogs and ways to get involved, visit VetDogs.org.
 About America's VetDogs
For 20 years, America's VetDogs (www.VetDogs.org) has trained and placed guide and service dogs to provide independence, enhanced mobility, and companionship to veterans with disabilities from all eras. In 2015, VetDogs opened its programs to first responders, including fire, police, and emergency medical personnel.  America's VetDogs is a 501(c)(3) not-for-profit organization founded by the Guide Dog Foundation and serves clients from across the United States. VetDogs relies on contributions from generous individuals, corporations, service clubs, and foundations to fund its mission to help those who have served our country live with dignity and independence. It costs over $50,000 to breed, raise, train, and place one assistance dog, but America's VetDogs provides its services completely free of charge to the individual. America's VetDogs has been accredited by both the International Guide Dog Federation and Assistance Dogs International. 
Attachments
Texans Pup
Texans Pup in front of NRG Stadium
CONTACT: Allison Storck America's VetDogs 6313342615 [email protected] 

Disclaimer: The above press release comes to you under an arrangement with GlobeNewswire. AfternoonHeadlines.com takes no editorial responsibility for the same.