American Rebel/Champion Safe CEO to Appear on Fox & Friends to Discuss Safe Industry Customer Privacy Issues
American Rebel Holdings Inc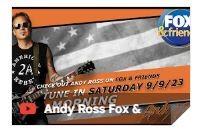 Nashville, TN, Sept. 08, 2023 (GLOBE NEWSWIRE) — American Rebel Holdings, Inc. – America's Patriotic Brand (NASDAQ: AREB; AREBW), a designer, manufacturer and marketer of branded safes and personal security and self-defense products, today announced that its CEO Andy Ross will appear on Fox & Friends (https://www.foxnews.com/category/shows/fox-friends-weekend) this Saturday, September 9, to discuss the recent publicity and issues around the Liberty Safe breach, the American Rebel/Champion Safe policy governing customer privacy and to announce the introduction of America's Patriotic, God fearing, Constitution loving, National Anthem singing, Stand Your Ground Beer.
"We have received a tremendous amount of calls from like-minded safe dealers and customers who feel the same way we do," said American Rebel CEO Andy Ross. "We stand behind the Constitution and are committed to protecting our customers' privacy rights."
American Rebel sells safe and security products under the American Rebel, Champion Safe, Superior Safe and Safe Guard brands.
"At American Rebel we have an unwavering dedication and continued commitment to building America's Patriotic Brand that embodies the very essence of American patriotism," said Andy Ross. "Customers want to purchase products that share their values and I am very proud to be able to offer American Rebel Beer in early 2024. Our patriotic family can celebrate life and celebrate freedom with American Rebel Beer."
"We acquired Champion Safe, one of the top safe companies in the world since 1999, in July 2022. Along those same lines we have partnered with the top beverage company in the nation, BevSource, to be our supplier and operator of the beer business. (https://www.bevsource.com/) BevSource is the best at what they do and we have incredible scale available to us. It's a very exciting time at American Rebel."
About American Rebel Holdings, Inc.
American Rebel operates primarily as a designer, manufacturer and marketer of branded safes and personal security and self-defense products. The Company also designs and produces branded apparel and accessories and will introduce American Rebel Beer in early 2024. To learn more, visit www.americanrebel.com, www.championsafe.com and americanrebelbeer.com. For investor information, visit www.americanrebel.com/investor-relations.
Cautionary Note Regarding Forward-Looking Statements:
This press release contains forward-looking statements within the meaning of the Private Securities Litigation Reform Act of 1995. American Rebel Holdings, Inc., desires to take advantage of the safe harbor provisions of the Private Securities Litigation Reform Act of 1995 and is including this cautionary statement in connection with this safe harbor legislation. The words "forecasts" "believe," "may," "estimate," "continue," "anticipate," "intend," "should," "plan," "could," "target," "potential," "is likely," "expect" and similar expressions, as they relate to American Rebel, are intended to identify forward-looking statements. We have based these forward-looking statements primarily on our current expectations and projections about future events and financial trends that we believe may affect our financial condition, results of operations, business strategy, and financial needs. Important factors that could cause actual results to differ from those in the forward-looking statements include our ability to meet customer demands for products, working capital constraints, our ability to introduce American Rebel beer on a timely and efficient manner, our ability to effectively compete in the competitive industries in which we operate, and the Risk Factors contained within our filings with the SEC, including our Annual Report on Form 10-K for the year ended December 31, 2022. Any forward-looking statement made by us herein speaks only as of the date on which it is made. Factors or events that could cause our actual results to differ may emerge from time to time, and it is not possible for us to predict all of them. We undertake no obligation to publicly update any forward-looking statements, whether as a result of new information, future developments or otherwise, except as may be required by law.
Company Contact:
[email protected]
Attachment
American Rebel Holdings Inc

Disclaimer: The above press release comes to you under an arrangement with GlobeNewswire. AfternoonHeadlines.com takes no editorial responsibility for the same.