American Mensa's Honor Society Celebrates Ten Years of Service and Scholarship With Launch of Citizen Scholar Club
Inaugural hall of fame class includes 10 Mensa Honor Society graduates with significant dedication to academics, civics, and service
Citizen Scholar Club Coin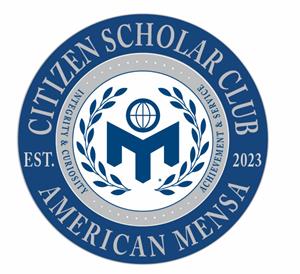 HURST, Texas, July 07, 2023 (GLOBE NEWSWIRE) — American Mensa, the renowned high IQ membership society, announces the induction of 10 Young Mensans into the Citizen Scholar Club, a brand-new hall of fame developed in celebration of the Mensa Honor Society's 10th anniversary. The Citizen Scholar Club and its inductees were revealed today at American Mensa's Annual Gathering, the largest yearly conference for Mensans everywhere.
The Mensa Honor Society was established in 2013 to acknowledge the great achievements and services of Young Mensans in grades 10-12 from all over the United States. To qualify for the Mensa Honor Society, members must meet the credentials for both American Mensa and the Honor Society with hours of service, participation in school activities, academic good standing and exemplify Mensa's ideals including integrity, intellectual curiosity, academic commitment, and service. The Citizen Scholar Club further recognizes top-performing individuals and celebrates their outstanding intellectual capabilities and commitment to the betterment of society.
The 2023 inductees of the Citizen Scholar Club are 10 members who have distinguished themselves through their exemplary accomplishments and dedication to using their intellectual abilities for the greater good. These heroes have left a lasting impact, whether through community service initiatives, advocacy efforts, or other meaningful endeavors. With inductees from 7 different states, including California, Ohio and Maryland, each will be spotlighted in their hometowns to celebrate their dedication.
"Since its inception, the Mensa Honor Society has championed illustrious young minds with exceptional character, who have positively impacted their community. The Citizen Scholar Club's first class of inductees is a group of astounding individuals that represent the heart of the organization," said Trevor Mitchell, Executive Director of American Mensa and the Mensa Foundation. "We are proud to recognize and celebrate the remarkable achievements and commitment of these members, and many more to come as the hall of fame grows."
Please visit American Mensa, Mensa Honor Society and the Citizen Scholar Club websites for more to learn more about the organization and how to participate.
About American Mensa
American Mensa is an organization open to anyone who scores in the top 2 percent on an accepted standardized intelligence test. Mensa has about 50,000 members in the United States and more than 140,000 members globally. For more information about American Mensa, visit americanmensa.org or call (817) 607-0060.
National Contact:
Charles Brown, Director of Marketing and Communications
(214)773-6346
[email protected]
A photo accompanying this announcement is available at https://www.globenewswire.com/NewsRoom/AttachmentNg/6121b781-903c-408a-aa4c-b6a18eab1297
The photo is also available at Newscom, www.newscom.com, and via AP PhotoExpress.

Disclaimer: The above press release comes to you under an arrangement with GlobeNewswire. AfternoonHeadlines.com takes no editorial responsibility for the same.