Alluring Destination for Syrah and Grenache Wines from Storied Vineyards Opening in Los Olivos, California
Terre et Sang on Grand will debut on February 17th with special tasting offerings
Terre et Sang on Grand, Photo by Zach Brown of Atlas Imagery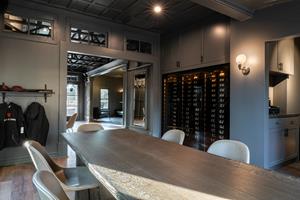 Terre et Sang, Duncan Harmon and Dalita Harmon, Photo by Jimmy Hayes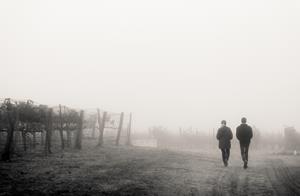 Los Olivos, CA, Feb. 13, 2023 (GLOBE NEWSWIRE) — A new addition to the vibrant Los Olivos area, Terre et Sang on Grand will open its doors this week, showcasing the wines from up-and-coming Santa Barbara producer Terre et Sang, a partnership between mother-and-son founders Dalita and Duncan Harmon. The grand opening will be February 17, 2023. 
"Selling only to our list, a tasting room just wasn't in the plans until we found the right place to tell our story our way, inviting people to enjoy our wines into the evening," said Terre et Sang co-founder Dalita Harmon. "We are thrilled to welcome visitors to our new home where we can provide an immersive tasting experience." 
Conjuring the same focus and attention to detail as they do with their wines, the Harmons have taken a unique approach with their tasting space. Located in an historic building in the heart of Los Olivos, Terre et Sang on Grand is eclectic in its design aesthetic, melding the look and feel of the 1905-era residence with an experimentally modernist viewpoint. Against a color palette of stormy gray, natural elements of stone, leather, steel and wood add texture and depth, creating a striking backdrop for the winery's hand-crafted Syrah and Grenache wines and blends. Terre et Sang on Grand will offer a lounge-like ambience, be open late and include pop-up partnerships and innovative events. 
The Terre et Sang portfolio reflects a spare-no-effort approach, from exacting canopy management, precision pruning and cluster shaping in the vineyards, to more labor-intensive systems in the winery. Terre et Sang winemaker Duncan Harmon is rigorous in his approach, refining, testing new techniques and pushing boundaries with unflinching precision. Without conventional training, he takes risks in the winery to develop his own bold, ethereal style. The resulting wines are compelling expressions of site, highlighting some of the great vineyards of the Santa Barbara region, and have received high critical acclaim. 
"Making wine from these legendary vineyards comes with great responsibility and we hold ourselves to the highest standards to uncompromisingly express the uniqueness of each site," said Duncan Harmon. "With Terre et Sang on Grand, we have the chance to share more about these sites and invite visitors to experience the wines in a relaxed setting." 
Terre et Sang on Grand will be open 11 a.m. to late-ish Thursday through Monday beginning on February 17 at 2982 Grand Avenue, Los Olivos. Reservations will be available through Tock. Join the Terre et Sang mailing list at www.terreetsang.com/signup to receive updates and access to the full line of exemplary Grenache and Syrah wines and blends. 
About Terre et Sang 
Terre et Sang was established in 2019 with a singular desire to create wines that are compelling and delicious expressions of site, sourcing from some of the great vineyards of Santa Barbara County. Mother and son founders, Dalita and Duncan Harmon, bring penetrating curiosity and a scrupulous attention to detail to every one of their hand-crafted Syrah and Grenache wines and blends. Both Dalita and Duncan are drawn to Rhône wines and find that Santa Barbara has the ability to grow and produce world-class Syrah and Grenache that offers the complexity and quality they have long appreciated in Old World selections, combined with a captivating New World raciness. Creating something they love has always been their guide. Visit www.terreetsang.com or follow @terre_et_sang on Instagram to learn more. 
### 
Attachments
Terre et Sang on Grand, Photo by Zach Brown of Atlas Imagery
Terre et Sang, Duncan Harmon and Dalita Harmon, Photo by Jimmy Hayes
CONTACT: Ashley Teplin Studio 707 for Terre et Sang 310-210-3067 [email protected] 

Disclaimer: The above press release comes to you under an arrangement with GlobeNewswire. AfternoonHeadlines.com takes no editorial responsibility for the same.