AITX Subsidiary Robotic Assistance Devices Receives 300+ Device Orders Ahead of Fiscal Year End
Artificial Intelligence Technology Solutions, Inc.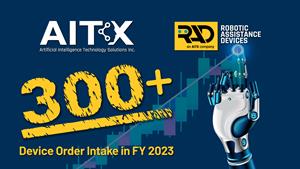 Detroit, Michigan, Feb. 27, 2023 (GLOBE NEWSWIRE) — Artificial Intelligence Technology Solutions, Inc., (the "Company") (OTCPK:AITX), a global leader in AI-driven security and productivity solutions for enterprise clients, today announced that its wholly owned subsidiary, Robotic Assistance Devices, Inc. (RAD) has secured orders exceeding 300 units as the end of its fiscal year approaches. The Company's fiscal year is set to conclude on February 28, 2023.
With this impressive device order intake number, the Company has demonstrated its ability to create compelling solutions and deliver them to discerning clients. Growing demand for RAD's products underscores the Company's exceptional innovation, quality, and customer-centric approach and growing experience delivery premium client experiences bodes well for the Company's scalability.
"We expect that Fiscal year 2024 will be a heck of year. Of course I know the sales funnel and I believe our team will delivery significant numbers this year. I think sales will be further buoyed by the tech innovations and sales technique improvements that we'll be debuting over the next couple of months," said Steve Reinharz, CEO of AITX and RAD. "I want to commend the RAD team for its productivity and successes to date."
RAD had an intake of 187 device orders throughout FY 2022 which ended February 28, 2022. The Company plans to report the final FY 2023 order intake results after the fiscal year formally closes.
"RAD's robust sales results and growing sales pipeline is a testament to the quality of our solutions and the strength of our customer relationships," said Mark Folmer, CPP, FSyI, RAD President. "RAD is well-positioned to take on any challenge and continue to deliver exceptional solutions and cost savings to its clients."
Reinharz added, "We are constantly striving to provide the highest value to our clients, channel partners, shareholders, and community. It is our innovation and unwavering pursuit of excellence, which allows us to maintain a competitive edge in a dynamic market. We are excited about the future and look forward to sharing our success with all those who have supported us along the way."
AITX through its subsidiary, Robotic Assistance Devices, Inc. (RAD), is redefining the $25 billion (US) security and guarding services industry through its broad lineup of innovative, AI-driven Solutions-as-a-Service business model. RAD solutions are specifically designed to provide a cost savings to businesses of between 35%-80% when compared to the industry's existing and costly manned security guarding and monitoring model. RAD delivers this tremendous costs savings via a suite of stationary and mobile robotic solutions that complement, and at times, directly replace the need for human personnel in environments better suited for machines. All RAD technologies, AI-based analytics and software platforms are developed in-house. 
RAD has a prospective sales pipeline of over 35 Fortune 500 companies and numerous other client opportunities. RAD expects to continue to attract new business as it converts its existing sales opportunities into deployed clients generating a recurring revenue stream. Each Fortune 500 client has the potential of making numerous reorders over time.
CAUTIONARY DISCLOSURE ABOUT FORWARD-LOOKING STATEMENTS
The information contained in this publication does not constitute an offer to sell or solicit an offer to buy securities of Artificial Intelligence Technology Solutions, Inc. (the "Company"). This publication contains forward-looking statements, which are not guarantees of future performance and may involve subjective judgment and analysis. The information provided herein is believed to be accurate and reliable, however the Company makes no representations or warranties, expressed or implied, as to its accuracy or completeness. The Company has no obligation to provide the recipient with additional updated information. No information in this publication should be interpreted as any indication whatsoever of the Company's future revenues, results of operations, or stock price.
About Artificial Intelligence Technology Solutions (AITX)
AITX is an innovator in the delivery of artificial intelligence-based solutions that empower organizations to gain new insight, solve complex challenges and fuel new business ideas. Through its next-generation robotic product offerings, AITX's RAD, RAD-M and RAD-G companies help organizations streamline operations, increase ROI, and strengthen business. AITX technology improves the simplicity and economics of patrolling and guard services and allows experienced personnel to focus on more strategic tasks. Customers augment the capabilities of existing staffs and gain higher levels of situational awareness, all at drastically reduced cost. AITX solutions are well suited for use in multiple industries such as enterprises, government, transportation, critical infrastructure, education, and healthcare. To learn more, visit www.aitx.ai, www.stevereinharz.com, www.radsecurity.com, www.radgroup.ai, and www.radlightmyway.com, or follow Steve Reinharz on Twitter @SteveReinharz.
###
Steve Reinharz
949-636-7060
@SteveReinharz
Attachment
Artificial Intelligence Technology Solutions, Inc.

Disclaimer: The above press release comes to you under an arrangement with GlobeNewswire. AfternoonHeadlines.com takes no editorial responsibility for the same.