Air Filtration Experts Featured in International Filtration News on the Health Hazards of Wildfire Smoke.
Mark Davidson and Jennifer Webb of Camfil Air Filters USA discuss the health threats of wildfire smoke and the significance of air filtration in a feature by International Filtration News.
Camfil Air Filtration Experts Mark Davidson and Jennifer Webb Featured in International Filtration News on the Health Hazards of Wildfire Smoke.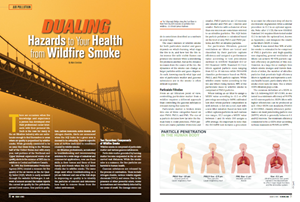 Riverdale, New Jersey, Oct. 30, 2023 (GLOBE NEWSWIRE) — In a recent article in International Filtration News, air filtration specialists Mark Davidson and Jennifer Webb of Camfil USA Air Filters illuminate the dual dangers posed by wildfire smoke. Drawing from personal and professional experiences, they dive deep into the significant threats faced by regions affected by wildfires, highlighting the crucial role of air filtration in mitigating health risks.
For more insights from the experts and a detailed understanding of the hazards of wildfire smoke, visit Dualing Hazards to Your Health from Wildfire Smoke.
The article sheds light on the intricate composition of wildfire smoke, which encompasses both particulate matter and various gaseous substances. While the particulate matter poses immediate health concerns, gaseous substances like nitrogen dioxide and ozone carry their own set of challenges.
Davidson and Webb emphasize the significance of understanding the differences in particulate sizes, from PM10 to ultrafine particles, and the respective measures in place to filter them out, including the Air Quality Index (AQI) developed by the Environmental Protection Agency (EPA). The article also delves into the role of HEPA filtration in tackling harmful ultrafine particles.
Additionally, the piece explores the realm of molecular filtration, a domain that Jennifer Webb, the Molecular Segment Manager for Camfil USA, is intimately familiar with. Webb provides insights into how activated carbon, made from carbonized coconut shells, captures gas molecules effectively.
Given the increasing frequency and intensity of wildfires, this article underscores the importance of proactive measures, both at the commercial and residential levels, to ensure the safety of indoor air quality.
Media Contact:
Lynne Laake
Camfil USA Air Filters
T: 888.599.6620
F: Friend Camfil USA on Facebook
T: Follow Camfil USA on Twitter
Y: Watch Camfil Videos on YouTube
L: Follow our LinkedIn Page
Source: International Filtration News, Camfil Air Filters USA.
Attachment

Disclaimer: The above press release comes to you under an arrangement with GlobeNewswire. AfternoonHeadlines.com takes no editorial responsibility for the same.