AIOps Market revenue to surpass USD 3227.96 Billion by 2035, says Research Nester
Major AIOps market players include CA Technologies (Broadcom Inc.), Micro Focus International plc, BMC Software, INC., Dell Inc., Splunk Inc, HCL Technologies Limited, AppDynamics, and Moogsoft Inc.
New York, Oct. 04, 2023 (GLOBE NEWSWIRE) — The global AIOps market size is slated to expand at ~38% CAGR between 2023 and 2035. The market is poised to garner a revenue of USD 3227.96 billion by the end of 2035, up from a revenue of ~USD 40.43 billion in the year 2022.market has gained substantial traction in recent years, driven by the increasing complexity of IT environments, the need for proactive and predictive IT management, and the growing volume of data generated by IT systems. AIOps solutions help organizations streamline IT operations, improve system reliability, reduce downtime, and enhance the overall user experience. The modern IT landscape is highly complex, with a mix of on-premises, cloud-based, and hybrid infrastructure.
Request Free Sample Copy of this Report @ https://www.researchnester.com/sample-request-3309
Managing this complexity manually is challenging, making AIOps solutions attractive for automating routine tasks and identifying performance issues. Furthermore, they provide cutting-edge anomaly detection techniques that aid in the identification of possible security gaps and vulnerabilities. There has been a growing trend of working from home, as it improves the productivity of employees which is predicted to elevate the growth of the market. Productivity rises by 47% when the work-from-home paradigm is used. Employee preference for working from home is 82%.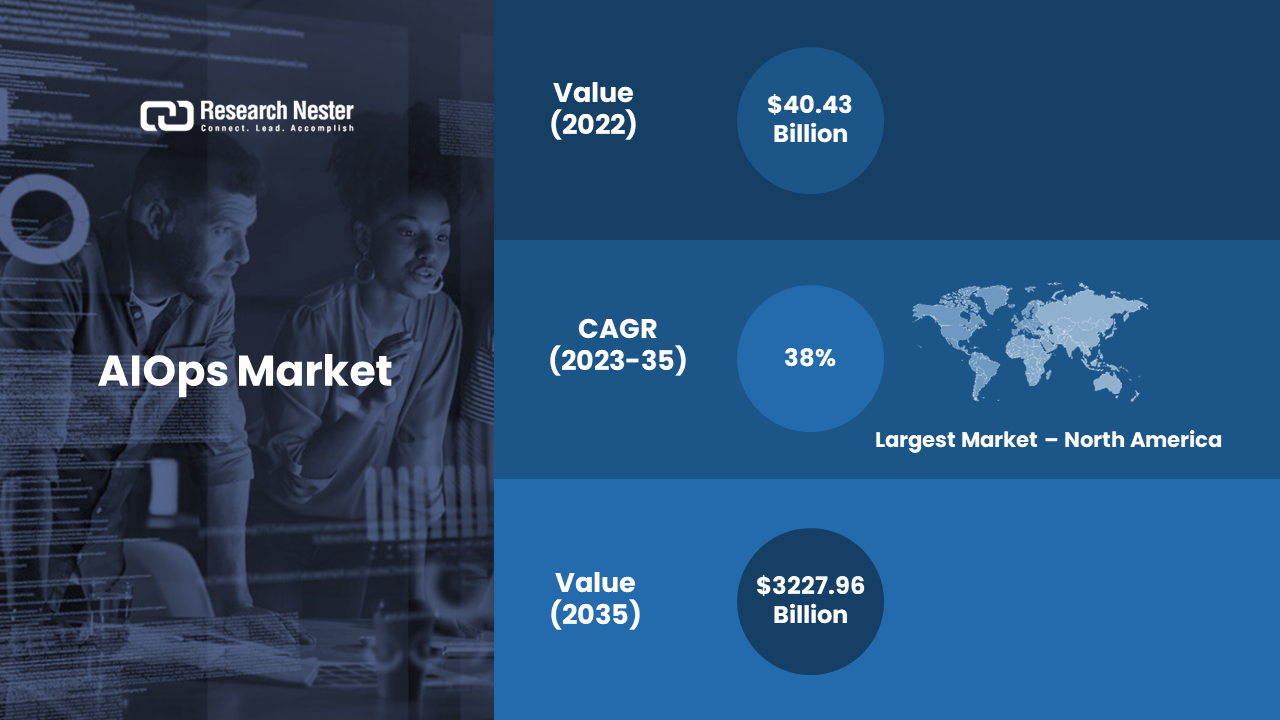 Increasing Adoption of Root Cause Analysis across the Globe to Boost Market Growth
Businesses may benefit from faster and more precise root cause analysis using AIOps, which is challenging with the manual methods that have traditionally been employed in corporate and commercial contexts. Approximately 97% of IT professionals, according to research by Broadcom, think that AIOps will offer practical insights to aid in automating and optimizing overall IT operations processes. AIOps will play a significant role in helping organizations and IT teams adopt complicated next-generation technologies that cannot be properly managed with conventional solutions. Additionally, businesses from a variety of industry sectors have been concentrating on integrating automation and AI technology into their IT processes. DevOps systems have evolved to be smarter for smooth and efficient business operations as IT tools and devices have, leading to a rise in the usage of AIOps. The global expansion of cloud computing usage is another factor driving the automation of these processes. Due to the pandemic, globally, over 30% of SMBs employed cloud computing services more frequently than anticipated.
AIOps Market: Regional Overview
The market is segmented into five major regions including North America, Europe, Asia Pacific, Latin America, and the Middle East and Africa region.
Dominance among Developed Economies to Drive the Market Growth in North America Region
The AIOps market in North America region is estimated to garner the largest revenue by the end of 2035. The regional dominance among developed economies, allows them to make significant investments in R&D activities. In addition, the rising convergence of various technologies and the diffusion of digital transformation across businesses have had an influence on the area and increased IT budget spending. The region's IT behemoths, including IBM and VMware, are concentrating on providing AI-powered services to aid their clients in developing intelligent applications in order to fulfill the need for AI-powered solutions. In 2022, North America held the largest revenue share (51.1%) in the worldwide artificial intelligence market. The relentless growth of data volumes generated by IT systems necessitates advanced solutions like AIOps. North America's data-intensive industries and digital economy drive the demand for AIOps to process and analyze vast data sets efficiently. The intricate IT landscapes in North American enterprises, which often include a mix of on-premises, cloud, and hybrid environments, lead to complexity challenges. AIOps simplifies IT operations by automating routine tasks and enhancing visibility.
Make an Inquiry Before Buying this Report @ https://www.researchnester.com/inquiries-before-buying-3309
Digital Transformation Initiatives to Propel the Growth in the Asia Pacific Region
The Asia Pacific AIOps market is estimated to garner the highest CAGR by the end of 2035. A rising market for AI-powered products and services is emerging in the Asia Pacific due to the region's high data creation.  Data analytics advances are driven by AI-powered solutions such as AI in IOT, which also fill in any holes left by outdated technologies. Governments in the APAC region are aggressively investing in AI, but long-term solutions will take some time to implement for structural reasons. According to an IDC report, artificial intelligence (AI) is anticipated to become widely used in the APAC region by the end of 2023, with more than 88% of regional enterprises already using or planning to use AI or machine learning (ML) applications over the next 12 months. Digital transformation is a driving force in the Asia Pacific region, with organizations across sectors investing significantly in modernizing their IT infrastructure. AIOps solutions expedite digital transformation by optimizing IT operations and enhancing agility. The Asia Pacific region is witnessing a rapid shift toward cloud computing. AIOps plays a pivotal role in managing and optimizing cloud environments, making it an indispensable asset in the wake of escalating cloud adoption.
AIOps, Segmentation by Application
Real-time Analytics
Infrastructure Management
Application performance Management
Amongst these segments, the real-time analytics segment in AIOps market is anticipated to hold the largest share over the forecast period. The exponential growth of data generated by various sources, including IoT devices, social media, and digital platforms, necessitates real-time analytics to derive actionable insights from this massive and fast-streaming data. According to IDC, the global datasphere is projected to reach 175 zettabytes (ZB) by the year 2025. The proliferation of Internet of Things (IoT) devices across industries generates vast amounts of real-time data. Real-time analytics is crucial for processing and extracting value from IoT data for monitoring and decision-making. Businesses are prioritizing customer experience more than ever. Real-time analytics empowers organizations to understand customer behavior, preferences, and sentiment in real time, enabling personalized interactions and improved customer satisfaction.
AIOps, Segmentation by Vertical
Telecom & IT
BFSI
Healthcare
Amongst these segments, the BFSI segment in AIOps market is anticipated to hold a significant share over the forecast period. AIOps plays a pivotal role in fraud detection and prevention by analyzing transaction data in real time. It helps BFSI institutions identify suspicious activities, prevent fraudulent transactions, and safeguard assets. The Association of Certified Fraud Examiners (ACFE) estimates that businesses lose 5% of their annual revenues to fraud, amounting to approximately USD 3.7 trillion globally. BFSI organizations can optimize IT infrastructure and reduce operational costs using AIOps. It automates routine IT tasks, identifies performance bottlenecks, and ensures the reliability of critical systems. In the BFSI sector, uninterrupted availability of services is paramount. AIOps helps in proactive monitoring and quick incident resolution, minimizing downtime and ensuring continuous service availability. BFSI institutions are actively investing in AI technologies, including AIOps, to gain a competitive edge. This investment is driving the adoption of AIOps solutions across the sector.
Request for Customization of this Report @ https://www.researchnester.com/customized-reports-3309
Few of the well-known industry leaders in the AIOps market that are profiled by Research Nester are CA Technologies (Broadcom Inc.), Micro Focus International plc, BMC Software, INC., Dell Inc., Splunk Inc, HCL Technologies Limited, AppDynamics, Moogsoft Inc, and other key market players.
Recent Development in the AIOps Market
Moogsoft Inc. and HCL Technologies Limited to join hands to develop AI based automated incident remediation of IT incidents. This will significantly increase the operational efficiency and frequency of DevOps Platforms.
IBM AIOps Software Helps Businesses, Including BBC Studios and ExaVault, Transform IT Operations. IBM updates its Turbonomic Application Resource Management and Instana Observability software to help organizations manage application performance and energy and costs to accelerate sustainability initiative progress.
About Research Nester
Research Nester is a one-stop service provider with a client base in more than 50 countries, leading in strategic market research and consulting with an unbiased and unparalleled approach towards helping global industrial players, conglomerates and executives for their future investment while avoiding forthcoming uncertainties. With an out-of-the-box mindset to produce statistical and analytical market research reports, we provide strategic consulting so that our clients can make wise business decisions with clarity while strategizing and planning for their forthcoming needs and succeed in achieving their future endeavors. We believe every business can expand to its new horizon, provided a right guidance at a right time is available through strategic minds.
CONTACT: AJ Daniel Corporate Sales, USA Research Nester Email: [email protected] USA Phone: +1 646 586 9123 Europe Phone: +44 203 608 5919

Disclaimer: The above press release comes to you under an arrangement with GlobeNewswire. AfternoonHeadlines.com takes no editorial responsibility for the same.