AHIMA White Paper Identifies Opportunities and Challenges with Collecting, Integrating, and Using Social Determinants of Health Data
Prevalence of SDOH Collection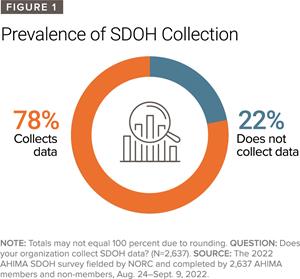 CHICAGO, Feb. 14, 2023 (GLOBE NEWSWIRE) — An American Health Information Management Association (AHIMA) survey of health information (HI) professionals found that nearly eight in 10 healthcare organizations currently collect social determinants of health (SDOH) data but still face challenges related to the collection, coding, and use of this clinically relevant data.   
AHIMA commissioned the study, conducted by NORC at the University of Chicago, to better understand the operational realities of how SDOH data is collected, coded, and used in real-world healthcare scenarios. NORC surveyed 2,600 AHIMA members and nonmembers from a pool of 41,000 potential respondents in the early fall of 2022. 
The Biden-Harris Administration and Congress remain focused on addressing health equity and improving the collection, use, and sharing of SDOH data, bringing increased relevance to the findings in this white paper.  
"The effective collection, coding, and use of SDOH data are vital to improving health and healthcare outcomes," said Wylecia Wiggs Harris, PhD, CAE, AHIMA chief executive officer. "Health information professionals play a pivotal role in how SDOH data is collected, shared, and ultimately used to improve health and healthcare outcomes. We look forward to collaborating with policymakers, providers, and key stakeholders to advance comprehensive solutions to address the challenges illuminated by this survey."  
Additional key findings from the survey and white paper include: 
Lack of standardization and integration of the data into an individual's medical record, even when the data is collected within the organization 
Insufficient training and education on how to capture, collect, code, and use SDOH data 
Limited use of SDOH data to communicate between healthcare providers and community-based referral organizations 
Social determinants of health are conditions in the environment in which people are born, live, learn, work, play, worship, and age that affect a wide range of health, functioning, and quality-of-life outcomes and risks.  
According to research by the University of Wisconsin Population Health Institute, social and economic factors determine 40 percent of health outcomes and quality of life and are twice as influential as factors related to clinical care.
 Findings from the survey are summarized in the companion white paper that is available for public download and analysis. 
### 
About AHIMA 
AHIMA is a global nonprofit association of health information (HI) professionals with more than 71,000 members and more than 100,000 credentials in the field. The AHIMA mission of empowering people to impact health drives our members and credentialed HI professionals to ensure that health information is accurate, complete, and available to patients and providers. Our leaders work at the intersection of healthcare, technology, and business and are found in data integrity and information privacy job functions worldwide. 
Attachment
Prevalence of SDOH Collection
CONTACT: Erin Wendel-Ritter American Health Information Management Association (AHIMA) (312) 233-1091 [email protected] 

Disclaimer: The above press release comes to you under an arrangement with GlobeNewswire. AfternoonHeadlines.com takes no editorial responsibility for the same.