Advertising Blackout!…Legion encourages remembrance with unique initiative
Digital signage across Canada will highlight taking two minutes of silence
"Advertising Blackout" to promote remembrance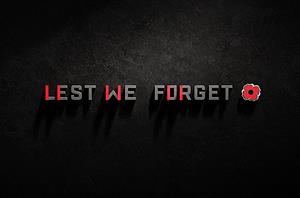 OTTAWA, Nov. 07, 2023 (GLOBE NEWSWIRE) — Thousands of digital advertising signs across the country will go black on Remembrance Day this year, to be replaced with a message of remembrance and three important figures: 11-11-11.
The Royal Canadian Legion's new initiative involves the voluntary decision by several major advertisers across the country to mark the traditional two minutes of silence held from 11:00 – 11:02 a.m. on Remembrance Day, by not displaying any advertisements during that time.
"On the eleventh hour of the eleventh day of the eleventh month, we hope that everyone who is in a position to do so, will stop and take two minutes of silence," says Bruce Julian, Dominion President. "We hope this initiative will help remind people no matter where they may be at that moment, of how important it is to remember the sacrifices of our fallen Canadian Veterans."
The numbers will overlay a stylized message of "Lest We Forget" along with a remembrance poppy. The digital advertising billboard blackout is a significant and gracious act by Canadian digital advertisers, in support of the over 120 thousand Canadian Armed Forces members who have died in the line of duty.
For those two minutes, thousands of digital billboards across the country will go black and Canadians will be prompted to remember.
Visuals for media: https://drive.google.com/drive/folders/1crnXQNw-1j2ParL53L-leXh0wB-td0M6?usp=sharing
The importance of Remembrance: Sharing the message
The two minutes of silence are a very sacred part of Remembrance Day ceremonies, during which attendees quietly reflect upon our Veterans' sacrifices and remember them with deep gratitude.
The Legion has also created some special public service announcements this year to also help invite people to take those two minutes.
National Ceremony, Local Ceremony Locator: Find your ceremony
Canadians can expect another beautiful National Remembrance Day Ceremony organized by the Legion at the National War Memorial in Ottawa on November 11. There will once again be a grand Veterans' Parade and a CF-18 fly-past.
The live presentation of the national ceremony will be accessible via the Legion's Facebook page and national broadcasters will cover the ceremony as in the past.
The Legion is also expanding its Ceremony Locator at Legion.ca. Branches are populating this page to allow Canadians to find a Legion-supported Remembrance ceremony closest to them. The Legion also recommends that people check with local Legion branches to verify any remaining restrictions related to gatherings during the pandemic.
Remembrance through Light
Until November 11, poppies representing Fallen Canadian Veterans since the First World War will continue to cascade virtually upon the Peace Tower at Parliament Hill and on the Senate building. The Poppy Drop will take place from 6:30–9:30 pm ET. On November 10, and 11, the display will extend to midnight. Virtual poppies will also cascade down the National Art Centre's "Kipnes Lantern" on November 11, from 7:00 am ET to midnight ET.
Many well-known Canadian landmarks and community locations such as the CN Tower, BC Place Stadium, Canada Place Sails of Light, and the City of Ottawa sign in the Byward Market among others, are also being lit up at various times in support of the National Poppy Campaign and Remembrance.
Currently, two large screens on Parliament Hill are also showing the Virtual Wall of Honour, a silent video sharing the faces of Canadian Veterans who have passed, with photos submitted by people from across the country.
About The Royal Canadian Legion
Founded in 1925, the Legion is Canada's largest Veteran support and community service organization. We are a non-profit organization with a national reach across Canada as well as branches in the U.S. and Europe. With close to 250,000 members, many of whom volunteer an extraordinary amount of time to their branches, our strength is in our numbers.
Public Relations / Media Inquiries: [email protected]; Nujma Bond 343-540-7604
Legion.ca
Facebook.com/CanadianLegion
Twitter.com/RoyalCdnLegion
Instagram.com/royalcanadianlegion
YouTube.com/user/RCLDominionCommand
LinkedIn.com/company/royalcanadianlegion
A photo accompanying this announcement is available at https://www.globenewswire.com/NewsRoom/AttachmentNg/8177177a-bed0-44e6-afe2-dd9cc7265154 

Disclaimer: The above press release comes to you under an arrangement with GlobeNewswire. AfternoonHeadlines.com takes no editorial responsibility for the same.