Advantest Expands M4841 Handler with Active Thermal Control for Faster Device Throughput and Test Times
ATC 2.0 Option Enables Dynamic Multisite Sensing and Regulation of Device Temperature for Optimized Test of High-End Automotive SoCs
M4841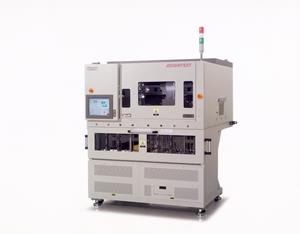 TOKYO, Oct. 24, 2023 (GLOBE NEWSWIRE) — Leading semiconductor test equipment supplier Advantest Corporation (TSE: 6857) today announced a new Active Thermal Control (ATC) option for its M4841 high-volume device handler. ATC 2.0 provides dynamic regulation of temperature fluctuations caused by automotive semiconductors self-heating during test, helping to ensure more accurate production test of up to 16 advanced systems-on-chip (SoCs) in parallel with higher throughput and shorter test times.
Massive amounts of data processing are required for devices used to power electric vehicles (EVs) and other fast-growing, data-intensive automotive applications such as infotainment systems and forthcoming Level 4 autonomous driving. Advances in semiconductor manufacturing processes bring improvements in functionality as well as enhanced power efficiency for these advanced devices. As a result, thermal design power is actually increasing, causing devices to self-heat during test and making it more difficult to control test temperature. This creates a need for handlers that can perform prompt, stable device temperature management.
Replacing the handler's prior passive thermal control technology, integrated ATC enables the M4841 to provide a stable, consistent test environment with fast response and high load-tracking characteristics that maintain the device's internal temperature at the set test temperature, even if dynamic heat fluctuation occurs during the test. This stability enables users to build test programs with unparalleled implementation flexibility – in turn, significantly enhancing overall test productivity.
"Our ATC technology has proven highly effective for other handlers in our portfolio," said Kazuyuki Yamashita, Senior Vice President at Advantest Corporation. "With demand for high-data-rate devices in automotive, industrial and other markets escalating, passive temperature regulation no longer suffices for our established M4841 model. ATC's dynamic heat sensing and cooling combined with the handler's volume production test capabilities creates a comprehensive value-added handler solution for our customers in these markets."
Advantest's M4841 handler with ATC 2.0 enables high-throughput test of up to 16 devices in parallel, yielding very high device volumes and supporting a range of complex ICs and packages. Its advanced performance capabilities and features make the M4841 the optimal test handler for high-volume production of devices used in consumer products such as portable digital equipment and automotive systems.
The new ATC option for the M4841 handler will be available in April 2024.
About Advantest Corporation
Advantest (TSE: 6857) is the leading manufacturer of automatic test and measurement equipment used in the design and production of semiconductors for applications including 5G communications, the Internet of Things (IoT), autonomous vehicles, artificial intelligence (AI), machine learning, smart medical devices and more. Its leading-edge systems and products are integrated into the most advanced semiconductor production lines in the world. The company also conducts R&D to address emerging testing challenges and applications, produces multi-vision metrology scanning electron microscopes essential to photomask manufacturing, and offers groundbreaking 3D imaging and analysis tools. Founded in Tokyo in 1954, Advantest is a global company with facilities around the world and an international commitment to sustainable practices and social responsibility. More information is available at www.advantest.com.
HDMI, the HDMI Logo and High-Definition Multimedia Interface are trademarks or registered trademarks of HDMI Licensing LLC. DisplayPort is a trademark of the Video Electronics Standards Association (VESA).
ADVANTEST CORPORATION
3061 Zanker Road
San Jose, CA 95134, USA
Cassandra Koenig
[email protected]
A photo accompanying this announcement is available at https://www.globenewswire.com/NewsRoom/AttachmentNg/10375117-870b-4e30-a51b-c12e7e69cfc1

Disclaimer: The above press release comes to you under an arrangement with GlobeNewswire. AfternoonHeadlines.com takes no editorial responsibility for the same.