Advancements in Multiomics: Automation of Opal Staining on NanoVIP Saves 80% Reagent Cost and 90% Hands-on Time
The Spatial Multiplex Multiomics Company, announced the introduction of a fully automated system for Opal's multiplex immunohistochemistry (IHC) protocols developed and validated in collaborations with scientists at multiple institutions.
Fremont, California, June 13, 2023 (GLOBE NEWSWIRE) — Omicsveu has achieved a milestone with its NanoVIP instrument – a slide-based automated staining system – fully automating the Opal manual staining protocol from Akoya Biosciences. Using manufacturers supplied protocols and reagents, NanoVIP reduced the processing time of Opal's protocol from over 48 hours to under 12 hours, hands-on time from 14 hours to less than 1 hour and reduces reagent consumption by 80%. Further NanoVIP plug & play system doesn't require highly skilled operators to get optimum results. These substantial time and cost (material and labor) savings empower researchers to expedite their research projects, accelerate discoveries, and optimize laboratory workflows.
"Omicsveu is committed to advancing scientific research to improve cancer survival rates and patients leading normal life," said Dr. Krishan Kalra, CEO of Omicsveu. "By automating manual Opal protocol with NanoVIP, researchers achieve consistent, intense clean, crisp stains while saving time and reducing costs. This innovation sets a new benchmark in the spatial multiomics field."
The results are summarized in the table below.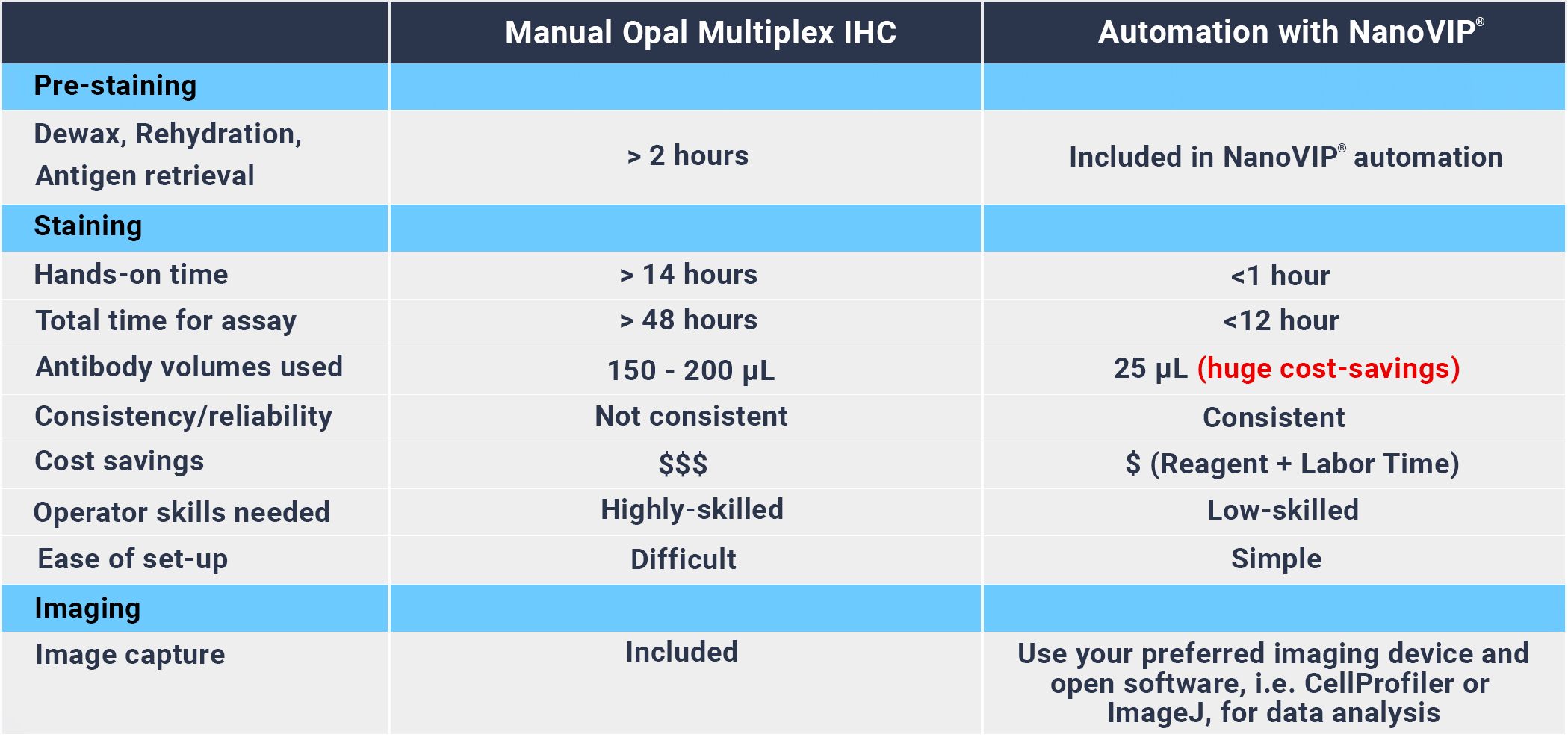 About Omicsveu: 
Omicsveu is a special-purpose spinoff of BioGenex, which designs, develops, and commercializes, fully automated plug & play, slide-staining systems. Our innovative technologies are affordable and accessible, to help accelerate development of new diagnostics and therapeutics leading to improved disease outcomes. Our systems incorporate easy-to-use innovative automation, ready-to-use reagents, and optimized protocols, generating reliable, consistent, and reproducible results. For more information, please visit our website at www.omicsveu.com, or connect with us on LinkedIn, Facebook, and YouTube. 
CONTACT: Email: [email protected]

Disclaimer: The above press release comes to you under an arrangement with GlobeNewswire. AfternoonHeadlines.com takes no editorial responsibility for the same.