Advanced Wound Care Market Projected to Surpass US$ 16.1 Bn by 2032 With a Sustained CAGR of 7.6% | Report by Marketresearch.biz
Technological advancements have introduced innovative products, like bioactive dressings and smart wound monitoring systems, improving wound management and healing processes. This is driving growth in Advanced Wound Care Market
New York, Oct. 09, 2023 (GLOBE NEWSWIRE) — The Advanced Wound Care Market is projected to expand from USD 7.9 billion in 2022 to USD 16.1 billion by 2032, reflecting a CAGR of 7.6%
The increasing prevalence of infections and viruses globally is a key factor driving the demand for wound care products. Furthermore, the growing geriatric population, who often have reduced healing capabilities, is expected to contribute to the market's development.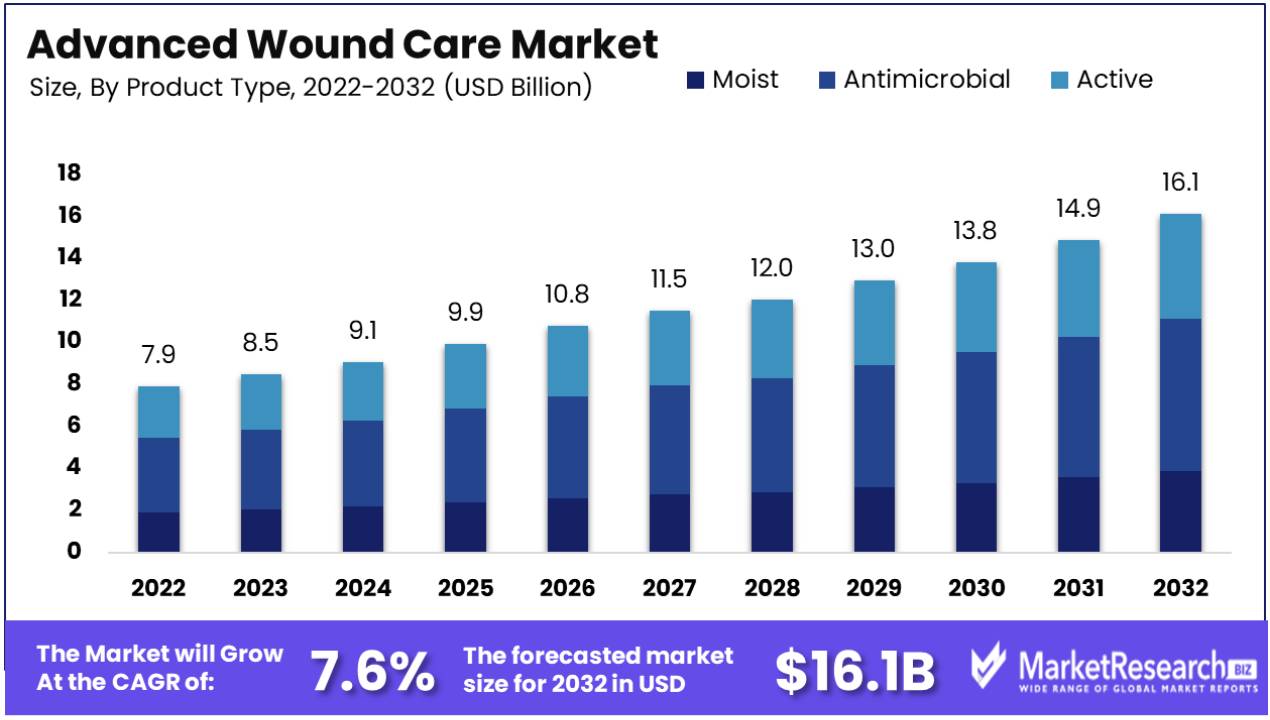 To learn more about profitable market segments, Request an Advanced Wound Care Market sample report at:  https://marketresearch.biz/report/advanced-wound-care-market/request-sample/
Key Takeaways
Market Size: By 2032, the market size for advanced wound care is estimated to reach USD 16.1 billion, with North America alone accounting for USD 5 billion in 2022.
Market Growth: The advanced wound care market is expected to expand significantly, with a projected compound annual growth rate (CAGR) of approximately 7.6%.
Increased Demand: The market is being driven by growing awareness about the importance of wound care and the treatment of chronic wounds.
Regional Market Dominance: North America and Europe hold leading positions in the advanced wound care market, accounting for a considerable share of the market.
Driving Factors
The increasing geriatric population is a significant factor driving the demand for advanced wound care solutions. This demographic group is more prone to chronic conditions, which often result in difficult-to-heal wounds. As a result, there is a growing need for specialized wound care products and therapies.
Technological advancements have played a pivotal role in transforming wound care. The development of innovative products, such as bioactive dressings and smart wound monitoring systems, has revolutionized the field. These cutting-edge solutions are more effective in managing wounds and expediting the healing process.
Moreover, the rising awareness and education about the benefits of advanced wound care have contributed to its widespread adoption. Various initiatives and publications have played a crucial role in disseminating knowledge about these modern approaches to wound management. People are now more informed about the advantages of advanced wound care, which has led to increased acceptance and demand.
Restraining Factors
While advanced wound care offers substantial benefits, it is not without its challenges. One of the primary limitations is the high cost associated with advanced wound care products and treatments. This can be a significant barrier to access, particularly for patients in regions with limited healthcare resources or inadequate insurance coverage. The cost factor can limit the reach of these advanced solutions, leaving some individuals with suboptimal wound care options.
Regulatory challenges also pose restraints in the field of advanced wound care. The rigorous approvals and compliance with regulations can be time-consuming and costly. This can hinder the timely introduction of new advanced wound care products into the market. Companies must navigate complex regulatory pathways to ensure their products meet safety and efficacy standards, which can delay the availability of innovative solutions to patients in need.
To see how our analysis can guide your plans, Inquire about a brochure on our report at: https://marketresearch.biz/report/advanced-wound-care-market/#inquiry
By Product
The antimicrobial wound care products segment is projected to have the highest compound annual growth rate (CAGR) of approximately 6% during the forecast period. These products are specifically designed to reduce the microbial burden in wounds, including surgical incisions and chronic wounds like pressure ulcers and venous foot ulcers. The increasing prevalence of these types of wounds among patients is expected to drive the demand for antimicrobial wound care products, leading to the growth of this segment in the advanced wound care market.
By Application
The chronic wounds segment, including diabetic foot ulcers, venous pressure ulcers, and other chronic wounds, is projected to achieve a 5.4% compound annual growth rate (CAGR) during the forecast period. The growing prevalence of these conditions, with an estimated 2.5 million individuals developing pressure ulcers annually in the U.S. and 34.2 million people affected by diabetes in 2018, is a significant driver for the segment's growth. As the diabetic population continues to increase, there is expected to be a rise in the number of diabetic foot ulcer patients, which will contribute to the market growth of advanced wound care products in the chronic wounds segment.
By End-Use
The home healthcare segment is projected to experience a compound annual growth rate (CAGR) of 6.17% during the forecast period. This growth is driven by factors such as increased demand for advanced wound care products during the COVID-19 pandemic and the growing geriatric population. Older individuals are more susceptible to chronic wounds, and as age increases, the body's ability to heal wounds slows down. The rising number of elderly individuals is expected to contribute to the growth of the advanced wound care market in the home healthcare segment.
Make informed business decisions with our sample report, revealing key market insights Click Here To Download/Request a Sample 
Report Scope
| | |
| --- | --- |
| Report Attribute | Details |
| Market Value (2022) | US$ 7.9 Bn |
| Market Size (2032) | US$ 16.1 Bn |
| CAGR (from 2023 to 2032) | 7.6% |
| North America Revenue Share | US$ 5 Bn |
| Historic Period | 2016 to 2022 |
| Base Year | 2022 |
| Forecast Year | 2023 to 2032 |
Key Market Segment
By Product
Moist

Foam Dressings
Hydrocolloid Dressings
Film Dressings
Alginate Dressings
Hydrogel Dressings
Collagen Dressings
Other Advanced Dressings

Antimicrobial
Active

Biomaterials
Skin-substitute
By Application
Chronic Wounds

Diabetic Foot Ulcers
Pressure Ulcers
Venous Leg Ulcers
Other

Acute Wounds

Surgical & Traumatic Wounds
Burns
By End-use
Hospitals
Specialty Clinics
Home Healthcare
Others
Maximize your profitability with MarketResearch.Biz – Gain a competitive edge by acquiring this premium report at https://marketresearch.biz/purchase-report/?report_id=3702
Growth Opportunities
There are several promising opportunities in the advanced wound care sector. Developing countries with growing healthcare infrastructure represent a significant growth prospect. As these nations invest in improving their healthcare systems, there is an increased likelihood of expanding access to advanced wound care solutions. This expansion can benefit patients who previously had limited access to modern wound care treatments.
Continuous investment in research and development is another crucial factor driving opportunities in the field. As technology advances and our understanding of wound healing deepens, new and more effective treatments are likely to emerge. This innovation not only improves patient outcomes but also opens up new markets for companies engaged in advanced wound care.
Additionally, the integration of telemedicine and digital health platforms presents exciting prospects. These technologies can enhance wound care management by providing real-time monitoring and feedback. They also have the potential to optimize treatment plans and reduce costs, making advanced wound care more accessible and efficient.
Latest Trends
Several intriguing trends are shaping the landscape of advanced wound care. Bioactive dressings, for example, actively promote wound healing by incorporating substances like growth factors, enzymes, or antimicrobial agents. These dressings not only protect wounds but also accelerate the natural healing processes.
Smart wound monitoring systems are another innovative trend. These systems utilize sensors and digital platforms to track healing progress. They provide real-time feedback to healthcare professionals, allowing for more precise wound assessment and personalized care plans. This real-time monitoring enhances the overall effectiveness of wound care.
Regenerative therapies are also gaining momentum. Stem cell therapy and tissue engineering are being used to stimulate natural healing processes and promote tissue regeneration. These approaches hold great promise for patients with severe wounds, as they can significantly improve the chances of complete healing and reduce the need for invasive interventions. In essence, these regenerative therapies are revolutionizing the field of wound care, offering hope for improved outcomes and quality of life for patients with chronic or difficult-to-heal wounds.
Regional Analysis
North America leads the global Advanced Wound Care Market, thanks to a well-established healthcare infrastructure and a high number of surgical procedures. The region's growth is further fuelled by the presence of numerous market players and an increase in acquisitions. However, emerging regions are also experiencing a rise in the adoption of Advanced Wound Care Market products, driven by increased patient awareness. In the coming years, the regional market growth is expected to be driven by rising accident rates, such as road accidents, burns, and trauma. This trend highlights the growing importance of advanced wound care in addressing diverse medical needs globally.
Uncover valuable statistics and future projections by accessing a sample report for historical and forecast market data spanning 2016 to 2032 at https://marketresearch.biz/report/advanced-wound-care-market/request-sample/
Key Regions & Countries
North America
Europe
Germany
France
The UK
Spain
Italy
Russia
Netherland
Rest of Europe
Asia Pacific
China
Japan
South Korea
India
New Zealand
Singapore
Thailand
Vietnam
Rest of APAC
Latin America
Brazil
Mexico
Rest of Latin America
Middle East & Africa
South Africa
Saudi Arabia
UAE
Rest of MEA
Competitive Analysis
Key players in this market, such as leading manufacturers and suppliers, are strategically leveraging this wide range of applications. Specifically, they are utilizing materials like slivers and alginates in dressings designed for both surgical and chronic wounds, effectively combating the risk of infection. Additionally, these industry leaders are incorporating skin grafts and biomaterials to address wounds that may not naturally heal. This comprehensive approach enables them to cater to various healthcare needs and maintain a competitive edge.
Innovation stands as a cornerstone in the advanced wound care market, and key players are actively at the forefront of this trend. These market leaders are continually introducing new and groundbreaking products, which are poised to fuel market growth in the forthcoming years.
Key Player Market
Smith & Nephew
Mölnlycke Health Care AB
ConvaTec Group PL
Baxter International
URGO Medical
Coloplast Corp.
Medtronic
3M
Derma Sciences Inc. (Integra Life Sciences)
Medline Industries
Recent Development
In July 2023, Medline Industries introduced slow-release iodine dressings to address the challenge of slow wound healing. These dressings release iodine slowly over a three-day period, effectively combating biofilm, a bacterial structure that hinders wound healing. Iodine's multiple modes of action also help prevent bacterial resistance.
In November 2022 – ActiGraft+, an innovative wound care management system, is now commercially available in Puerto Rico through Redress Medical, a private wound care company with offices in the United States and Israel.
In October 2022 – Theruptor Novo, a cutting-edge wound care solution for the treatment of diabetic foot ulcers and leg ulcers, was introduced by Healthium Medtech Limited.
Browse More Related Reports
Surgical Clips Market size is expected to be worth around USD 3.7 Bn by 2032 from USD 2 Bn in 2022, growing at a CAGR of 6.4% during the forecast period from 2023 to 2032.
ICU Ventilators Market size is expected to be worth around USD 3954.1 Mn by 2032 from USD 1971.3 Mn in 2022, growing at a CAGR of 7.4% during the forecast period from 2023 to 2032.
Physiotherapy Equipment Market size is expected to be worth around USD 37.5 Bn by 2032 from USD 22.1 Bn in 2022, growing at a CAGR of 5.6% during the forecast period from 2023 to 2032.
Nurse Call System Market size is expected to be worth around USD 7.2 Bn by 2032 from USD 2.8 Bn in 2022, growing at a CAGR of 10% during the forecast period from 2023 to 2032.
Hearing Loop Market size is expected to be worth around USD 15.6 Bn by 2032 from USD 9.4 Bn in 2022, growing at a CAGR of 5.4% during the forecast period from 2023 to 2032.
About Us:
MarketResearch.Biz (Powered by Prudour Pvt Ltd) specializes in in-depth market research and analysis and has been proving its mettle as a consulting and customized market research company, apart from being a much sought-after syndicated market research report-providing firm. MarketResearch.Biz provides customization to suit any specific or unique requirement and tailor-made reports as per request. We go beyond boundaries to take analytics, analysis, study, and outlook to newer heights and broader horizons.
Follow Us on LinkedIn: https://www.linkedin.com/company/marketresearch-biz/
Follow Us on Facebook: https://www.facebook.com/marketresearch.biz
Follow Us on Twitter: https://twitter.com/PrudourResearch
CONTACT: Global Business Development Team – MarketResearch.biz MarketResearch.biz (Powered By Prudour Pvt. Ltd.) Email: [email protected] Address: 420 Lexington Avenue, Suite 300, New York City, NY 10170, United States Tel: +1 347 796 4335 Website: https://marketresearch.biz/

Disclaimer: The above press release comes to you under an arrangement with GlobeNewswire. AfternoonHeadlines.com takes no editorial responsibility for the same.