Acuitive Technologies Receives FDA 510(k) Clearance for CITRELOCK DUO a New Sports Medicine Fixation Device for Biceps Tenodesis and Tendon Transfer Procedures
CITRELOCK DUO Fixation Device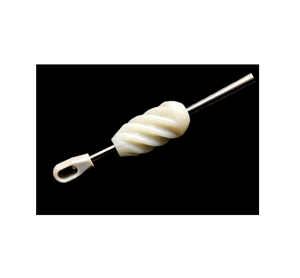 ALLENDALE, N.J., Sept. 27, 2023 (GLOBE NEWSWIRE) — Acuitive Technologies, Inc. (Acuitive) today announced the FDA 510(k) Clearance of CITRELOCK DUO Fixation Device for biceps tenodesis. The new fixation device provides surgeons a differentiated design via a tendon-friendly spiral thread featuring a next-generation resorbable technology, known as CITREGEN®, that has unique molecular and mechanical properties for orthopedic surgical applications.
The CITRELOCK DUO offers surgeons:
Biomimetic material composition to match the native bone inorganic content
A novel soft spiral thread design to avoid tendon laceration
A compressive strength similar to cortical bone and a modulus similar to trabecular bone
Elastomeric properties for improved pull-out strength
A controlled resorption rate to mitigate chronic inflammation
"Our customers are looking for a fixation device with unique mechanical properties that protects the tendon's integrity during insertion while providing improved fixation within the bone tunnel. Additionally, the CITRELOCK DUO provides more predictable resorption while avoiding the chronic inflammation reported with other biodegradable polymers. With its innovative CITREGEN material technology and unique thread design, the CITRELOCK DUO fills the clinical need surgeons have been seeking," said Rui Ferreira, VP of Product Development, Acuitive.
The CITRELOCK DUO is an exciting addition to Acuitive's portfolio and is the second in a series of new products that will be launched with a focus on the Sports Medicine market.
About Acuitive
Acuitive is a medical technology company developing innovative biomaterials and orthopedic devices that participate in the natural healing process of musculoskeletal tissues while addressing the shortcomings of current biomaterials. Together with its surgeon customers, Acuitive is driven to make healthcare outcomes better for our patients. More information is available at www.acuitivetech.com.
A surgeon must always rely on his or her own professional clinical judgment when deciding whether to use a particular product when treating a particular patient. Acuitive does not dispense medical advice and recommends that surgeons be trained in the use of any product before using it in surgery.
A surgeon must always refer to the package insert, product label and/or instructions for use before using any of Acuitive's products. Please contact Acuitive directly if you have questions about the availability of products in your area.
Media Contact
Michael McCarthy
Acuitive Technologies, Inc.
[email protected]
201.661.2680
A photo accompanying this announcement is available at https://www.globenewswire.com/NewsRoom/AttachmentNg/6a8c00b5-ab1c-4f48-8997-7ae288242537

Disclaimer: The above press release comes to you under an arrangement with GlobeNewswire. AfternoonHeadlines.com takes no editorial responsibility for the same.