Activated Carbon Market revenue to hit USD 8 Billion by 2033, says Research Nester
Prominent activated carbon market players include Osaka Gas Chemicals Co., Ltd., Donau Carbon GmbH, Cabot Corporation, Puragen Activated Carbons, CarboTech AC GmbH, Kuraray Co., Ltd., Kureha Corporation, Activated Carbon Technologies Pty Ltd., Silcarbon Aktivkohle GmbH, and The Ingevity Group.
New York, July 19, 2023 (GLOBE NEWSWIRE) — The global activated carbon market size is projected to expand at ~9% CAGR between 2023 and 2033. The market is expected to garner a revenue of USD 8 billion by the end of 2033, up from a revenue of ~USD 4 billion in the year 2022.The tremendously augmenting development, along with the speedily increasing number of power plants as well as industrial boilers and steamers, and with the rising metal purification & metal finishing industries worldwide, have raised alarms about the emission of flue gas or combustion exhaust gas, forcing industries to adopt various emission control technologies such as mercury control technology to curb such emissions.
Request Free Sample Copy of this Report @ https://www.researchnester.com/sample-request-4492
As per the U.S. Environmental Protection Agency, artisanal and small-scale gold mining industries across the globe released 37.7% of mercury in 2018.
Activated Carbon Market: Key Takeaways
Market in Asia Pacific to propel the highest growth
Coal Based segment to garner the highest growth
Market in North America to grow at the highest rate
Rising Demand for Carbon Air Filters to Boost Market Growth
The growing environmental concerns as well as the increasing incidences of air pollution globally as a result of the massively rising industrial pollution, together with the rising threat of indoor pollution and deteriorating indoor air quality, have led to the adoption of comprehensive pollution control measures and strict emission guidelines. The growing utilization of carbon air filters in industrial settings and carbon filters for air purifiers in households is owing to the special properties of activated carbon that allow it to remove volatile organic compounds (VOCs), odors, and other gaseous pollutants from the air, which in turn is expected to escalate the activated carbon market in the projected time frame. As per a 2021 report, air pollution caused nearly 11% of deaths globally and was one of the leading risk factors for disease burden. Moreover, occurring from anthropogenic sources and naturally occurring chemical compounds, the emission of volatile organic compounds (VOC) in the United States (U.S.) reached around 11.5 million tons in 2021.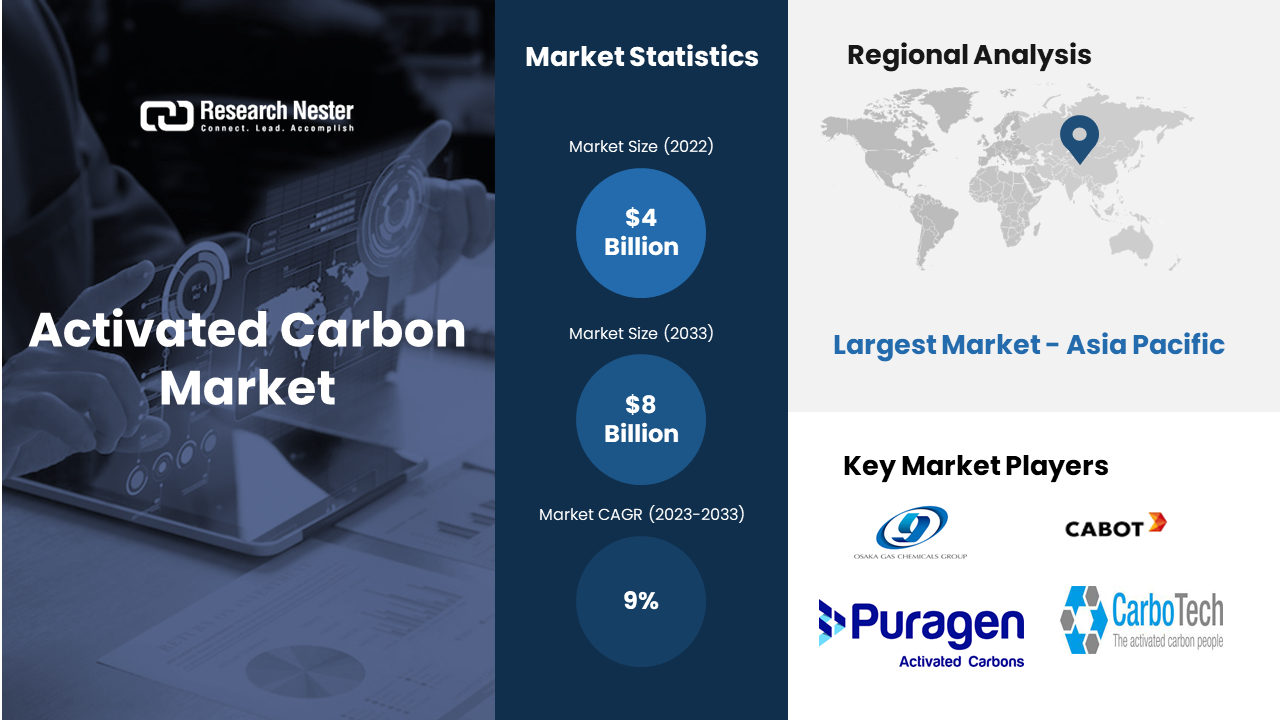 Activated Carbon Market: Regional Overview
The market is divided into the following regions which include Asia Pacific, North America, Europe, Latin America, and the Middle East and Africa. 
Rising Water Treatment Plant Installations to Drive Growth in the Asia-Pacific Region
The activated carbon market in the Asia Pacific region is estimated to garner the largest revenue by the end of 2033. The rising need for wastewater & sewage water treatment owing to the current inadequate wastewater management systems in the region is expected to drive market growth. Furthermore, the growing induction of wastewater treatment plants, combined with the region's burgeoning population and rapidly growing industrialization, which are responsible for the region's growing demand for purified water for drinking and industrial purposes, is expected to boost regional market growth in the coming years. It is observed that in the Asia-Pacific region, approximately 80% of wastewater is discharged without treatment. Moreover, in China, nearly 10,000 water treatment plants were treating wastewater for 95% of municipalities and 30% of rural areas in 2020, whereas around 39,000 new wastewater treatment facilities were set up in 2020.
Request Free Sample Copy of this Report @ https://www.researchnester.com/sample-request-4492
Increasing Number of Pharmaceutical Companies to Drive Growth in the North American Region
The activated carbon market in the North American region is estimated to garner the highest CAGR by the end of 2033. The radically escalating production in the pharmaceutical industry, as well as the rising demand for pharmaceuticals, along with the augmenting use of activated carbon powder in medical settings to treat drug overdoses or as an emergency anti-poison remedy following oral ingestion owing to the increasing activated carbon production besides the diminishing activated carbon price in the region, are estimated to propel the market growth in the given assessment period. It was observed that, in terms of sales, the U.S. pharmaceutical industry accounted for almost 48% of the total pharmaceutical market, earning ~USD 550 billion in annual revenue in 2021. Moreover, the overall biopharmaceutical industry made up nearly 3.2% of the total U.S. GDP, a value worth ~USD 625 billion in the same year.
Activated Carbon Segmentation by Raw Material
Coal Based
Coconut Shell Based
Wood Based
The coal-based segment is anticipated to hold the largest revenue by the end of 2033. The rapidly growing need for gas fuel purification globally involves the removal of vapor-phase impurities from gas streams along with the creditability of activated carbon uses for gas phase purification, besides wastewater purification, potable water purification, and aquarium/pond water purification. The Environmental Protection Agency stated that activated charcoal filters can efficiently eliminate about 225 chemicals. Furthermore, the coconut shell-based segment is expected to garner the highest share as activated carbon production comprises two main processes: carbonization and activation; the lateral process is rapidly being actively used in cosmetic products owing to its adsorbing properties. The exponential growth of the cosmetic industry as well as growing demand for all sorts of over-the-counter (OTC) biodegradable skincare products, from face masks to soaps, for treating skin conditions like skin blemishes, acne, dark spots, and dermatitis It was found that skincare was the leading category of the cosmetic industry and accounted for ~41% of the cosmetic market in 2021.
Activated Carbon Segmentation by End-User
Water Treatment
Air Purification
Pharmaceutical & Medical Technology
The water treatment segment is anticipated to hold the largest revenue by the end of 2033. The factors applicable to the growth of the segment over the forecasted period include rising water shortages around the world, which are responsible for the growing need for water treatment & water purification to produce water that is fit for human consumption (drinking water), as well as for a variety of other purposes such as chemical, medical, pharmacological, and industrial applications. It was found that each year about 75% of the global population, or nearly 4 billion people, suffer from water shortages for at least one month. Moreover, the increased spending on the treatment of industrial wastewater as well as sewage treatment (domestic wastewater treatment or municipal wastewater treatment) to remove contaminants for an intended reuse application, thereby preventing water pollution from raw sewage discharges, is further expected to elevate the segment growth.
Purchase Copy of this Report @ https://www.researchnester.com/purchage/purchase_product.php?token=4492
Activated Carbon Segmentation by Types of Activated Carbon
Powdered Activated Carbon
Granular Activated Carbon
Extruded Activated Carbon
Activated Carbon Segmentation by Application
A few of the well-known market leaders in the activated carbon market that are profiled by Research Nester are Osaka Gas Chemicals Co., Ltd., Donau Carbon GmbH, Cabot Corporation, Puragen Activated Carbons, CarboTech AC GmbH, Kuraray Co., Ltd., Kureha Corporation, Activated Carbon Technologies Pty Ltd., Silcarbon Aktivkohle GmbH, The Ingevity Group, and other key market players.
Recent Development in the Activated Carbon Market
Cabot Corporation a leading specialty chemicals and performance materials company introduced a high-purity NORIT SX SUPER S charcoal powder. The product will meet the specifications of the polyacrylic aromatic hydrocarbons that are used in the cosmetic industry.
Kuraray Co., Ltd., a Japanese manufacturer of chemicals, fibers, and other materials acknowledged that its U.S-based subsidiary Calgon Carbon Corporation shall increase the production facilities at its Peral River Plant in Mississippi to meet the demand for activated charcoal.
About Research Nester
Research Nester is a one-stop service provider with a client base in more than 50 countries, leading in strategic market research and consulting with an unbiased and unparalleled approach towards helping global industrial players, conglomerates and executives for their future investment while avoiding forthcoming uncertainties. With an out-of-the-box mindset to produce statistical and analytical market research reports, we provide strategic consulting so that our clients can make wise business decisions with clarity while strategizing and planning for their forthcoming needs and succeed in achieving their future endeavors. We believe every business can expand to its new horizon, provided a right guidance at a right time is available through strategic minds.
CONTACT: AJ Daniel Corporate Sales, USA Research Nester Email: [email protected] USA Phone: +1 646 586 9123 Europe Phone: +44 203 608 5919

Disclaimer: The above press release comes to you under an arrangement with GlobeNewswire. AfternoonHeadlines.com takes no editorial responsibility for the same.