A GLOBAL CRY FOR COMPASSION
In the Midst of Orphan Pet Crisis, Helen Woodward Animal Center Connects Animal Welfare Workers Across the World…
Shelter Pups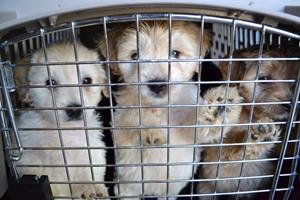 Shelter Kitty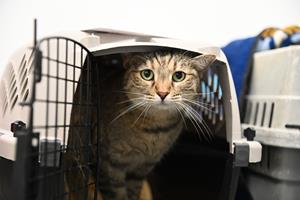 Rancho Santa Fe, California, Aug. 07, 2023 (GLOBE NEWSWIRE) — As economic concerns escalate, orphan pet adoptions plummet and animal welfare workers are paying the price. In an urgent response, Helen Woodward Animal Center is offering a special on-line edition of its renowned FREE training for animal welfare groups.  This 4-week seminar addresses the human outcome of the orphan pet crisis – compassion fatigue.  A resounding request for the therapeutically-focused training is uniting shelters across the globe including Estonia, Mexico, Canada and the UK.
Kicking off Thursday, July 13th at 12:00 p.m. PST, Helen Woodward Animal Center professionals introduced over 70 animal welfare workers to speaker, Julie Chippendale, via ZOOM.  The retired registered nurse has taught Mindfulness-Based Stress Reduction for over 30 years.  Chippendale's training addresses stress in the workplace but her multi-week seminar has been specifically tailored to the challenges shelter workers are facing.
"One of the unspoken truths about animal welfare is the devastating effects the work has on the humans at the heart of it," explained Helen Woodward Animal Center President and CEO Mike Arms.  "There is no other workplace in the world where employees are tasked to kill the very thing they love.  With the latest strain on the pockets of families and individuals, orphan pet adoption has seen an extreme drop off.  For shelters where euthanasia is a daily reality, the toll is heartbreaking.
In 2019, Helen Woodward Animal Center connected with Julie Chippendale to offer an on-line workshop on the subject of Compassion Fatigue ("A state experienced by those helping people or animals in distress that leads to intense tension and a preoccupation with the suffering of those being helped").  As the pandemic took hold, the unprecedented number of calls-for-help from partner organizations was deafening and the devastating effects it was having on the mental health of the shelter workers was beyond concerning.  Led by Julie Chippendale, the ZOOM session focused on mindfulness techniques to help individuals cultivate an ability to manage stress.
"The feedback from the group was incredibly moving,'" said Arms. "I think that the groups were not only grateful for the training and the suggestions, but they were also grateful to see other groups seeking this assistance, knowing they were not alone."
This year, however, concern for shelter workers is back at a fever pitch.  Adoption numbers across the world are on the decline.  Food, rent and utility bills take precedence over any extras and the lives of orphan pets are what's at stake.  With the loss of each animal, the sadness, guilt, depression and heartbreak increase in those who work to save these animals.  Helen Woodward Animal Center's 4-week Compassion Fatigue Seminar, taught by Chippendale, aims to bring some much-needed relief to these individuals.  The training is FREE to anyone interested and runs, once-a-week, until August 10.  Those who would like to attend may register here: https://animalcenter.org/CompassionFatigue.
The Business of Saving Lives – Compassion Fatigue Edition is made possible by Julie Chippendale and Blue Buffalo.  For more information on upcoming conferences, visit www.animalcenter.org/conference or call 858-756-4117 x 302. 
***
About Helen Woodward Animal Center
Helen Woodward Animal Center is a private, non-profit organization where "people help animals and animals help people." Founded in 1972 in Rancho Santa Fe, Calif., the Center provides services for more than 90,000 people and more than 10,000 animals annually through adoptions, educational and therapeutic programs both onsite and throughout the community. Helen Woodward Animal Center is also the creator of the International Home 4 the Holidays pet adoption drive, the International Remember Me Thursday® campaign and The Business of Saving Lives Workshops, teaching the business of saving lives to animal welfare leaders from around the world.  For more information, go to:  www.animalcenter.org.
About Julie Chippendale
For the last 30 years, Julie Chippendale has dedicated her training to cultivate an awareness of stress and reactivity in real-time in order to learn to respond with clarity and creativity. She is passionate about supporting the heroes caring for animals. Her dog, Johnny is her devoted companion, teacher, and love. Johnny was adopted through Helen Woodward Animal Shelter in 2020.  
Attachments
Shelter Pups
Shelter Kitty
CONTACT: Jessica Gercke Helen Woodward Animal Center 858-756-4117 [email protected] 

Disclaimer: The above press release comes to you under an arrangement with GlobeNewswire. AfternoonHeadlines.com takes no editorial responsibility for the same.