690 New Words and Definitions Added to Merriam-Webster
Including doggo, cromulent, chef's kiss, UAP, and a little zhuzh
690 New Words and Definitions Added to Merriam-Webster Dictionary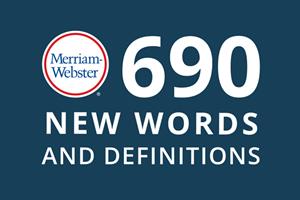 Springfield, MA, Sept. 27, 2023 (GLOBE NEWSWIRE) — Today Merriam-Webster announced the addition of 690 new words and meanings to its iconic dictionary–a perfectly cromulent list. Some terms like UAP ("unidentified aerial phenomenon") and carbon capture are in the news, while others like doggo and chef's kiss are more fun. These new additions have demonstrated widespread use over time, and offer a window into the world today.
Charging into the arena is beast mode ("an extremely aggressive or energetic style or manner that someone (such as an athlete) adopts temporarily (as to overpower an opponent in a fight or competition") and kayfabe, a tacit agreement familiar to pro wrestling enthusiasts. Another term sports fans will recognize is bracketology, especially in March.
The affectionate doggo ("dog") joins other slang words like rizz ("romantic appeal or charm") and GOATED ("considered to be the greatest of all time"). Fans of The Simpsons will appreciate cromulent (a synonym of acceptable or satisfactory) invented by that show to describe embiggen, another Simpsons-ism that already appears in the Merriam-Webster.com dictionary.
Social media often generates new language – like 'grammable ("suitable to be posted on Instagram") and finsta, a "secret or incognito account on the Instagram photo-sharing service." Thirst trap is another term desperately seeking attention. 
Video games inspired nerf ("to reduce the effectiveness of (something, such as a character, attribute, or weapon) in a video game"), rage quit ("to suddenly stop participating or engaging in (something) in a fit of anger and frustration)", and also – don't be alarmed –  jump scare ("a scripted moment (as in a film or video game) intended to startle the audience").
Food-related newcomers include cheffy, ("characteristic of or befitting a professional chef (as in showiness, complexity, or exoticness)"), smashburger (a hamburger patty that is pressed thin onto a heated pan or griddle at the start of cooking"), and zhuzh ("a small improvement, adjustment, or addition that completes the overall look, taste, etc. of something"). Those who love these additions may want to demonstrate that with a chef's kiss, "a gesture of satisfaction or approval made by kissing the fingertips of one hand and then spreading the fingers with an outward motion."
The tech world provides AI terms including hallucination ("a plausible but false or misleading response generated by an artificial intelligence algorithm") and smishing (also called SMS phishing) which may result in the need for a secure passkey ("an authentication method that uses biometrics (such as fingerprint or facial recognition) to identify and grant access to an authorized user").
New terms related to reducing greenhouse gas emissions include carbon capture and carbon sequestration. Another environmental term is forever chemical ("a toxic substance and especially a synthetic chemical (as of the per- and polyfluoroalkyl substances group) that persists and accumulates in the environment").
Some diminutive yet significant additions include tiny house ("a small house or mobile home that typically has a floor plan of less than 500 square feet and that is usually designed for ergonomics and space efficiency"), UAP ("unidentified aerial phenomenon"), jorts ("shorts made of denim or jean"), and the abbreviations TFW ("that feeling when"), ngl ("not gonna lie"), and TTYL ("talk to you later").
"We're very excited by this new batch of words," says Peter Sokolowski, Editor at Large at Merriam-Webster. "We hope there is as much insight and satisfaction in reading them as we got from defining them."
See a larger selection of new words added—and their definitions—here.
More on How a Word Gets Into the Dictionary, plus an Infographic
About Merriam-Webster Inc.
For over 180 years, Merriam-Webster has been America's leading provider of language information. Each month, our award-winning websites, apps, and social media channels offer guidance to tens of millions of visitors. In print, our publications include Merriam-Webster's Collegiate® Dictionary (among the best-selling books in American history) and books for students of all ages and abilities. All Merriam-Webster products and services are backed by the largest team of dictionary editors and writers in America. 
For more information, visit Merriam-Webster.com, and follow @MerriamWebster on Twitter, Facebook, and Instagram.
###
Attachment
CONTACT: Meghan Lunghi Merriam-Webster Inc. [email protected] 

Disclaimer: The above press release comes to you under an arrangement with GlobeNewswire. AfternoonHeadlines.com takes no editorial responsibility for the same.