3D Printing Materials Market Expected to Reach USD 3.78 Billion by 2026 | Comprehensive 120-Page Research Report
3D printing materials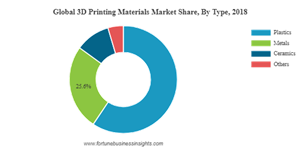 Pune, India, Oct. 10, 2023 (GLOBE NEWSWIRE) — The global 3D printing materials market size was USD 1.53 billion in 2018 and is projected to reach USD 3.78 billion by 2026, exhibiting a CAGR of 12.1% during the forecast period. Rising demand for 3D printing coupled with increasing demand for high-performance materials across various industries including aerospace and defense and automotive is projected to propel the market growth.
According to a report by Fortune Business Insights™ titled "3D Printing Materials Market Size, Share, growth, and Forecast Report 2023-2026.
Get a Sample Research PDF:
https://www.fortunebusinessinsights.com/enquiry/sample/3d-printing-material-market-102296
3D printing is a form of additive manufacturing, wherein a three-dimensional object is created by layer deposition of printing materials. These 3D printing materials possess exceptional attributes, including durability, flexibility, stability, and heightened sensitivity. Commonly used materials in 3D printing include acrylonitrile butadiene styrene (ABS), polylactic acid or polylactide (PLA), plaster, silica, alumina, titanium, tissues, waxes, and laywood. However, plastics have limited weathering resistance. Metals are strong, malleable, and corrosion-resistant; however, they are expensive and offer low design flexibility.
Leading Players Featured in the 3D Printing Materials Market Research Report:
American Elements   
Covestro AG
Höganäs AB
GE Additive
Royal DSM N.V.
EOS GmbH
Materialise NV
Stratasys Ltd.
Solvay
BASF SE
Evonik Industries AG
ExOne
Arkema
3D Systems Inc.
Competitive Landscape:
Strategic Launch of Advanced Products to Intensify Market Competition
Development and launch of advanced additive solutions and materials is rapidly emerging as the dominant strategy among players in this market. Apart from this, companies are collaborating with each other expand their innovation capabilities and deepen their foothold in the market.
The industry is highly fragmented, with a small number of large-scale vendors controlling the majority of the share. Most companies are investing considerably in comprehensive research and development activities to expand their 3D printing materials market share. They are also adopting product portfolio expansion and mergers and acquisitions strategies to stay competitive in the industry.
Report Scope & Segmentation:
Report Coverage
Details
Forecast Period
2023-2026
Forecast CAGR
12.1%
2026 Value Projection
$3.78 Billion
Market Size in 2018
$1.53 Billion
Historical Data
2015-2017
No. of Pages
120
Report Coverage
Revenue Forecast, Company Profiles, Competitive Landscape, Growth Factors and Latest Trends
Segments Covered

By Type Analysis
By Application Analysis

Regions Covered

North America
Europe
Asia Pacific
South America
Middle East and Africa

Global 3D Printing Materials Market Growth Drivers
Rise in adoption of 3D printing in the healthcare sector is driving the industry size
Strong Funding for Industrial R&D to Propel the Market in North America
Browse Detailed Summary of Research Report with TOC:
https://www.fortunebusinessinsights.com/3d-printing-material-market-102296
Segmentation:
The 3D Printing Materials Market can be segmented into various key categories to better analyze its dynamics and trends. These segmentation factors include:
Type of Material: The market encompasses a range of materials, including plastics, metals, ceramics, and other specialized materials. Each type caters to different industry needs and applications.
End-Users: The market serves diverse end-users, such as the automotive, aerospace & defense, industrial, medical, and other sectors like consumer goods and construction. Each industry has unique requirements for 3D printing materials.
Technology: Various 3D printing technologies are in use, including Fused Deposition Modeling (FDM), Stereolithography (SLA), Selective Laser Sintering (SLS), Material Jetting, and more. Different technologies offer distinct advantages for specific applications.
Application: The applications of 3D printing materials include prototyping, tooling, functional parts production, and research and development. The choice of application influences material selection.
Geographical Regions: The market's dynamics vary by region, with North America, Europe, Asia-Pacific, Latin America, and the Middle East and Africa experiencing different growth rates and adoption patterns.
Market Drivers:
Rising Applicability of 3D Printing in Healthcare to Stoke Market Growth   
The 3D printing materials market growth is slated to get augmented in the coming years owing to the widening applicability of additive manufacturing techniques in the healthcare sector. Recent breakthroughs in this sector using 3D printing are a testament to its vast potential. For example, in 2019, TU Wien, a renowned Austrian university, developed a unique bio-ink to embed cells in a 3D matrix using 3D printing materials.
These embedded cells are expected to enable controlled investigation of cell behavior and tissue growth. Another milestone was reached January 2020, when researchers at the North western University Feinberg School of Medicine located the structural proteins in swine ovaries. This finding can empower medical professionals to create artificial ovaries in humans using 3D printing materials and processes. Thus, this technology offers promising prospects for the healthcare industry and help breach new frontiers of medical research.
Regional Analysis:
North America, particularly the United States, is a significant hub for 3D printing technology and materials. High adoption rates in industries like aerospace, healthcare, and automotive are driving market growth. Strong presence of key players and active research and development activities contribute to market expansion.
Europe has a growing 3D Printing Materials Market, with countries like Germany, the UK, and France leading the way. The region is witnessing increased adoption of 3D printing materials in aerospace, automotive, and healthcare sectors. Stringent environmental regulations are promoting the use of eco-friendly materials.
Asia-Pacific is experiencing rapid growth in 3D printing materials, driven by countries like China, Japan, and South Korea. Asia-Pacific is expected to grow at an impressive rate on account of the wide usage of 3D printing materials in various end-user industries, including automotive, healthcare, and military.
Latin America is gradually entering the 3D Printing Materials Market, with Brazil and Mexico being key players. Growth is driven by industries like aerospace, automotive, and dental healthcare. Investments in research and development are on the rise.
The Middle East and Africa are emerging markets for 3D printing materials. The healthcare sector is a significant driver of market growth in the region, along with aerospace and construction. Government initiatives to promote technology adoption are contributing to market expansion.
Get a Quote Now:
https://www.fortunebusinessinsights.com/enquiry/get-a-quote/3d-printing-material-market-102296
 Detailed Table of Contents:
Introduction

Research Scope
Market Segmentation
Research Methodology
Definitions and Assumptions

Executive Summary
Market Dynamics

Market Drivers
Market Restraints
Market Opportunities

Key Insights

Key Emerging Trends – For Major Countries
Key Developments: Mergers, Acquisition, Partnership, etc.
Latest Technological Advancement
Insights on Regulatory Scenario
Porters Five Forces Analysis

Global 3D Printing Materials Market Analysis, Insights and Forecast, 2015-2026

Key Findings / Summary
Market Analysis, Insights and Forecast – By Type

Plastics
Metals
Ceramics
Others

Market Analysis, Insights and Forecast – By End-User

Automotive
Aerospace & Defense
Industrial
Medical
Consumer Products
Others

Market Analysis, Insights and Forecast – By Region

North America
Europe
Asia pacific
Rest of World
TOC Continued…!
Inquire Before Buying:
https://www.fortunebusinessinsights.com/enquiry/queries/3d-printing-material-market-102296
Read Related Insights:
3D Printing Market Size is USD 105.99 Billion by 2030
Smart Manufacturing Market Size to Rise $754.1 billion at CAGR 13.5% by 2030
Aerospace 3D Printing Market to Depict 16.07% CAGR From 2022 to 2029
About Us:
Fortune Business Insights™ delivers accurate data and innovative corporate analysis, helping organizations of all sizes make appropriate decisions. We tailor novel solutions for our clients, assisting them to address various challenges distinct to their businesses. Our aim is to empower them with holistic market intelligence, providing a granular overview of the market they are operating in.
Contact Us:
Fortune Business Insights Pvt. Ltd.
9th Floor, Icon Tower, Baner,
Mahalunge Road, Baner, Pune – 411045,
Maharashtra, India.
Phone:
US: +1 424 253 0390
UK: +44 2071 939123
APAC: +91 744 740 1245
Email: [email protected]
Attachment

Disclaimer: The above press release comes to you under an arrangement with GlobeNewswire. AfternoonHeadlines.com takes no editorial responsibility for the same.