200 New Stores and AED 10 Million Pledged: Apparel Group's Visionary Moves in Retail and Philanthropy for H1 2023
200 New Stores and AED 10 Million Pledged: Apparel Group's Visionary Moves in Retail and Philanthropy for H1 2023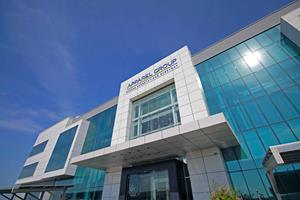 Retail Expansion & extensive CSR plans, define Apparel Group's strategy in H1 2023
DUBAI, United Arab Emirates, Aug. 21, 2023 (GLOBE NEWSWIRE) — The first half of 2023 has witnessed a remarkable expansion for Apparel Group, with the conglomerate announcing the inauguration of a staggering 200 new stores across several global locations. This growth cements its position as a dominant player in the fashion and lifestyle retail landscape
Commenting on this impressive trajectory, Neeraj Teckchandani, CEO of Apparel Group, remarked, "In this era of rapid transformation, Apparel Group isn't merely adapting; we're setting the benchmark. Each store we've inaugurated, every alliance we've fostered, surpasses our expectations and underscores our commitment to global excellence and sustainable leadership. Our vision is clear and ambitious: to redefine the future of fashion retail, firmly anchored in innovation and responsibility, always aiming to exceed expectations."
On the CSR front, Apparel Group has showcased immense commitment. A donation of AED 2,200,772, in-kind contributions surpassing 68,024, and the touching of 66,316 lives demonstrate the profound social footprint they've established. Furthermore, 771 employees have actively participated in these transformative CSR initiatives.
Adding another feather to its humanitarian cap, Apparel Group has pledged AED 10 million over five years to the "1 Billion Meals Endowment" campaign. Spearheaded by His Highness Sheikh Mohammed bin Rashid Al Maktoum, Vice President and Prime Minister of the UAE and Ruler of Dubai, this initiative epitomizes the UAE's unwavering commitment to alleviating global hunger and aiding the underprivileged.
Sustainability remains a focal point for Apparel Group. Key milestones include:
The Group aligns with the UAE government's vision, setting its sights on Net Zero by 2050.
Joining forces with the UACA Alliance ensures a speedier journey towards achieving Net Zero.
An in-depth Scope 1, 2, and 3 Carbon Accounting initiative has been launched, with significant findings and objectives awaiting announcement, all in preparation for SBTi.
The birth of the Sustainability Committee, composed of key stakeholders including the CEO and CFO, underscores the brand's commitment to a greener future.
The acquisition of the pioneering SLL Sustainability Linked Loan marks another significant step.
Eagerly on the horizon for the group are endeavors like the finalisation of Carbon Accounting, the inception of energy and vehicle efficiency pilot programs, enhanced adherence to human rights within supply chains, and a transition towards environmentally-friendly water solutions. Furthermore, the company remains dedicated to ongoing climate change education for its employees.        
Apparel Group's vision, growth, and commitment continue to inspire and redefine industry standards.
For more insights into Apparel Group, visit the official website: https://apparelglobal.com/en/
About Apparel Group LLC
Apparel Group is a leading powerhouse in the fashion and lifestyle industry residing at the crossroads of the modern economy – Dubai, United Arab Emirates. Today, Apparel Group caters to thousands of eager shoppers through its 2025+ retail stores and 80+ brands on all platforms while employing over 20,000+ multicultural staff.
Apparel Group has carved its strong presence in the GCC and expanded thriving gateways to market in India, South Africa, Singapore, Indonesia, Thailand, Malaysia, Pakistan, and Egypt. Additionally, clear strategies are in place to enter emerging markets such as Hungary and Philippines.
Apparel Group has created an omni-channel experience, operating brands originating from the USA, Canada, Europe, Australia, and Asia. The brands include leading names in fashion, footwear, and lifestyles such as Tommy Hilfiger, Charles & Keith, Skechers, Aldo, Nine West, Aeropostale, Jamie's Italian, Tim Hortons, Cold Stone Creamery, Inglot, and Rituals.
Apparel Group owes its amazing growth to the vision and guidance of its dynamic Founder and Chairwoman, Mrs. Sima Ganwani Ved, who has taken the company from strength to strength since its inception in the last two decades.
Contact: [email protected]
A photo accompanying this announcement is available at https://www.globenewswire.com/NewsRoom/AttachmentNg/a1616ddb-0b79-4bde-9664-b2ee51a54aac

Disclaimer: The above press release comes to you under an arrangement with GlobeNewswire. AfternoonHeadlines.com takes no editorial responsibility for the same.