1968 TARGA FLORIO-WINNING PORSCHE 907 K TO STAR AT BROAD ARROW'S INAUGURAL AMELIA AUCTION
1968 Porsche 907 K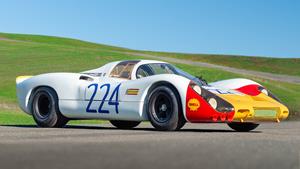 Porsche 907 025 en route to overall victory at the 1968 Targa Florio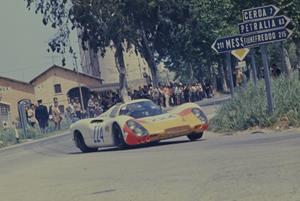 GROSSE POINTE, Michigan, Jan. 31, 2023 (GLOBE NEWSWIRE) —
Highly authentic works factory prototype powered by its original engine leads Broad Arrow's inaugural Amelia Auction on March 4 at the Ritz-Carlton, Amelia Island
Raced at the 1968 Sebring 12 Hours and the outright winner of the 1968 Targa Florio in the hands of Vic Elford and Umberto Maglioli, the 907 K also saw Porsche factory drivers Ludovico Scarfiotti, Joe Buzzetta, and Rolf Stommelen at the wheel.
Single-day auction set for March 4 marks the inaugural year for Broad Arrow as the official auction house of The Amelia. Learn more at broadarrowauctions.com.
Broad Arrow Auctions, a Hagerty (NYSE: HGTY) company, is honored to announce the addition of a 1968 Porsche 907 K, the world-famous overall winner of the 1968 Targa Florio, to its inaugural Amelia Auction on March 4, the official auction of The Amelia.
Chassis no. 907 025's victory at the 1968 Targa Florio is a legendary tale in a season that saw 'Quick Vic' Elford at the top of his game. After first contesting the 1968 Sebring 12 Hours in the hands of Ludovico Scarfiotti and Joe Buzzetta, Porsche System Engineering paired the 907 with Elford and Umberto Maglioli for the Targa Florio. Elford qualified on pole, putting them both in prime position to capitalize on the speed of the Porsche. After several initial setbacks and incredible assistance from race-mad locals, Umberto would return the car to fourth position before Elford would set three successive lap records.
With a half-lap to go, 907 025 passed Alfa's leading Tipo 33/2 and extended that lead to over three minutes at the finish, lopping nearly 10 minutes off the previous overall best race time. No season in Elford's career matched his 1968 performance and no race in 1968 equaled his win at the Targa Florio in 907 025, a moment immortalized in the famous Porsche victory poster that year.
The Targa Florio win would be the 907's crowning achievement as well as its final entrance by Porsche System Engineering. It was sold to Siegfried Lang and campaigned by his "Valvoline Racing Team" for 1969. Lang and the 907 saw first-place finishes in a number of hillclimb events throughout the European Alps in 1969 and 1970 before his untimely death.
The 907 eventually landed in the world-class Porsche collection of Dr. Julio Palmaz, who, in 2000, entrusted the car to Patrick Scalli of Porsche Prototype Racing Cars for a restoration back to its original Targa Florio configuration. Simultaneously, the original numbered engine was placed in the experienced hands of Gustav Nitsche, who rebuilt the Typ 771/1 magnesium case 2.2-liter air-cooled 270-hp flat-eight engine to original specifications, as it appears today. Under Dr. Palmaz's stewardship, the 907 was twice a winner at the Amelia Island Concours d'Elegance, in 2007 in the Targa Florio Class, and later in 2012 as the winner of the Corporate Award for the Best Example of Race Car Engineering.
The 907 K has been with its current owner since 2015 and today is in very similar condition to when it left Scalli's workshop just over 20 years ago, a testament to the quality of the restoration and the care it has received ever since (Est. $4,500,000 – $5,500,000).
Broad Arrow Auctions Senior Car Specialist David Swig comments, "The opportunity to find and potentially acquire a Targa Florio-winning Porsche, let alone an example attached to such notable Porsche lore, is nearly unheard of. I can think of no setting more fitting than The Amelia weekend at which to offer one of the most world-famous Porsche prototype racers of the 1960s — a truly significant piece of motorsport history."
Additional highlights from the revered German marque set for Broad Arrow's Amelia Auction include:
1994 Porsche 911 Turbo S Flachbau, an exceptionally low-mileage, matching numbers example of just 39 X85 versions of the 964 Turbo sold in the U.S., representing the pinnacle of 964 design and power (Est. $1,150,000 – $1,350,000);
2011 Porsche GT3 RS 4.0, a low-mileage, highly optioned example of the last manual transmission 911 GT3 RS and the ultimate expression of the flat-six Metzger engine design (Est. $650,000 – $700,000);
2016 Porsche 911 R, a low-mileage, two-owners-from-new example boasting the incredible combination of GT3 RS engine, six-speed 'GT Sport' manual transmission, and wingless 911 silhouette (Est. $475,000 – $525,000);
1955 Porsche 356 'Pre-A' Speedster, a wonderfully restored second-year Speedster well suited for period-specific events and touring, just as Porsche intended (Est. $320,000 – $360,000);
1979 Porsche 911 SC Alméras Frères 'Eminence' Rally Tribute, a faithful tribute to the Alméras Brothers 1982 Rallye Monte Carlo entry piloted by Björn Waldegård. Built on a 1979 911 SC with period-correct exterior modifications and prepared for future historic events (Est. $300,000 – $400,000);
1995 Porsche 911 Cup 3.8, a rare factory car complete with its matching numbers engine, ordered by Bridgestone Tire Company to promote the S-02 tire. The Cup car was maintained by Rohr Racing throughout 1995 and entrusted to Hurley Haywood and David Murry for hot laps at IndyCar events that year (Est. $250,000 – $300,000);
1996 Porsche 911 Carrera RS, a well-preserved, Japanese market example of the ultimate road-going, naturally aspirated, air-cooled 993 variant (Est. $325,000 – $400,000).
Broad Arrow's debut as the official auction of The Amelia will kickstart the company's 2023 calendar on March 4 at The Ritz-Carlton, Amelia Island. The Amelia Auction will feature more than 100 exceptional collector cars ranging from pre-War American and European classics to motorsport icons and modern supercars. Event information and bidder registration are available at broadarrowauctions.com.
Porsche enthusiasts will want to stick around for The Amelia Concours d'Elegance on Sunday, March 5.  Featured classes for the 28th annual event include Porsche Fiberglass Racing Spyders, Porsche Carrera 2.7 and Porsche 959. For additional information and to purchase tickets for The Amelia 2023 honoring NASCAR Hall of Famer Jeff Gordon visit AmeliaConcours.com.
###
 
About Broad Arrow Group, a Hagerty Company
Broad Arrow Group, a Hagerty (NYSE: HGTY) company, is an advisor, market maker, and financier for car collectors with a commitment to integrity, trust, and innovation. Broad Arrow Group operates Broad Arrow Auctions, Broad Arrow Capital, and Collectors Garage and is headquartered in Grosse Pointe, Michigan. Learn more at broadarrowgroup.com.
Photo credits: 
The 1968 Porsche 907 K, chassis no. 907 025, set to star at Broad Arrow's inaugural Amelia Auction (Credit – Robin Adams © 2023 Courtesy of Broad Arrow Auctions).
Vic Elford, #224, 1st OA. 1968 Targa Florio 5 May 1968 (Courtesy of Revs Institute; Eric della Faille Photograph Collection).
The original, matching numbers engine pictured within the 1968 Porsche 907 K set for Broad Arrow's Amelia Auction (Credit – Robin Adams © 2023 Courtesy of Broad Arrow Auctions).
Another view of the Targa Florio-winning 1968 Porsche 907 K to be offered at Broad Arrow's Amelia Auction (Credit – Robin Adams © 2023 Courtesy of Broad Arrow Auctions).
Forward-Looking Statements 
This press release contains forward-looking statements within the meaning of the Private Securities Litigation Reform Act of 1995. These statements reflect our current intentions, expectations, or beliefs regarding the business. Because forward-looking statements relate to the future, they are subject to inherent risks and uncertainties that are difficult to predict and may be outside of our control. Some of the factors that may cause our actual results to differ materially from those contemplated by our forward-looking statements include: (i) our ability to recognize the anticipated benefits of the subject of this press release; (ii) our ability to compete effectively within our industry and attract and retain members; and (iii) the other risks and uncertainties listed in our Form 10-K filed with the U.S. Securities and Exchange Commission ("SEC") on March 24, 2022. This press release should be read in conjunction with the information included in our other press releases, reports and other filings with the SEC. Understanding the information contained in those filings is important in order to fully understand our reported financial results and our business outlook for future periods. We do not undertake any obligation to publicly update or review any forward-looking statement, whether as a result of new information, future developments, or otherwise, except as required by law.  
Attachments
1968 Porsche 907 K
Porsche 907 025 en route to overall victory at the 1968 Targa Florio
CONTACT: Ian Kelleher, CMO Broad Arrow Group 917-971-4008 [email protected] Meghan McGrail, Director of Media Relations Broad Arrow Group 519-365-8750 [email protected] 

Disclaimer: The above press release comes to you under an arrangement with GlobeNewswire. AfternoonHeadlines.com takes no editorial responsibility for the same.